The Catholic bishop of the Diocese of Baguio in the northern Philippines has been tagged as having links with leftist groups that allegedly support communist insurgents.
A post on Facebook warned that Bishop Victor Bendico of Baguio allowed a youth group with alleged links to communist rebels to hold a demonstration inside the bishop's church.
The Diocese of Baguio condemned the social media post, saying the prelate has never supported any "right-wing of left-wing group."
---
---
---
In a statement on November 25, the diocese said Bishop Bendico was "addressed" in the Facebook post "as a supporter of this organization for which reason he was red-tagged."
"The Diocese of Baguio disclaims any linkage to any right-wing or left-wing groups," said Father Rosito Pedro Jr., vicar general and spokesperson of the diocese.
Father Pedro said the same goes for the diocese's Social Action Commission, adding that the diocese "promotes and advocates justice and peace, integral human development and charity, above all."
He said it is done through the fulfillment of the Church's "priestly, prophetic and kingly mission or roles" based on Catholic doctrines and social teachings "but never on ideologies that sow disunity and sabotage peace."
"We hereby make clear that neither the bishop nor the Social Action Commission of the Diocese of Baguio has a direct link to any of the so called right-wing or left-leaning groups," said the priest in the statement.
He asked those responsible of the Facebook post to stop red-tagging the bishop.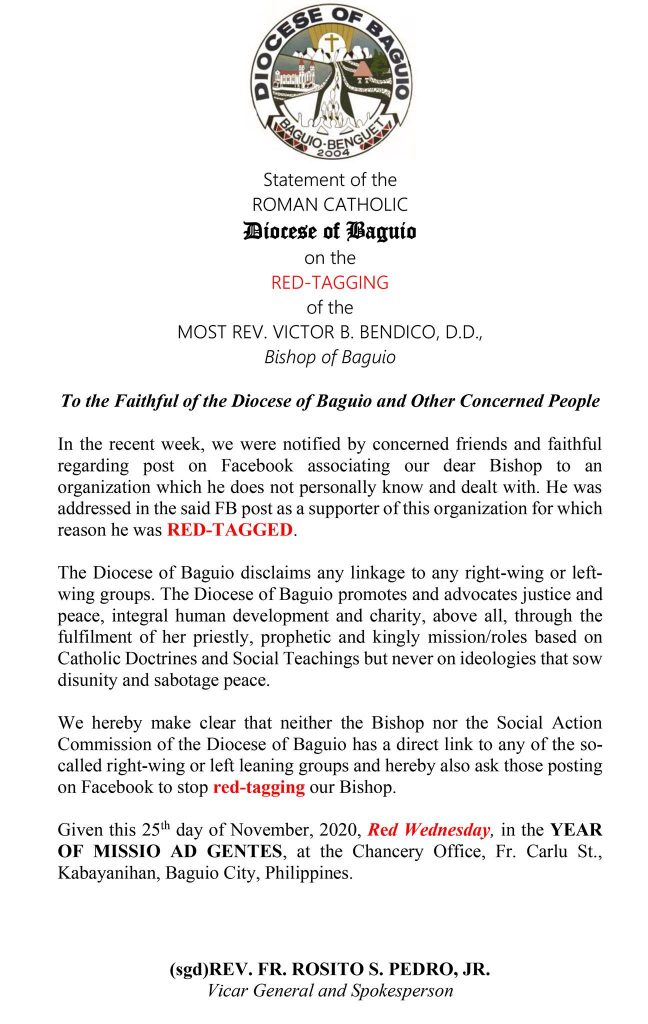 Earlier, the National Council of Churches in the Philippines also condemned what they described as the "red-tagging" of some their members, including the council's general secretary, Bishop Reuel Norman Marigza.
"These malicious labelling of our leader and of our staff endangers their lives," read a statement from the Protestant council.
"This is a clear and present danger to the other staff of [the council], and to the members of the council as campaigns like these seek to delegitimize and malign the ministry and work of the council that has always been serving the Filipino people for decades," added the statement.
"Red-tagging" refers to the malicious blacklisting of individuals or organizations critical or not fully supportive of the actions of a sitting government administration.
The blacklisting takes the form of being "tagged" as either a communist or terrorist or both, regardless of one's actual political beliefs or group affiliations.
Human rights groups said such blacklisting is "a form of incitement and has pernicious effects" on those tagged.
Amnesty International and Human Rights Watch have warned that the use of red-tagging as a political tactic undermines Philippine democracy by stifling dissent, producing a chilling effect on general discourse and, more insidiously, encouraging assassinations and retaliations.