A 107-year-old Catholic school College of the Holy Spirit Manila will be closing down next year after failing to attract new students.
In a statement, the Missionary Sisters Servants of the Holy Spirit that runs the school said the coronavirus pandemic has "exacerbated the situation."
"After consultation with representatives of our stakeholders, and a deep prayerful process of discernment, we are now even more convinced that the Holy Spirit is speaking clearly to us through the signs of the times, compelling us to make this extremely difficult decision," said Sister Carmelita Victoria, provincial superior of the religious order.
---
---
---
The nun said the school has been grappling with challenges for the past ten years, including the offer of free tuition in state colleges and universities and the competitive salaries offered by public schools.
Sister Victoria said the loss in family income and mobility restrictions due to the pandemic have also affected enrollment in many private schools.
In September, at least 865 private schools in the country were forced to stop operations due to the low enrollment turnout and their failure to offer distance learning modules.
The Department of Education has earlier reported that more than 200,000 private school students have transferred to public schools in July due to the economic slowdown.
In her statement, Sister Victoria sought the religious order will "fulfill what is legal, moral, and just in the process of disengagement" with its staff and teachers.
The nun appealed for understanding from the school's alumni and assured them that "all is not lost" as the legacy of the school remains with those who finished their studies in the institution.
"[You remain to be the living legacy of this school] to your progeny and to the many people whose lives you have touched all these years through the Spirit of Truth in Love," said Sister Victoria.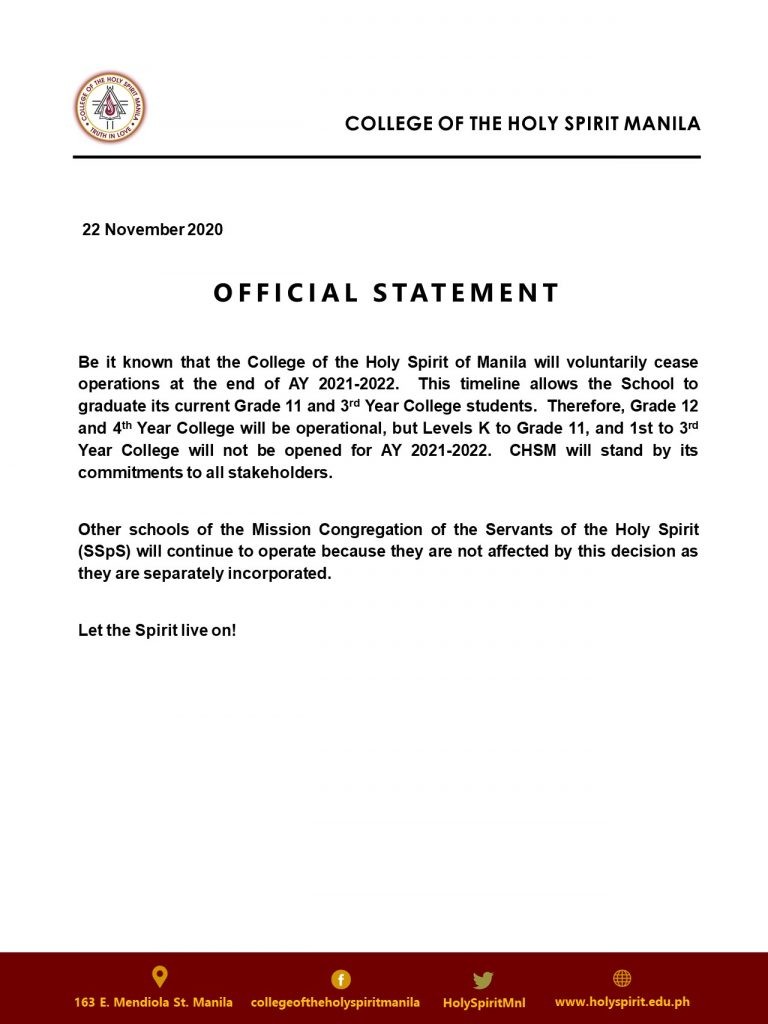 The College of the Holy Spirit Manila, originally called Holy Ghost College, was established by the Missionary Sisters Servants of the Holy Spirit, or Holy Spirit Sisters, on June 19, 1913.
The school was an exclusive school for girls until its started opening its doors for male students in 2005.