Intelligence. Noun. Synonymous to acumen, expertise, cunning and dexterity.
It also refers to data gathered through military clandestine operations.
One doesn't even have to possess the IQ of spy-thriller author Tom Clancy to know that military intelligence operations require utmost anonymity. Secrecy is an agent's middle name, concealment his brand of work ethic.
A "spook"—slang for a "secret agent"—thrives on being unseen, inconspicuous, nameless. He is skilled in the ways of invisibility. No one should be able to spot him in a crowd. A certain air of mystery dictates his every move.
He is the quintessential actor, the master of disguise. The inimitable "liar".
---
---
---
What sleight of hand is to magic, disguise is to "tradecraft"—part of the techniques and methods used in the work of espionage. These techniques are supposedly designed not only to maximize intelligence gathering efforts, but to protect the agent's identity.
Spying is perilous business; it's not called cloak-and-dagger for nothing. Forget Hollywood's James Bond whose expensive French-tailored suits and high-tech cars and gadgets make him stick out like a sore thumb. Ian Fleming's romanticized version of spookery is nowhere near the real thing.
In the rough-and-tumble world of espionage, the more inconspicuous you are, the more likely you're going to succeed. I recall reading a book where old women once served as spies in World War II. Little old ladies you'd expect to be sweet and loving grandmothers were the most unlikely people to serve as military operators. But that was the point of it all.
Imagine tracking the activities of terrorists while under cover. Getting caught after being discovered could lead to torture, in some cases, mutilation and death—death coming in the form of being dumped in a cask full of acid to leave investigators not a single trace of an agent's identity and whereabouts.
Many of our military agents had paid dearly for choosing this profession. Some have been stabbed from out of nowhere. Others, after being caught, suffered rape and torture from terrorists.
Families of agents have endured intimidation and threats following the discovery of their identities.
Their own personal lives have been run aground by this profession. None but operatives can know the real deal about their jobs. Not spouse, partners, neither children nor parents. Operatives who are dead set on being true to their tradecraft would even look at fostering friendships as a burden.
Break that singular rule and you will get burned.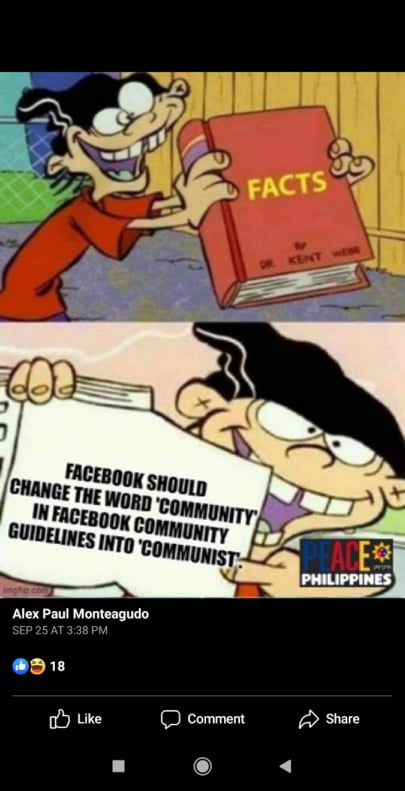 The last several days saw National Intelligence Coordinating Agency (NICA) Director General Alex Monteagudo in hot water. News coverage of his activities on social media pointed to a string of extremely controversial posts he reshared labeling people as terrorists and communists.
An Oct. 5 Rappler report unearthed the director general's activities on Facebook which stretched back to 2016. Apparently, the intel chief had submitted an intelligence report to the Senate Blue Ribbon Committee on that same year based on information allegedly sourced from sites taken down by Facebook.
"Data collected from Facebook by Rappler's social media monitoring tool showed that National Intelligence Coordinating Agency (NICA) Director General Alex Monteagudo started sharing posts as early as October 20, 2018 from The Daily Sentry, a website and Facebook page known for publishing false or misleading claims.
"This was weeks after President Rodrigo Duterte claimed there was a plot, dubbed Red October, to oust him. The military and the police echoed Duterte's unsubstantiated claim, implicating sectors and personalities critical of the President.
"The following month, November 2018, Monteagudo shared a total of 40 posts from The Daily Sentry. He shared The Daily Sentry posts almost every day in December 2018, with a total of 82 posts, or more than double the posts he shared in November."
One reshared post by Monteagudo showed altered photographs of Communist Party of the Philippines (CPP) Jose Ma. Sison putting a medal over Kabataan Representative Sarah Elago, saying "Sarah Elago for your contribution to Communist Terrorism in the Philippines".
Another meme, posted by Rappler in its fact-check report, says, "Did you know? The One Young World Politician Award of Sarah Elago was bestowed by the Communist Party of the Philippines Committee in London."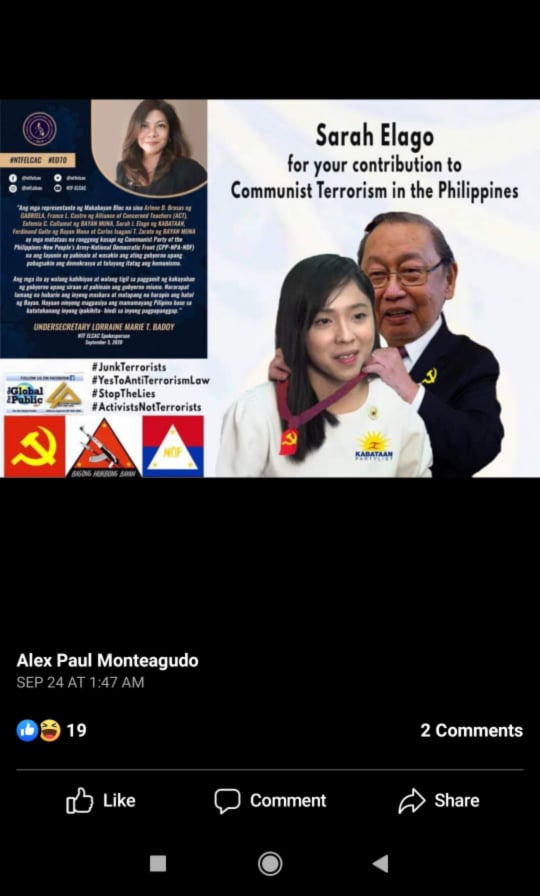 Rappler discovered the claim to be utterly false. One Young World, the report said, is a not-for-profit organization based in the United Kingdom, "which holds an annual summit that gathers young leaders around the world. The organization was founded in 2009, while the annual Politician of the Year award was created in 2018. The award recognizes outstanding politicians who make a positive impact on young people in their communities and countries."
During the recent deliberation for NICA's 2021 budget, the intel chief denied he was the source of "fake" news. The report also said that for the duration of the hearing, the NICA chief "admitted that he shared posts that particularly targeted progressive groups".
Monteagudo seemed to have gone on a posting spree shortly after Facebook shut down more than 100 fake accounts with links to the Armed Forces of the Philippines (AFP) and the Philippine National Police (PNP) for "coordinated inauthentic behavior". Some of the sites were said to have links to China.
After all's said and done on the matter of these fake accounts, one question looms: Why is the chief of the country's military intelligence agency managing a Facebook account in the first place?
To whet my curiosity, I went to Monteagudo's Facebook account as I was writing this column and there saw a timeline packed full of reshared posts aimed at red-tagging critics. Monteagudo also posted information and photographs related to his personal life.
Now, why would an intelligence officer come out into the open, break tradecraft protocol, and risk his life and the lives of those personally and professionally associated with him by being on Facebook?
It's something no intelligence officer should do, much less consider, for purposes of safety. There's a rationale behind kiddie comic superheroes like Superman or Batman choosing to wear masks: to protect their loved ones from being the target of criminal elements.
If comic strips have the common sense to know this, why not our chief of intelligence?
Disturbing, too, is the fact that the account is extremely lax in its privacy and security settings, allowing anyone to view his posts and photographs with the flick of a finger.
Isn't this a clear breach of agency protocol? Of tradecraft? Or worse, of the trust of his fellow intelligence officers, not to mention those personally associated with him? These people entrust their lives around the security provided by the same tradecraft to which he is bound.
I am amazed at the ignorance Monteagudo has displayed on the matter of the culture of cyberspace. While the internet provides tens of millions of users the technology to gather information, to communicate and be entertained, its darker underbelly is populated by predators, hustlers, and manipulators of varying degrees of criminal intent and behavior.
Monteagudo occupies a position that is not only hazardous to himself but to everyone associated with him. His presence on Facebook is a spit on the intelligence community's tradecraft and the lives of unknown covert operatives of our country. I cannot say this enough: the intelligence community should seriously look into this.
One cannot overemphasize the importance of secrecy in military clandestine operations. Tradecraft is not only a set of rules for survival, it's the operatives' sacred bond.
For how can operatives do their jobs of hunting down enemies, foreign and domestic, when the same enemies can identify intelligence officers and download information and photographs from Facebook as easily as a chocolate chip recipe?
To dispense with tradecraft is to dispense with the safety of every other operative. If the head of the agency is at risk of being caught and tortured, after having volunteered personal and professional information on social media, then it puts the whole agency in harm's way.
Make no mistake: there is no virtual in virtual reality.
Joel Pablo Salud is an editor, journalist and the author of several books of fiction and political nonfiction. The views and opinions expressed in this article are those of the author and do not necessarily reflect the official editorial position of LiCAS.news.