The new executive secretary of the social action arm of the Philippine Catholic bishops' conference said he will boost the agency's advocacy for human rights and other social issues.
Father Antonio Labiao said that while humanitarian programs will continue, the National Secretariat for Social Action will give more focus on issues on human rights and good governance.
"There are a lot of urgent issues nowadays," he said, citing in particular the country's new anti-terrorism law and corruption in the government's response to the health crisis.
---
---
---
The priest said he would initiate "more effective advocacy plans" on social issues that will educate the public and put more pressure on the government to enact "pro-people policies."
Father Labiao, who comes from the Diocese of Novaliches, also cited the need to advocate for press freedom and freedom of expression.
The 66-year old priest said partnership and collaboration "will play a big role" in realizing the agency's advocacy initiatives.
He said the Church "needs partners from all sectors of society" in advancing various development and advocacy programs on political, economic, and social issues.
The priest accepted hid new assignment at a turnover ceremony with outgoing social action executive secretary Father Edwin Gariguez in Tagaytay City on July 21.
The ceremony was held with only ten people in attendance due to the prevailing restrictions on mass gathering because of the coronavirus pandemic.
Regional and international officials of Caritas organizations joined the event through an online broadcast.
In his acceptance speech, Father Labiao thanked Father Gariguez for his leadership "that made [the social action secretariat] the largest humanitarian and development organization" in the country.
"It is hard to follow your footsteps but your legacy will serve as our inspiration and our benchmark on how far should continue to work," said Father Labiao.
Bishop Jose Colin Bagaforo of Kidapawan, national director of Caritas Philippines, expressed his gratitude to Father Gariguez for his "selfless service" for the agency.
As executive secretary of Caritas Philippines, Father Gariguez was instrumental in the formation of Philippine FBO Forum, a network of faith-based organizations.
Bishop Noel Pantoja of the Philippine Council of Evangelical Churches, lead convener of the Forum, said Father Gariguez's leadership helped in institutionalizing the "collaborated responses" of various Christian churches to humanitarian issues.
Father Gariguez championed the "localization of aid" in humanitarian responses, empowering diocesan social action centers and parish communities as first responders.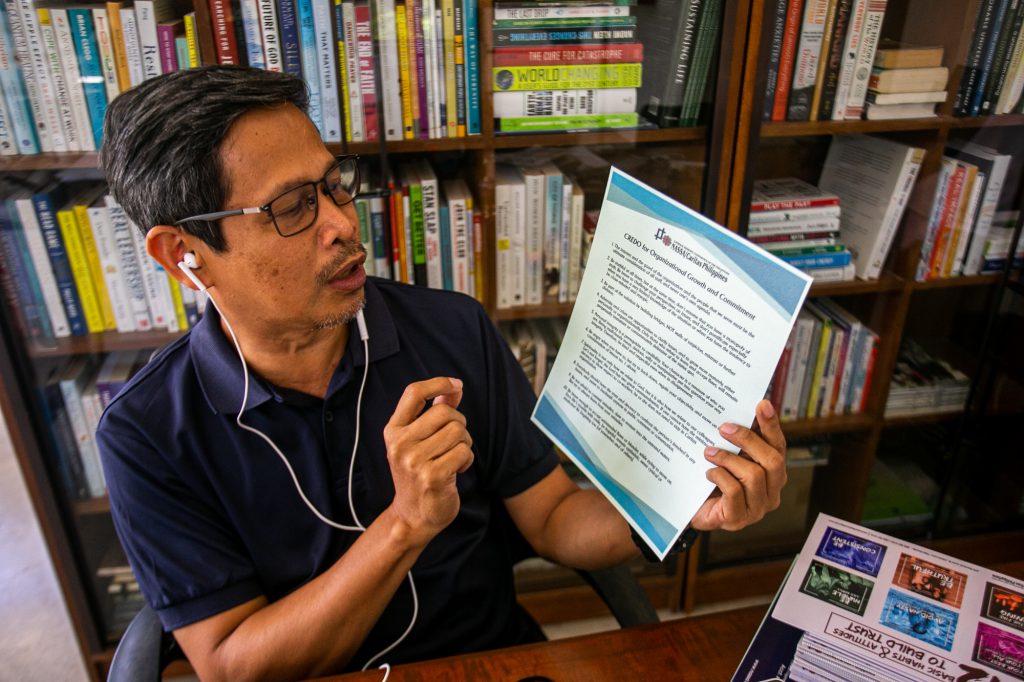 Aloysius John, chief executive officer of Caritas Internationalis, recognized Father Gariguez's "commitment and engagement to the poor in order to liberate them from poverty and injustice."
John said Caritas Philippines under Gariguez's leadership "has been a source of inspiration for the whole of Caritas Asia."
"I cherish the moments of dialogue, discussion, and reflection on how to enhance the whole region as an institution that is in service of the poor," he said.
Zar Gomez, coordinator of Caritas Asia, said they will continue to work with Father Gariguez even after his term in Caritas Philippines.
Father Gariguez was Southeast Asia's representative to the Caritas Asia Commission and was among Asia's representatives to the Caritas Internationalis Representative Council.
"As part of our regional and global management board, [Father Gariguez] not only elevated and shared the rich experiences of Caritas Philippines but also helped us in carving for our Caritas Confederation important decisions and strategic plans," said Gomez.
Gomez said Father Gariguez served as "one of the backbones and pillars who have nourished and sustained" the Caritas family in Asia.