Residents of coastal villages in the province of Iloilo said the effect of the oil spill from a power barge has worsened even as the government vowed to investigate the incident.
Ericko Hortillosa, a fisherman and chief of Obrero village, said peope fear that the bunker fuel will enter their village during high tide.
"It's gotten worse since the blast," he told LiCAS.news. "I don't know until when we will struggle with this," said the 48-year old villager.
---
---
---
He said he already lent one of his two motorized fishing boats to help authorities "collect" bunker fuel from the sea, adding that the other fisherfolk are reluctant to lend their boats.
"The color and the smell of fuel would stick on the boat, driving the fish away," said Hortillosa.
He appealed for immediate help for his village to address the health hazards that the smell of fuel brings to residents.
He also called on the government for assistance to help fisherfolk find an alternative source of income while authorities deal with the oil spill.
"Before, we had fish or crabs from fishing and we only have to buy our rice, now we have nothing," he said.
He also called on authorities to provide "shelter" for the fish to prevent it from moving away. "It would take years for them to come back," said Hortillosa.
"What others do is build a secure space for the fish just so that they can stay," he said.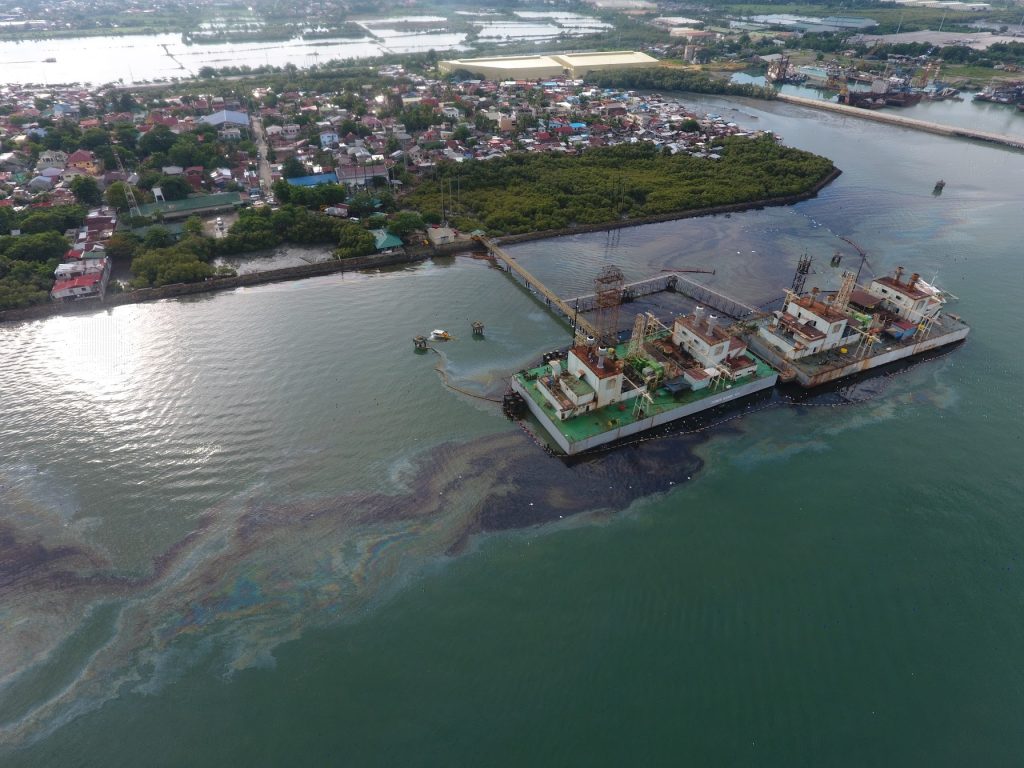 At least 192,000 liters out of 251,000 liters of bunker fuel were already collected from the waters of Iloilo, according to the City Disaster Risk Reduction Management Office.
The city has also evacuated 434 affected residents but is still struggling as the number of coastal communities affected by the oil spill is increasing.
About 48,000 liters of oil spilled into the waters off Iloilo on July 3 after an explosion on a power barge.
Authorities estimated that an area of about 1,200 square meters have been affected.
Khevin Yu, Greenpeace Philippines campaigner, said the oil spill is "a big threat to marine life and to the health and livelihoods of communities."
He noted that fisherfolk and coastal communities are already struggling to adjust to the economic impacts of the pandemic that have caused big losses in their sources of income and food security.
"This latest incident shows how oil and other fossil fuel sources are dirty and dangerous to the environment and communities hosting these power plants," said Yu.
He called on power companies "to rethink their businesses" to immediately shift to renewable sources and phase out their oil and coal facilities.
Yu also urged the government to ensure that the centerpiece of the country's post-pandemic recovery plan is "an urgent and just transition to 100 percent renewable power generation."
Environment Undersecretary Benny Antiporda said his department will look into efforts to clean the waters of Iloilo and Guimaras provinces and determine fines for the company.
This is the third oil spill incident in the strait separating Guimaras province and Iloilo City.
In August 2006, the "worst oil spill" in Philippine history happened when an oil tanker sank off the coast of Guimaras island and spilled 2.1 million liters of bunker fuel.