The Association of Major Religious Superiors in the Philippines has joined calls to stop the implementation of the country's new anti-terrorism law.
The influential religious organization said it was "deeply saddened" by the decision of President Rodrigo Duterte to sign the Anti-Terrorism Act of 2020.
The new law, which replaces the Human Security Act of 2007, aims to prevent, prohibit, and penalize terrorism in the country.
Human rights groups, however, said the law can be used by the government to target human rights activists and government critics.
---
---
---
"In light of faith, we cannot in conscience accede to a law that may assault human dignity and human rights," read a statement released by the religious superiors on Monday, July 6.
"At a time that our people are battling the effects of [the coronavirus pandemic] we find no reason to pass a law that does not serve to alleviate their miserable plight," read the group's statement.
The religious association is a joint forum of heads of religious congregations, which run most of the country's top universities and institutions.
"Unemployment, the closure of businesses, the continuing spread of the virus, and the lack of relief for our people are the most-pressing concerns at this time," it added.
The statement signed by Franciscan priest Cielito Almazan and Sister Marilyn Java of the Congregation of Our Lady of the Retreat in the Cenacle said the religious superiors "welcome the move of lawyers, religious and other civic leaders in filing an urgent petition in the Supreme Court."
At least four petitions challenging the anti-terror law have been filed before the Supreme Court on July 6, saying the new law may be used to tag opposition members and critics as terrorists.
The petitioners were also wary about the law's provisions allowing detention without charges for up to 24 days.
The law grants security forces sweeping powers to go after targets, some without judicial approval, and allows for 90 days of surveillance and wiretaps.
"It was crafted in imprecise and vague language so much so that there is no certitude as to what acts the law actually proscribes," said opposition congressman Edcel Lagman, one of the petitioners.
He said the law leaves people "perplexed on what to avoid doing, even as its vagueness is conducive to conflicting interpretations and arbitrary enforcement."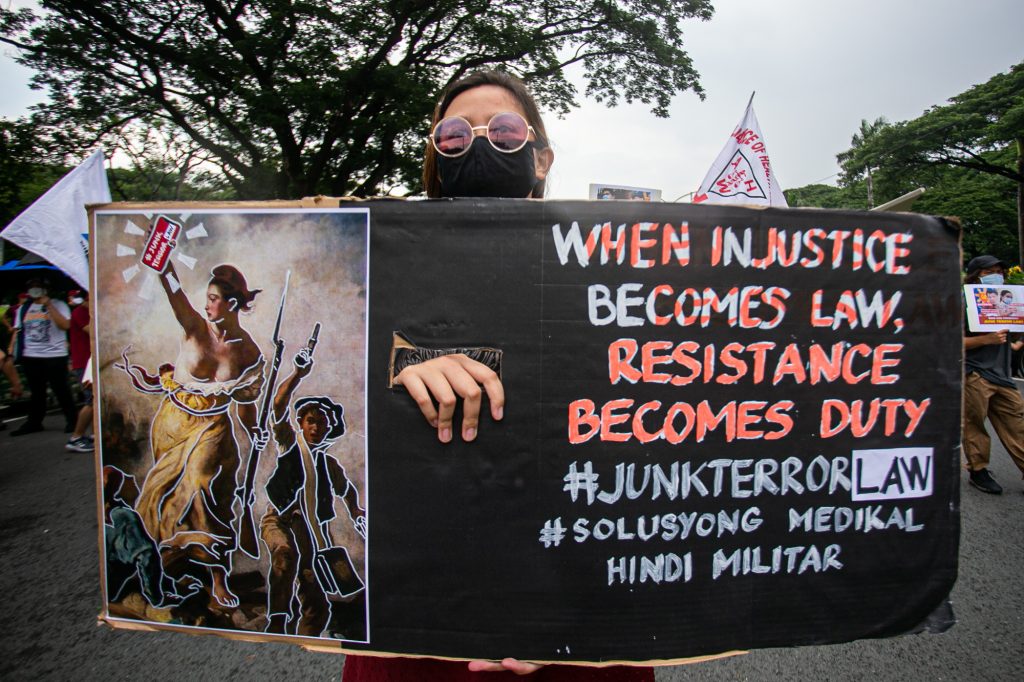 Justice Secretary Menardo Guevarra welcomed the filing of the petitions, saying the Supreme Court's ruling can provide some guidance on how to formulate the implementing rules and regulations of the new law.
"We pray that the Supreme Court grants the petition for a Temporary Restraining Order," read the statement issued by the religious leaders.
"We trust that the good women and men of the highest court of the land will be guided by the common good of all and by the Philippine Constitution," it added.
The group also called on "all who cherish our rights and freedoms … to stand your ground and be with the poor and downtrodden."
In a previous statement, the religious leaders said they "firmly believe [the law] will stifle basic rights and freedoms."