A small parish in the Philippines is inspiring Filipinos to make the best out of the lockdown brought about by the coronavirus pandemic by starting an organic farm.
After the government placed the whole country under lockdown in March, Father Rex Ramos of St. Vincent Ferrer parish thought of farming to spend time after church services were suspended.
His parish in Camarines Sur is considered one of the most impoverished in the Archdiocese of Caceres, with about 16,000 parishioners mostly relying on farming.
---
---
---
With resources dwindling, the priest decided to start a small backyard farm beside the rectory to supply people with vegetables.
Father Ramos started his farm beside the rectory even before the pandemic, but he encountered difficulties: muddy soil that is easily flooded.
The priest asked around for use car tires that he used as planters to hold the soil and protect the plants from the elements.
"At first no one helped me," he told LiCAS.news. "The garden was small, and I did it just to pass the time," said the priest.
"I enjoyed it so much. It looked good and produced wonderful crops. It was very therapeutic (and) very relaxing to see," said Father Ramos.
He said he had no background in gardening aside from his brief experience in grade school. He learned everything about gardening from the internet.
"Now, I watch a lot video about vegetable gardening," he said.
After successfully working on his small garden, the priest aimed his sights on a 500 square meter vacant lot beside the church.
The soil had the same unfavorable conditions, but it did not stop the priest.
He bought garden soil, chicken manure, and rice hull, and with the help of his altar servers fertilized the soil.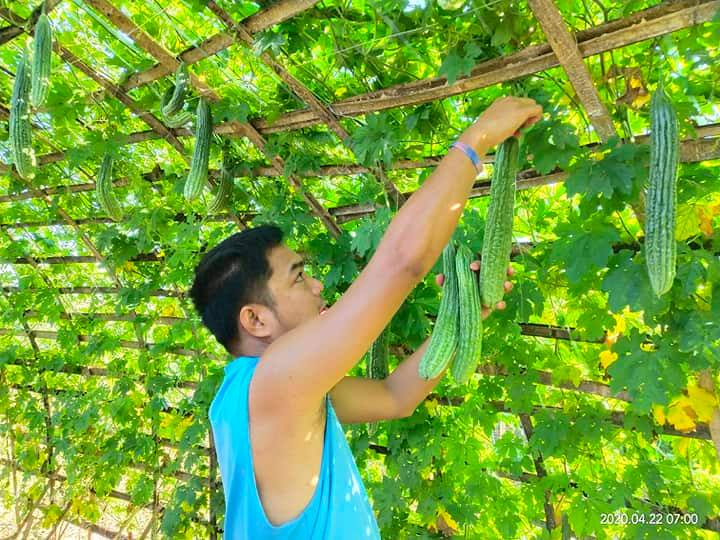 They planted various vegetable varieties, and after a few weeks started to literally reap the harvest.
Father Ramos claimed that all the 18 vegetables in the famous Filipino ditty "Bahay Kubo" can be found in his parish garden, and even more.
With his harvest, the priest was able to provide for his poor parishioners.
Word then spread about the parish's garden. "When they saw it. They were elated," said the priest.
People started to have their own backyard gardens with the help of the government's Agriculture department and the Catholic Church's social action arm, Caritas.
"It helps me a lot in my ministry. The garden is my avenue for prayer and reflection, and it's very therapeutic," said Father Ramos, adding that he was even able to inspire others.
The priest's secret on his beautiful garden: "You just need Tender Loving Care every day. You remove the weeds, you prone and clean, arrange the vines. It's like how marriages should be: healthy. It just needs TLC."