Human Rights Watch (HRW) has condemned the "cruel disregard" for human life demonstrated during dual bombings in Thailand's restive southern province of Yalta, which saw at least 25 people injured.
The explosions took place in front of the Southern Border Provinces Administrative Center (SBPAC), a Thai government body that oversees the administration of three mostly Malay-Muslim majority provinces of Narathiwat, Pattani, and Yala, where an insurgency since 2004 has killed some 7,000 people.
"The first bomb was a grenade throne to the area outside the SBPAC office fence to draw people out," Colonel Pramote Prom-in, a military regional security spokesman told Reuters.
---
---
---
"Then a car bomb about 10 meters from the first explosion went off. This was hidden in a pick-up truck where the perpetrators parked near the fence," he said.
There was a 10 minute window between the first and second attack, which wounded five reporters, five police officers, two soldiers and other bystanders, Pramote said.
Police would later confirm that at least 25 people had been injured, although no deaths have been recorded.
Such "double-tap" bombings have long been used by the Barisan Revolusi Nasional (BRN) Islamist group, which is seeking secession from Thailand.
New York-based Human Rights Watch (HRW) condemned the first ever attack on the SBPAC, which coordinates civilian affairs, public administration, and humanitarian work in the region.
"A 'double-tap' bombing outside a government building has no aim but to cause the greatest loss of human life," said Brad Adams, HRW's Asia director. "In carrying out this attack during a meeting to address COVID-19, separatist insurgents have again demonstrated cruel disregard for the lives of all civilians."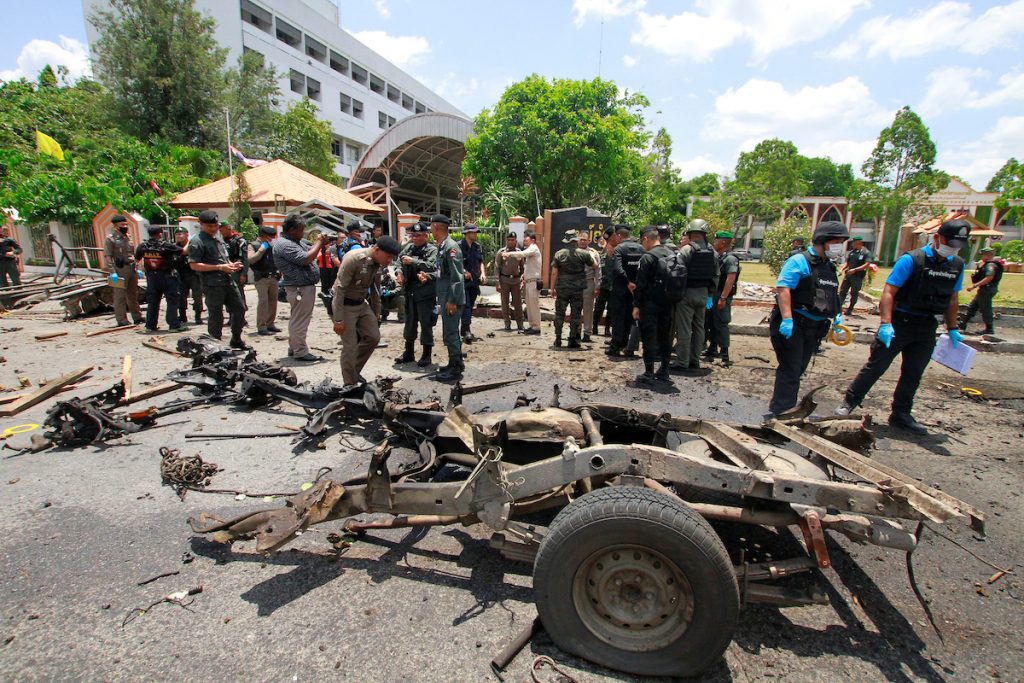 HRW noted that government agencies not participating in military operations are civilian by nature and not subject to attacks during times of war.
The group said that any "deliberate or indiscriminate attacks on civilians are war crimes."
HRW, while condemning the numerous warcrimes committed by the BRN in the southern border provinces over the past 16 years, also expressed its concerns for rights violations at the hands of the Thai government.
The group said that "killings, enforced disappearances, and torture cannot be justified as reprisals for insurgent attacks," and warned against a culture of impunity that let rights violators off the hook.
"The Thai government should thoroughly investigate the attack on the SBPAC and bring all those responsible to justice in compliance with human rights law," Adams said.
"As long as Thai security forces are shielded from criminal responsibility and long-held grievances in the ethnic Malay Muslim community are ignored, the insurgents will use the situation to try to justify unlawful attacks."
With Reuters