In the land-locked valley of India's frontier region of Kashmir, where the prospect of violence looms large due to hostilities between India and Pakistan, people are leaning on their faith to deal with a novel threat — the new coronavirus pandemic.
So far, three people have tested positive for the new coronavirus in India's only Muslim-majority region.
Regional authorities on March 17 declared the new coronavirus an epidemic, and surveillance workers have been authorized to enter any premises to look for people potentially infected with the virus.
---
---
---
The Health and Medical Education Department in the region has already issued a notice stating that any individual found to be infected with the new coronavirus is a hazard to public safety, and can subsequently be put in an "institutional quarantine" or "isolation" facility.
So far, 2,060 people are being quarantined at home while 28 have been hospitalized.
Approximately 297 people of those homebound residents are under surveillance, while 230 people have completed the 28-day surveillance period.
Schools, colleges, universities, and shopping malls have all been closed, and people have been advised to avoid unnecessary travel.
Amid the prevailing scare, on March 15 Rita Massi walked for more than five miles to reach the Holy Family Catholic Church, located in the region's capital Srinagar.
Massi is among a handful of congregants who have managed to attend Sunday Mass.
For her, praying to God is the only way to keep the deadly virus at bay.
"More than medicines, we need a miracle. Only God can save us from this," said Massi.
The other handful of parishioners present in the church espoused similar sentiments.
"God has the power to turn the tables around. He alone can provide a bulwark against the swirling tides of the present. We have a firm belief that faith can keep us safe," said Mariyam Devi, who was praying a few rows behind Massi.
Massi, brought her children with her, who likewise had been asked to pray for safety against the pandemic.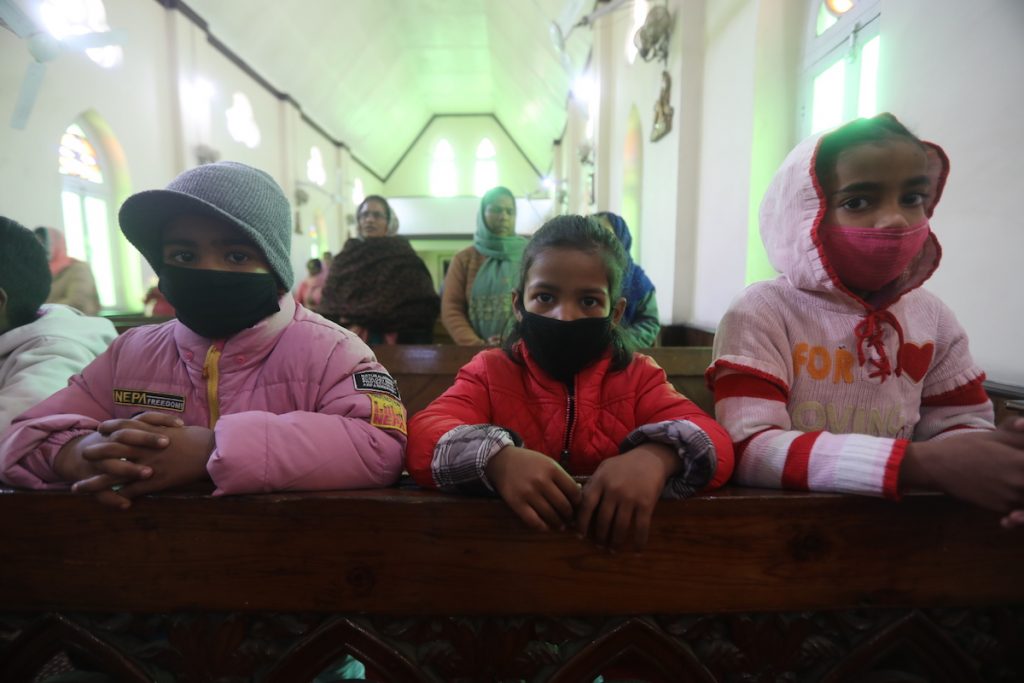 Local Muslims in the region are also turning to their faith in these trying times.
Even when the government issued an advisory to avoid religious gatherings, special prayers are being held in several mosques across Kashmir, with people seeking God's help against the new coronavirus.
In Kashmir's grand mosque, built more than 700 years ago, thousands of people congregated to offer special prayers on Friday, March 13.
Ahead of the event, the chief cleric, Syed Ahmad Sayeed Naqshbandi, highlighted the importance of prayer during these perilous times. 
"Times like these demand submission to God. Without God's mercy, nothing can save us from the virus, which is out to swallow the entire human race," Naqshbandi said in his sermon. 
---
---
---
Imtiyaz Ahmad Khan, a government engineer by profession, told LiCAS.news that the prayers were being held in order to seek forgiveness for one's sins and ask for God's help.
"We really don't know what is in store for us. All we know is that when things get out of our hands, we should seek Allah's mercy. He alone will save us from this apocalypse," said Khan.
Shaheena Bano, a Muslim woman from the old city of Srinagar, also participated in the prayers.
Her only son is working in Italy, and she was there in the mosque to seek protection for him.
"My son has a family there. He has two small kids. I prayed for their safety and urged God to protect them from the deadly disease," said Bano.
Abid Ali, a research scholar of Islamic studies from University of Kashmir, said the region has a centuries-old tradition of holding special prayers whenever hard times come.
"The region's history is full of episodes when people would flock in droves to places of worship and seek repentance. In times of famine or epidemic, people of the region congregate in mosques, temples, and churches, seeking divine help," Ali told LiCAS.news.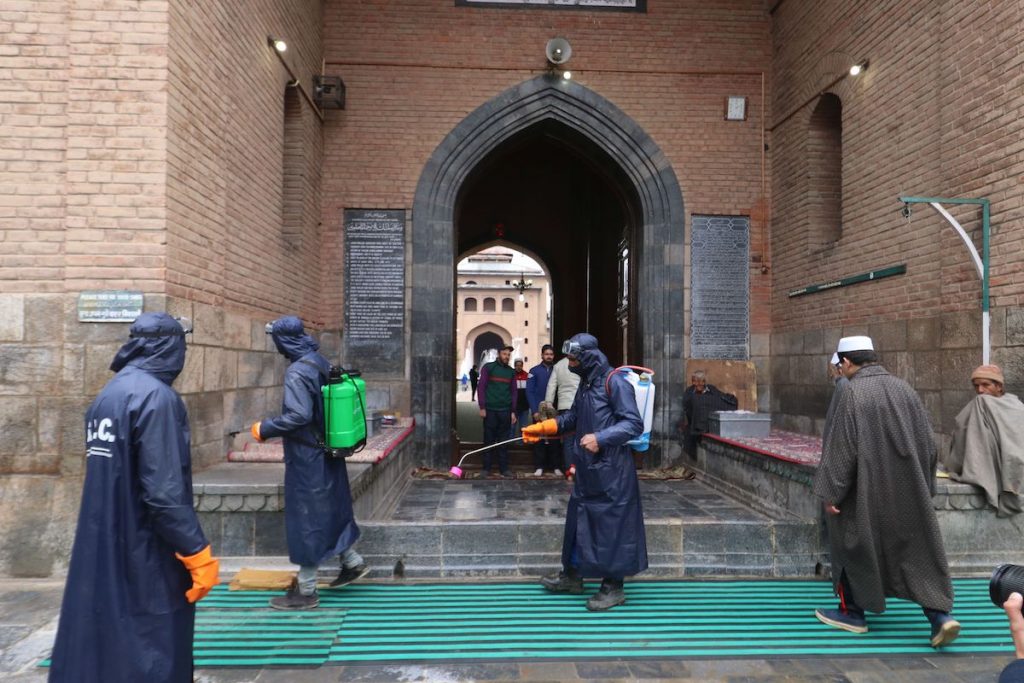 Parish priest of the Catholic Church of Srinagar, Father Roy Mathews, told LiCAS.news that special prayers were held on Sunday, March 15 in view of the new coronavirus threat.
"We have a firm belief that God doesn't want to destroy humanity. We seek his protection and ask for his help during trying times like these. If not him, who else is there to help us out," the priest asked.
On March 17, Bishop Ivan Perira of Jammu-Srinagar Diocese issued an advisory for all Catholic churches in the region, asking them to suspend congregational gatherings until March 31. 
The prelate directed the emptying of holy water fonts, discouraged the kissing of statues and images, asked congregants to avoid shaking hands while exchanging the sign of peace, and directed that Communion be administered by hand, and that prayers be conducted over parishioners without physical contact. 
---
---
---
He also asked congregants to go to the hospital when needed and follow the precautionary measures of health experts.
The Jammu-Srinagar Diocese spokesman, Father Saiju Chacko, told LiCAS.news that the government held a detailed meeting for religious leaders in the region, asking them to inform their followers of precautionary measures. 
"The diocese also participated in the meeting and assured their full cooperation to the government," Father Chacko said.  
However, for Rita Massi, church is the only place of  solace amid these turbulent times.  
"I will keep going to Church and will pray to God to save my family from the virus. There is none except God who will come to our refuge," she said.