International Women's Day, a call for gender equality, is the result of years of struggle on the part of women worldwide.
The day signifies the hard-earned victories in the uphill fight for the emancipation of women from the bondage of discrimination and sexual exploitation.
And while it is a time for celebration, it is also a day that calls for continued advocacy.
---
---
---
"There is still a long way to go to achieve full equality of rights and opportunities between men and women," read a statement from the United Nations.
"It is of paramount importance to end the multiple forms of gender violence and secure equal access to quality education and health, economic resources, and participation in political life for both women and girls and men and boys," the statement continued.
UN Secretary General António Guterres said that achieving gender equality and empowering women and girls is the "unfinished business of our time, and the greatest human rights challenge in our world."
Signifying pain, purple is the color representing the plight of women, although it has improved after decades of hard work.
Coinciding with the second Sunday of Lent, this year's International Women's Day observance reminds us of the "Madre Dolorosa" — the grieving Virgin Mary looking for her son.
Far from being passive, the Blessed Mother is a paragon of an empowered woman.
In her "Magnificat," she conveyed a revolutionary message that God "has put down the mighty from their thrones and lifted up the lowly."
Purple likewise signifies justice and dignity.
Having integrated myself with the female family members of the disappeared for almost three decades, I treasure their solidarity in our common vision for a world without desaparecidos.
Transformed from victims to human rights defenders, these women from across Asia and Latin America share their reflections on this important day.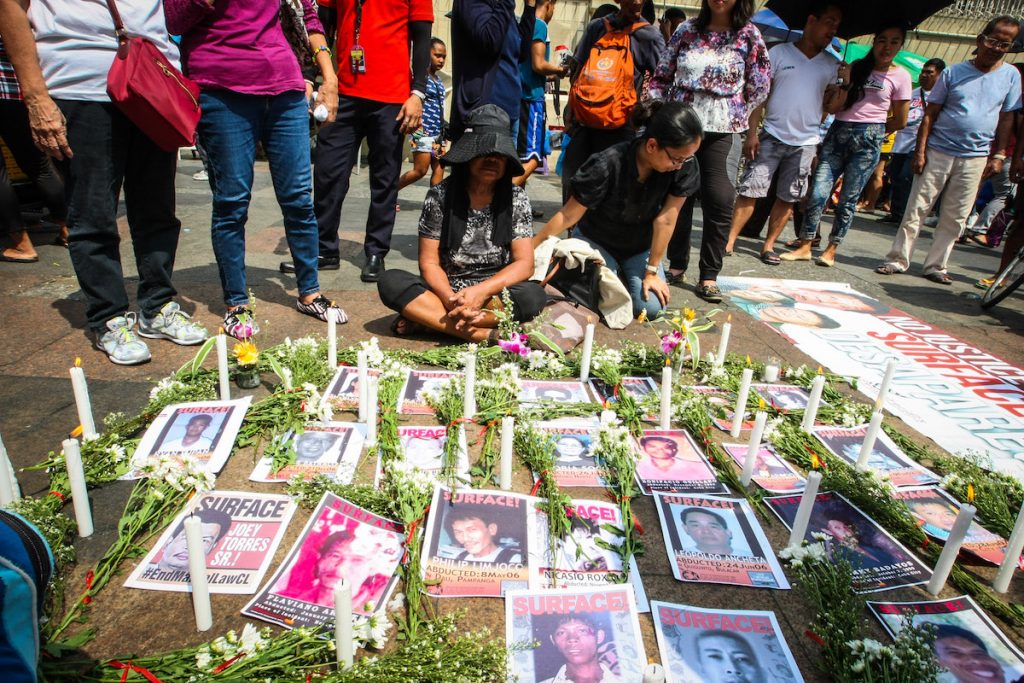 Angkhana Neelaphaijit from Thailand, whose husband disappeared 16 years ago, lamented: "If the pursuit for justice was a road, my family and I were almost at the end of it."
"We have encountered numerous obstacles and hardships," she said.
"For as long as our justice system cannot punish the culprits because they are state officials, like so many in this society, I will remain a victim of a flawed system," added Angkhana, who last year won the Ramon Magsaysay Award, which has been dubbed Asia's Nobel Prize.
"If those in power continue to remain indifferent to the hardships of people deprived of rights and justice, how can we look into the eyes of the youth and offer them hope," she asked.
In the Philippines, Daisy Valerio, whose husband was forcibly disappeared years ago, is still afflicted by that injustice.
"The pain of losing him still knocks on my heart. I unite my pain with the wives and other relatives of the disappeared all over the world," she said.
Ruth Llanos, president of the Association of Families of the Disappeared in Bolivia, said she works with her husband, Ricardo Navarro, for "much-needed changes" in her country.
"My generation achieved changes for the rights of women, but there are still many steps [to be taken] to attain equality," she said.
"Patriarchal societies continue to oppress women and imprison their ideas. The violence against women is revolting. International Women's Day is a journey and a struggle," she said.
From Honduras, Bertha Oliva, wife of Tomas Nativi Galvez, another victim of enforced disappearances, said she is profoundly committed to the struggle for women and men — especially for the youth.
"Every violation of a woman's body has to be considered an act of [force] and barbarism," she said.
"I will continue to raise up voices in the demand for truth and justice, and the battle against impunity," said Oliva, who is coordinator of the Committee of Families of the Disappeared in Honduras.
---
---
---
Having withstood the destructive social, economic, and psychological impact of enforced disappearances, these women refuse to remain in a state of victimization.
They chose to empower themselves and renew their vow to never allow enforced disappearances to happen again.
In their respective countries, they stand up and struggle hand in hand with other women who have seen their rights violated.
Their voices amplify the voices of millions of other women who are suffering from economic poverty, discrimination, and sexual violence.
More than a century has passed since the first International Women's Day was celebrated in 1911, and women of the world should congratulate themselves for the significant progress they have achieved.
They continue to call for a sustained struggle to answer the call of women's equality.
Being God's co-creators, women deserve nothing less than the best in life, and only when granted it shall they cry no more.
Mary Aileen D. Bacalso is former secretary general of the Asian Federation Against Involuntary Disappearances. For her work against enforced disappearances, she was awarded the 2019 Franco-German Ministerial Prize for Human Rights and the Rule of Law. In 2013, the Argentinian Government awarded her the Emilio F. Mignone International Human Rights Prize. The views and opinions expressed in this article are those of the author and do not necessarily reflect the official editorial position of LiCAS.news.