Asia Bibi, the Pakistani Catholic woman who spent eight years on death row over a false blasphemy conviction, said the prayers of the pope and the world made her believe she would one day be free, despite her harrowing experience in prison.
Bibi, who was in France promoting her memoir — Enfin Libre! (Finally Free) — told reporters she had been invited by French President Emmanuel Macron to live in the country. She is yet to decide on where she will settle down, saying for now she is focused on her health and family.
Currently residing Canada, Bibi told the BBC that she hoped she would be able to return to home to Pakistan one day.
"It was my country that freed me. That makes me proud," she said.
---
---
---
"I left of my own volition because I was in danger there. Anything could have happened to me at any point. So that's why I left my country. But I have the same love for my country in my heart now. I still respect my country and I want to see the day when I'm able to go back."
In her memoir, Bibi recounts the torture she experienced at the hands of the guards during her time on death row, saying she feared she might not make it out alive as other inmates were calling for her to be hanged.
"I can't breathe," she wrote in her book. "My neck is compressed by a neck brace that the guard can tighten as much as he wants with a big key. A long chain drags on the dirty floor; it links my throat to the guard's handcuffs that drags me like a dog."
She also told the BBC about her being pressured to abandon her faith in order to save her life.
"They said change your faith, and you'll be freed. But I said 'no'. I will live my sentence. With my faith," she said.
"I found out from my husband that the whole world was praying for me. And that even the pope had prayed for me. That made me happy. And I found out the whole world was praying for my misery to end.
"That made me feel that their prayers would definitely free me."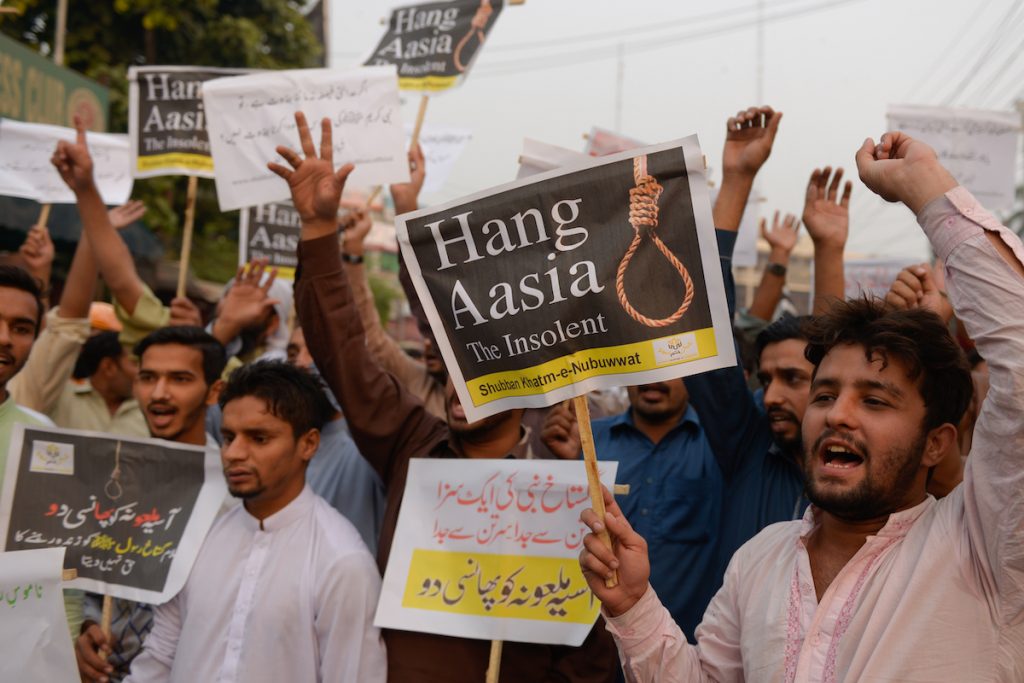 Bibi was sentenced to death in 2010 after fellow farm workers accused her of slandering the Muslim prophet Mohammed. The row was sparked when the laborers refused to share their water with Bibi on account of her faith.
The decision by Pakistan's supreme court to overturn her conviction in Oct. 2018 incited violent protests organized by hard-line Islamists, who called for her death.
In January, a court in Pakistan sentenced 86 people to 55-years each for their role in that mass unrest.
Two Pakistani politicians who had sought to help her were murdered, including Punjab's governor Salman Taseer.