Workers at the NagaWorld casino in Phnom Penh have banked a rare success after a 2-day strike, securing a salary raise and the reinstatement of a local labor union leader who was suspended in September 2019.
Khuth Saem, who has worked in the casino section of NagaWorld resort for eight years, was one of the over 2,000 workers who went on a strike.
"We are demanding that the company reinstate our union president, because they blocked her from working without valid reason, and we are asking NagaWorld to increase the basic wage to at least $300 per month for hotel workers and to $500 for casino workers," Saem told LiCAS.news in front of the casino, just hours before Cambodia's Ministry of Labor and a labor union leader announced that an agreement had been made.
A Jan. 10 announcement by NagaWorld, however, said that the workers had held an "illegal strike," while failing to mention that any deal had been struck.
---
---
---
Even though Saem and her colleagues were being monitored by security forces, whom they feared were prepared to use violence to put a halt to the strike, the 27-year-old said it was time for the workers to draw a line, and to not give up.
"We will stick to our demands. And the most important one is that they will reinstate our union president and allow her to go back to work."
NagaWorld, which generates $4 million in daily revenue, is the only casino allowed to operate in Cambodia's capital Phnom Penh. The resort employees 8,200 staff at its casino, hotel, and restaurant. Hotel workers currently earn $191-230 per month, while casino staff earn $230-370 per month. The Ministry of Labor said that the company has agreed to increase all salaries by 18-30 percent at the end of January.
The dispute started in September, after Chhim Sithar, the president of the Labour Rights Supported Union of Khmer Employees of Naga Hotel, was suspended. Sithar said she had come into conflict with her employer after she defended an employee who showed up to work wearing a t-shirt with the slogan: "Company grows; workers need living wage."
In a recent statement, NagaWorld said that Sithar had continued receiving her salary despite the suspension.
NagaWorld, which is owned by the Hong Kong stock exchange-listed NagaCorp Ltd., is known as one of the most profitable company's in Cambodia. According to the company's interim report, it pulled in $891 million in revenue during the first half of 2019, up 21 percent year-on-year. During that period, the company earned a profit of $245, up 26 percent year-on-year. Reuters estimates the company's 2019 revenue at $1.8 billion.
Initially there was great fear that the strike would result in a crackdown, especially after a judge from the Phnom Penh Municipal Court called the action illegal, ordering the workers to end their protest and return to work.
Chhim Sithar and her colleagues, however, refused to back down. Sithar told LiCAS.news the judge's order was an injustice against the workers.
"We have been very patient and waited a long time before we started this strike. But the company left us no other choice, as they haven't shown any intention to sit down to negotiate with us. That's why we exercised our right and went for the last possible option — to conduct a strike."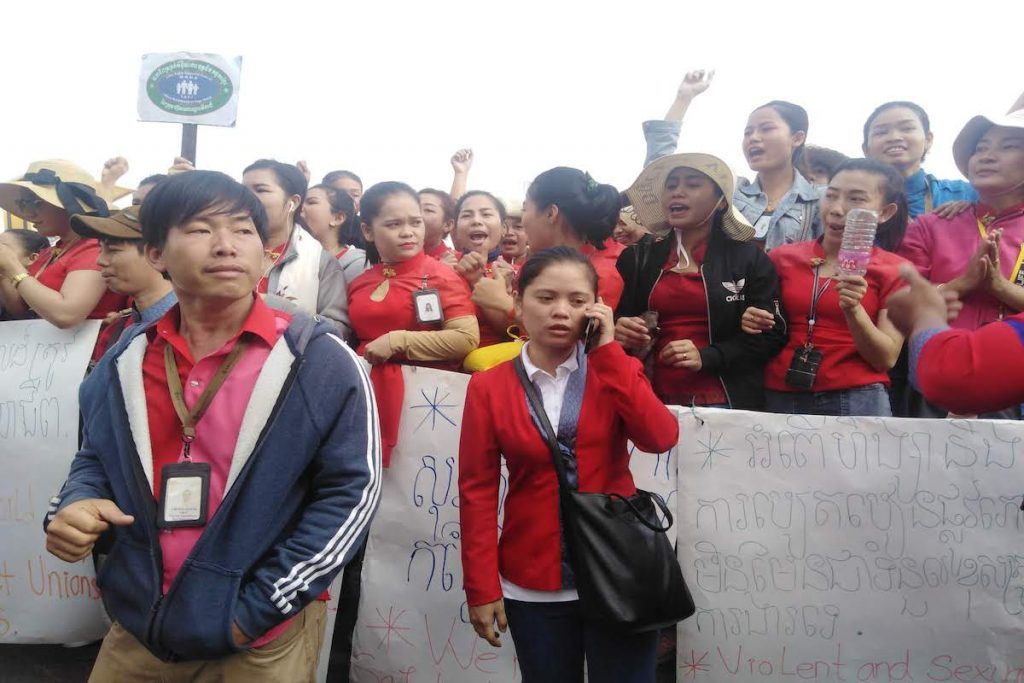 ---
---
---
'Window for unions to act'
Sophal Ear, an associate professor at the Occidental College in Los Angeles, U.S., and an expert in Cambodian politics, said it was possible authorities did not crack down on the strike as it would have created an image problem for NagaWorld and the Cambodian government now that Cambodia is being being closely reviewed on account of the European Union's Everything But Arms agreement. The EU will announce on Feb. 12 if Cambodia will continue to have access to the lucrative trade agreement.
Losing it could entail a strong blow to the country's economy.
"This is the window for unions to act. They have one month to basically make all of their demands and have the maximum chance of getting a yes," Sophal told LiCAS.news. "However, I would not celebrate yet. The company's statement refers to an 'illegal strike' and makes no mention of any agreement."
Sithar said that she and her colleagues had asked Cambodia's Ministry of Labor to help solve the dispute, which eventually led to a satisfying result, possibly because NagaWorld fears that the strike will discredit the company.
"We have shown that as workers, we stand strong and united. I would say it has led to a win-win situation that is acceptable for both sides," she said.
Apart from the significant wage increase, Sithar told journalists that she will be reinstated as the president of her union. The workers will also receive a bonus related to their performance, and will be given the right to an extra payment if they don't use their annual sick leave, she said.
It was also reported that NagaWorld has a plan to provide each individual worker with a share of its mother company NagaCorp Ltd. However, this initiative will need to receive approval from the company's shareholders as well as its management board.
Khun Tharo, a project coordinator at the Cambodian-based Center for Alliance of Labor and Human Rights, told LiCAS.news that the outcome of the strike is positive, saying that "when workers stand united, sooner or later their success is guaranteed."
"This will pave the way for the union to negotiate its remaining demands," Tharo said. "However, we have to wait and see if the union leader can go back to work without any discrimination, and we will have to see if the employer now shows respect to the union and to worker's rights."
Meanwhile, Saem said that the financial pressure on NagaWorld helped the workers secure victory.
Saem said 70-80 percent of the casino's gambling tables were closed during the 2-day strike, which has likely left a financial dent. Sithar said that the workers resumed work on the morning of Jan. 11.
However, Ear said that the workers and the public should not be fooled by NagaWorld's intentions.
"As a publicly-listed Hong Kong company, shareholder value is their primary motive, not giving back enough. If they could pay less than what they now pay, they would, but they can't. They know that any lawyer in Cambodia will tell them what the workers are doing is illegal," Ear said.
"However, does it make it right? They have to look at the political context: This is not a good time for bloodshed in the streets of Phnom Penh."
---
---
---