Are you looking for an example of an enterprise as sustainable and environment-friendly as possible? You do not have to look abroad, or even far from Metro Manila to find it.
In the town of Mataasnakahoy in Batangas is Kapusod, a pristine getaway that aims to be a model for sustainability. Owned by veteran journalist Howie Severino and his wife, environmental lawyer Ipat Luna, it takes its name from the Tagalog word pusod, meaning "navel" and referring to the need to reconnect with Mother Nature.
Kapusod is a relatively small property, compared to most resorts in the province. Yet from the moment you pass through the gate, you can immediately sense an ambiance that makes you feel right at home. As you explore the entire area, it becomes apparent that every inch and every detail has a purpose, reminding you of the best that nature and Filipino culture have to offer.
---
---
Right at home
Guests are welcomed into the main building, a two-story structure styled like a bahay kubo where the cafeteria and administration office is located. It also provides a good view of Taal Lake and most of the property, and common spaces for various activities. While walk-in guests can rent cabanas or sit at tables with a lakeside view, check-in guests can avail of some relatively unique accommodations.
As it features only a few options for rooms, Kapusod is an ideal spot for individuals or small groups seeking a quieter vacation or retreat. Each of these structures is built to make the guests feel relaxed and cozy while piquing their interest or passion for caring for the environment.
Its most unique room is the Earth Dome, which is built from clay and lime. It is designed to be resilient to fires, earthquakes, storms, and other natural hazards. Its interior walls are filled with paintings of endemic and native species that make you feel at one with nature. It is also well-ventilated, ensuring a cool, comfortable stay at night.
Its original room is the Treehouse, situated right next to Taal Lake and surrounded by a sprawling garden featuring trees, plants, and flowers endemic to the Philippines. It is especially suitable for those seeking a space to rest, reflect, and recharge away from the city.
For groups of up to 10 persons, the Karakoa Cottage is the ideal choice. Named after a type of 'balangay' or an ancient Filipino boat, it is structured with soil-stuffed sacks, an 'anahaw' roof, and bamboo-and-abaca stairs. The pair of stair-like stands at the entrance of the house provide additional support. It also comes with its own kitchen and restroom, while still being well-ventilated.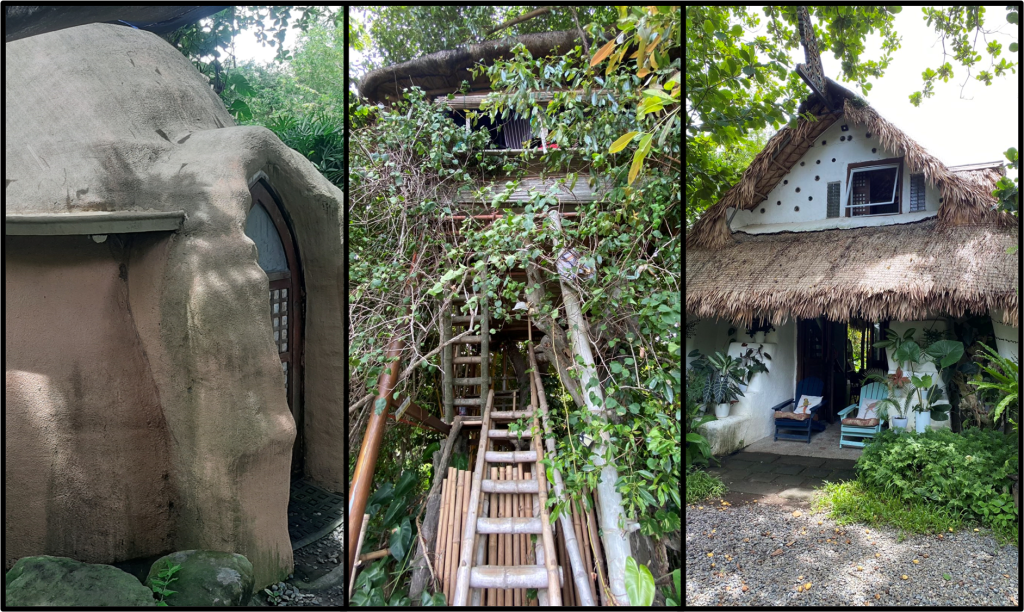 Every detail matters
Kapusod provides examples of best practices for ecological sustainability that can be replicated across the Philippines. For instance, it implements a strict zero-waste policy, where guests are asked to carry their non-biodegradable waste with them upon checking out. Food waste and other biodegradables are used for composting, which in turn helps grow the surrounding flora. 
In front of the Earth Dome is the water garden pool. Aside from bathing, the pool is part of an intricate system that not only keeps the water clean and avoids use of chlorine, but also attracts dragonflies that help minimize the presence of mosquitoes throughout the place. There is also a windmill that both provides electricity and helps bring water from underground to replenish the pool.
Kapusod also features other systems for efficiently using water. This includes recycling the water used in its communal restroom for gardening and collecting rainwater for multiple uses.
At night, guests may see the fireflies glow in the air or be serenaded by the sounds of surrounding wildlife, either of which you simply cannot find in bustling cities. Together with the cool winds and an environment that does not necessitate a mosquito net, they would be treated to a nature-approved good night's sleep.
The foods served in its cafeteria are organic and locally sourced, with a wide selection of Filipino-inspired meals, desserts, and drinks to choose from. From meals like 'sinampalukang manok' to desserts and drinks like halo-halo and cucumber-lemon juice, you can sense the freshness of the ingredients and the care put into making these delicacies that add to the overall experience.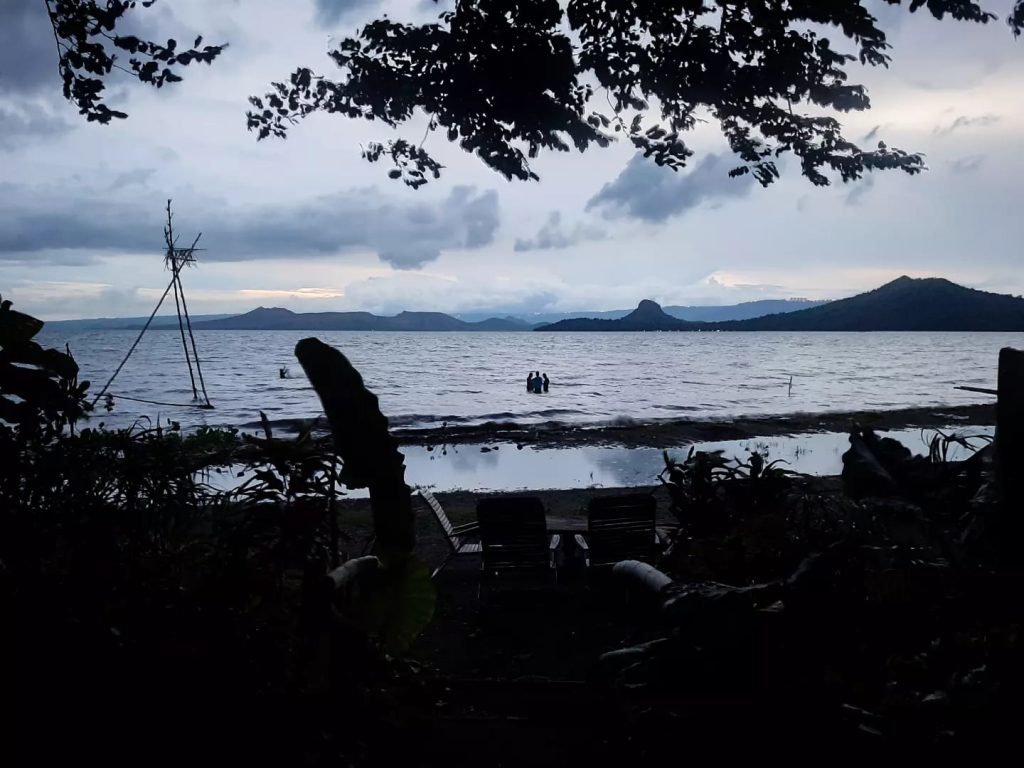 The staff members of Kapusod are also accommodating and welcoming, being residents from nearby communities. Severino and Luna work together with them to conduct capacity-building and training sessions on promoting sustainable practices, from growing plants from the nursery to cooking foods that are healthier for both humans and the environment.
All of these features show how Kapusod embodies the lyrics made famous by Joey Ayala, "ang lahat ng bagay ay magkaugnay" ["Everything is interconnected"]. What happens in one part of the place impacts the rest, a microcosmic representation of the interlinkages among and within human communities and ecosystems that must be recognized to build the right kind of resilience.
When giving my group a tour of the place, Severino mentioned the need for humankind to undergo a transformation to remember its ecological role and responsibility, from being Homo sapiens to becoming Eco-sapiens. Kapusod is a preview of what we could be, what our world could still be, and, more importantly, that it is still possible for both to be.  
By recognizing these connections, Severino and Luna turned their vision for a sustainable enterprise into a system marked with the kind of resilience that can respond to any crisis, strengthen communal bonds, sustainably use resources, and provide a safe space for everyone to refresh, if not rediscover themselves. That is how you turn a property into a sanctuary.
John Leo is the Deputy Executive Director for Programs and Campaigns of Living Laudato Si' Philippines, a member of Aksyon Klima Pilipinas, and the Youth Advisory Group for Environmental and Climate Justice under the UNDP in Asia and the Pacific. He is a climate and environment journalist since 2016.