One of Pope Francis' last gestures before undergoing abdominal surgery on Wednesday was to pray before a relic of St. Therese of Lisieux.
A relic of the French Carmelite nun, also known as St. Therese of the Child Jesus, was present on the platform in front of St. Peter's Basilica during the pope's weekly general audience June 7.
Before beginning the audience, Francis venerated the relics of St. Therese in a moment of silent prayer. He also placed a single, white rose on the table in front of the reliquary.
---
---
Pope Francis was taken to Rome's Gemelli Hospital for abdominal surgery under general anesthesia at the end of the morning audience, shortly after 11:00 a.m. Rome time, the Vatican said.
Relics of St. Therese's parents, Sts. Louis and Zélie Guérin Martin, were also present at the meeting with the public June 7. The relics of all three saints will visit different churches in Rome through June 16.
Pope Francis said Wednesday he intends to publish an apostolic letter on St. Therese of Lisieux, "patroness of the missions," to mark the 150th anniversary of her birth.
"She was a Carmelite nun who lived her life according to the way of littleness and weakness: she defined herself as 'a small grain of sand,'" he said in St. Peter's Square.
"Having poor health, she died at the age of only 24," he added. "But though her body was sickly, her heart was vibrant, missionary."
"Here before us are the relics of St. Therese of the Child Jesus, universal patroness of missions," he said. "It is good that this happens while we are reflecting on the passion for evangelization, on apostolic zeal. Today, then, let us allow the witness of St. Therese to help us. She was born 150 years ago, and I plan to dedicate an apostolic letter to her on this anniversary."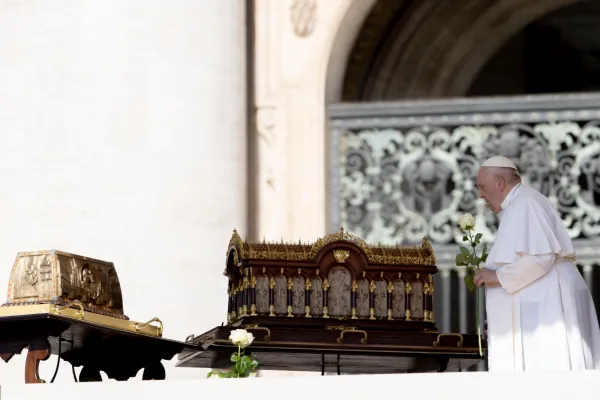 St. Therese of Lisieux was born on Jan. 2, 1873, in Alençon, France. Her mother died when she was four, leaving her father and older sisters to raise her. She received papal permission to enter the Carmelite Monastery at the young age of 15, where she lived until her death from Tuberculosis at the age of 24.
She was proclaimed a Doctor of the Church by St. Pope John Paul II in 1997 and is the patron saint of missions.
Pope Francis reflected on the saint's life as part of a series of lessons on evangelical zeal.
"She is patroness of the missions, but she was never sent on mission," Francis explained in his catechesis. "She recounts in her 'diary' that her desire was that of being a missionary, and that she wanted to be one not just for a few years, but for the rest of her life, even until the end of the world."
St. Therese did this, he said, by becoming a spiritual sister to several missionaries, whom she accompanied through her prayers, letters, and sacrifices from within the monastery walls.
"Without being visible, she interceded for the missions, like an engine that, although hidden, gives a vehicle the power to move forward," the pope said.
"Missionaries, in fact — of whom Therese is patroness — are not only those who travel long distances, learn new languages, do good works, and are good at proclamation," he added. "No, a missionary is anyone who lives as an instrument of God's love where they are."
Pope Francis recounted two episodes from St. Therese's life that help to explain the source of her zeal and missionary strength.
The first happened during Christmas 1886, when Therese was almost 14 years old.
St. Therese was pampered as the youngest child of the family, he explained. But her father was tired after midnight Mass for Christmas and did not feel like being present when his daughter opened her gifts, so he said he was glad it was the last year she would receive gifts.
"Therese, who was very sensitive and easily moved to tears, was hurt, and went up to her room and cried," the pope said.
"But she quickly suppressed her tears, went downstairs and, full of joy, she was the one who cheered her father," he said. "What had happened? On that night, when Jesus had made himself weak out of love, her soul became strong: in just a few moments, she had come out of the prison of her selfishness and self-pity; she began to feel that 'charity entered her heart' — so she said — 'with the need to forget herself' (cf. Manuscript A, 133-134)."