As Pope Francis gears up to visit Hungary for the second time in less than two years on Friday, he is being awaited by the country's Catholics and its nationalist Prime Minister Viktor Orban.
Yet, the self-styled "defender of Christian Europe" has frequently diverged from the pope's messages — on topics from migration to LGBTQ rights — in a bid to reintroduce religion in the largely secular nation while trumpeting his political agenda.
"Such indoctrination has little to do with true Christianity," theology professor Rita Perintfalvi of the Austrian University of Graz told AFP.
---
---
Orban has been eager to revive what he calls the "Christian civilisation" suppressed during the four-decade communist era.
Soon after coming to power in 2010, the nationalist premier oversaw a new constitution laden with references to God, Christianity and traditional family values, with later amendments stating that marriage is only possible between a man and a woman.
But unlike neighbouring Slovakia and nearby Poland, Hungary remains predominantly secular.
'Indoctrination'
Coming from a Calvinist background and claiming to be non-religious before forging closer ties with the Catholic Church in recent years, Orban has spearheaded the so-called re-Christianisation of Hungary's schools.
Before the communist era, about 20 percent of schools were Catholic. But that figure dropped to just five percent by the early 2000s. It has since rebounded, claiming 17 percent of primary and 25 percent of secondary schools.
Such actions, including the renovation of places of worship, "may have been viewed favourably by the Holy See,",Perintfalvi said.
But "this is precisely where the contradictions come in," she added.
"The state expects unconditional support" from local churches, she explained, in return for all the money and resources being poured into religious institutions and education.
In a sign of the political influence, most Hungarian clerics did not heed the pope's call to welcome refugees during the 2015 migration crisis, with which Orban was at odds.
Hungarian clerics have also refrained from addressing Orban's anti-LGBTQ policies, which the European Commission and international organisations have denounced.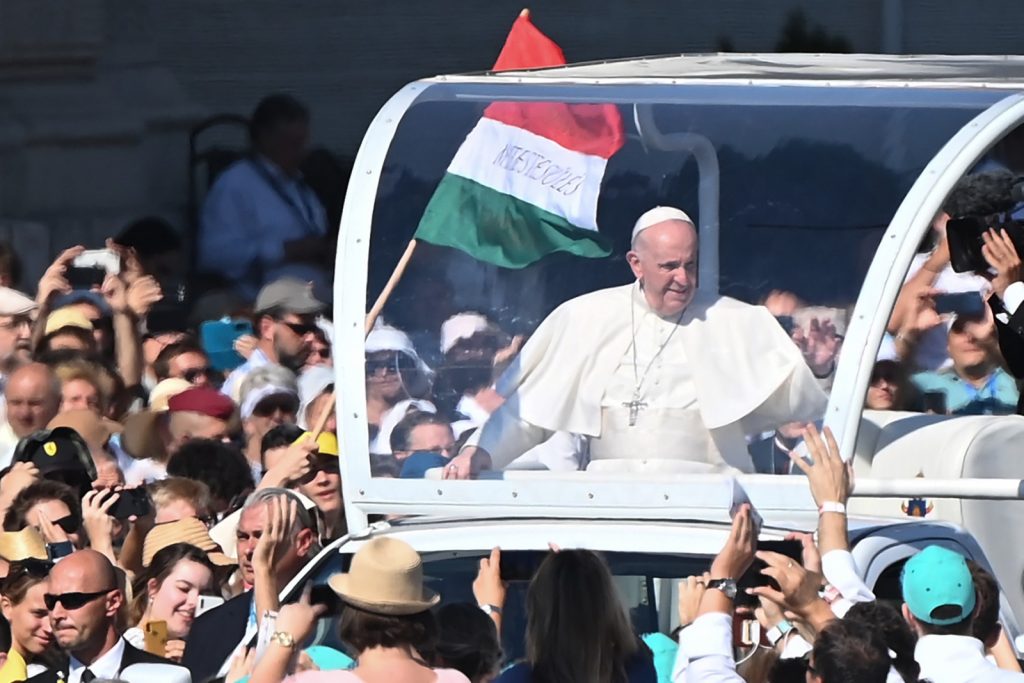 Outreach vs. exclusion
In contrast, Francis has stirred controversy with his relatively liberal attitude towards sexual orientation and gender identity, which clashes with the beliefs of many Catholic conservatives.
But the Argentine Jesuit has also frustrated modernisers by sticking firmly to Catholic teaching that marriage is the union between a man and a woman.
In a documentary released on the Disney+ streaming platform in early April, the 86-year-old pope said "every person is a child of God."
"I don't have the right to kick anybody out of the Church," he said in the documentary, which captured a meeting in Rome last year with 10 young Spanish speakers from around the globe.
In January, Francis said people who criminalise homosexuality are "wrong", adding that homosexuality was "not a crime" but "a sin."
While Orban has erected razor-wire fences on Hungary's borders to keep out migrants, the pope — himself from a family of Italian immigrants to Argentina — has urged tolerance for those fleeing war and poverty.
The pontiff has also denounced the cruelty of Russia's troops in Ukraine, regularly calling for peace for "martyred Ukraine", in stark contrast to the ambiguous path Orban's government has trod.
'Not so far apart'
But on the eve of the visit, Orban supporters were keen to emphasise what the two men have in common.
"The Holy Father's thinking and Orban's are not so far apart," expert Mark Aurel Erszegi, a former employee of the Hungarian embassy to the Vatican, told AFP, highlighting their calls for peace in Ukraine and shared views on family policies.
Critics such as Perintfalvi hold a different view. The pope's quick return to Hungary can be attributed to his wish, she said, to "save it from the moral decay that has taken place in the last 13 years."
During his brief visit to Budapest in September 2021, the spiritual leader of the estimated 1.3 billion Catholics worldwide called on Hungarians to be "open" to all.
"He is not coming to celebrate Orban's showcase Christian democracy, but because our society is sick," said Balazs Gulyas, a practising Catholic, who runs the website Gulyasagyu Media.
"Our Christian faith is in danger, our churches are empty, and most of our politicians only profess to be Christians, but do not practise it."