US and Philippine troops fired a salvo of rockets at a warship representing an enemy vessel in the disputed South China Sea on Wednesday, in the final exercise of the allies' largest-ever military drills.
It was the first time the countries had conducted a joint live-fire exercise in the hotly contested waters, which China claims almost entirely.
Philippine President Ferdinand Marcos, who has sought stronger defense ties with the United States, sat in an observation tower with US and Philippine officials watching the event north of Manila.
---
---
"No Hollywood effects this morning, this is old-fashioned training," said Lieutenant Colonel Nick Mannweiler, a US Marine Corps public affairs officer.
The live-fire drill kicked off with the US HIMARS precision rocket system launching a series of rounds at a decommissioned Philippine Navy corvette anchored about 22 kilometers (14 miles) off the coast.
The ship, which represented an enemy vessel approaching the Philippine shore, was sunk by guided bombs dropped by US Marines F-35B Lightning II fighter aircraft, a US military spokesman said in an email.
Artillery units also lined up along a grassy field to fire rockets at floating drums 10 kilometres offshore.
F-16 Fighting Falcons, AH-64 Apache attack helicopters and Philippine Air Force FA-50 fighter jets also took part.
The drill was briefly interrupted when a small private aircraft entered the exercise area, Mannweiler told AFP.
'Ironclad alliance'
The drills aim to boost Manila's military capability while serving as a US show of support for its Asian ally as China's assertiveness in the region grows stronger.
Nearly 18,000 troops have taken part in the annual exercises dubbed Balikatan, or "shoulder to shoulder," in Tagalog.
Wednesday's event "demonstrated new potential and revitalised the strength of our militaries while we continuously forge an ironclad alliance," the Balikatan director for the Philippine military, Major General Marvin Licudine, said in a statement.
The drills, which began on April 11, have involved helicopters landing on a Philippine island off the northern tip of the main island of Luzon, nearly 300 kilometers from Taiwan.
The US military also showed off its Patriot missiles, considered one of the best air defence systems in the world.
This year's Balikatan follows a deal announced earlier this month for US forces to use an increased number of bases in the Philippines, including one near Taiwan.
China considers self-ruled Taiwan a part of its territory.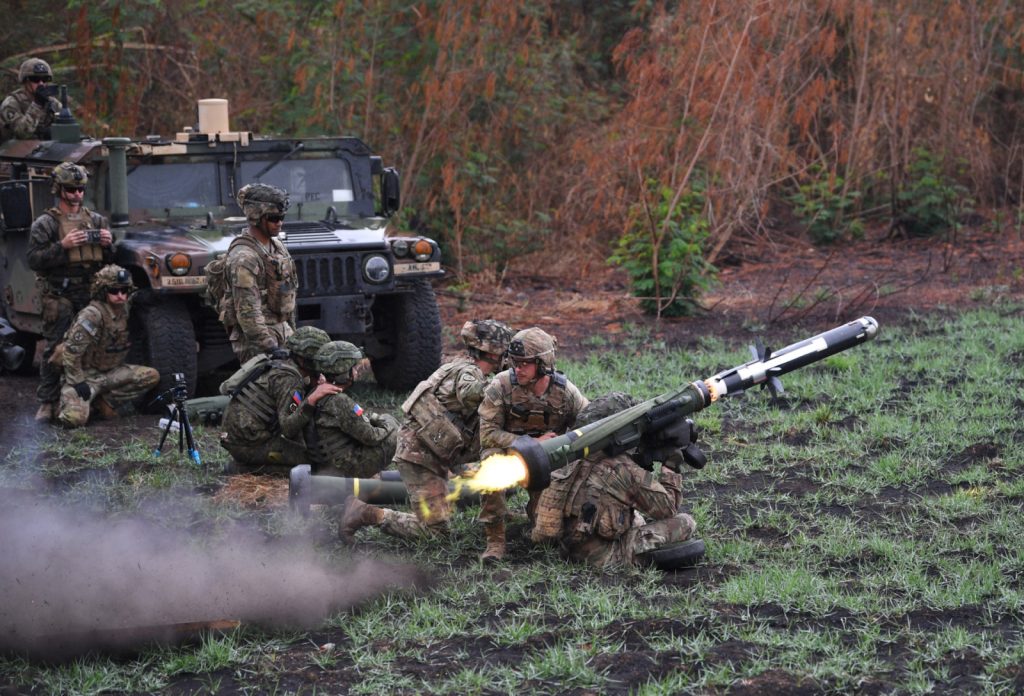 The exercises and growing US access to Philippine bases have angered China, which has accused the United States of endangering regional peace and trying to drive a wedge between Manila and Beijing.
Philippine drills spokesman Colonel Michael Logico said it was the Southeast Asian country's "inviolable right to exercise within our territory."
Beijing claims sovereignty over almost the entire South China Sea, including the Spratly Islands, ignoring an international ruling that the assertion has no legal basis.
China's foreign ministry spokeswoman Mao Ning said Wednesday that "defense and security cooperation between countries… should not escalate tensions… and should not target any third party."
It is the first Balikatan to be held under Marcos, who has gravitated towards the United States since taking office last June.
Relations had weakened under his predecessor Rodrigo Duterte, who had favoured China over his country's former colonial master.
Marcos is scheduled to meet with US President Joe Biden at the White House next week to discuss among other things the growing tension over the South China Sea and Taiwan.