The credibility and growth of the Christian faith in Asia will primarily depend on how Christians live their life, not on how the clergy preach, said the head of the Catholic Church in Bangkok.
"The credibility of the Christian faith depends mainly on the witness of lay people," said Cardinal Francis Xavier Kriengsak Kovitvanit, Archbishop of Bangkok, on October 24.
He said "the witness of the laity" who are "immersed in the life of society" helps a lot in the work of evangelization.
---
---
"[They] give witness to the people of other religion," said the cardinal at this month's general conference of the Federation of Asian Bishops' Conferences (FABC) in Thailand.
He said the faith of the laity will show how effective the work of evangelization of the Church is.
At the opening of the 18-day gathering of Asian Church leaders, Cardinal Kriengsak invited delegates — bishops, priests, and lay people — to have a real experience of "communion."
Quoting the Scriptures, the prelate said that "Wherever two or three are gathered in unity, in reciprocal love, there, God who is love, is among them."
In his message at the start of the FABC conference on October 12, Pope Francis urged Asia's Catholic bishops to recognize the important role of lay people in the Church.
"Let the laity assume their baptism (and) their function as laypersons," said the pope.
In his message, Pope Francis said that since the establishment of the FABC, the Church in Asia "was being called to be more authentically the Church of the poor" and "the Church of the young."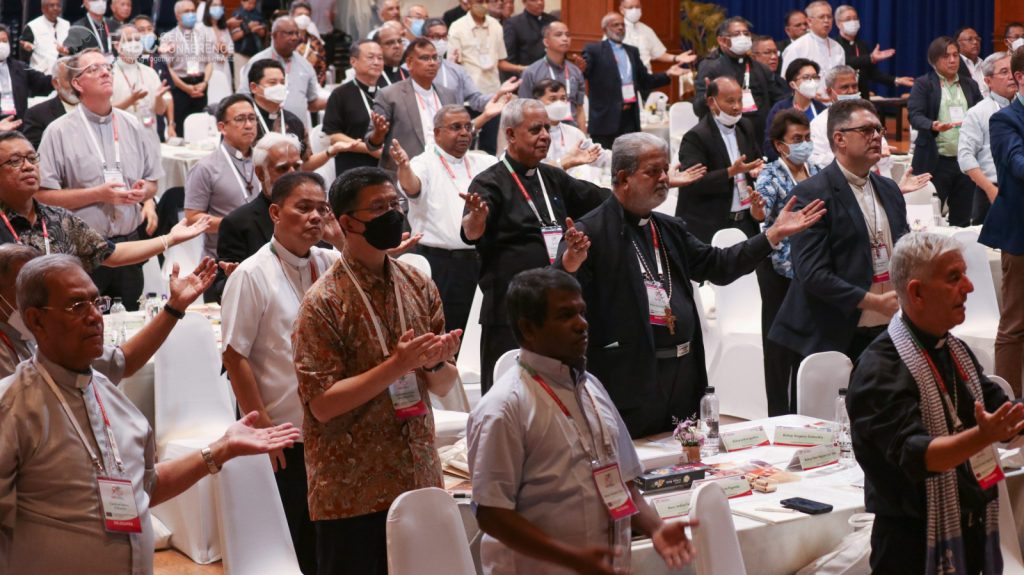 He said the Asian Church is also supposed to be "in dialogue with fellow Asians of other denominations."
The pope said that during the establishment of the FABC in 1970, the people in Asia "were awakening from fatalism to a life worthy of man."
"[T]he young people were also awakening, they were idealistic, aware, concerned, impatient and restless; culturally diverse societies were awakening to become a true community of peoples," said Pope Francis.
Pope Francis said he wished "in some way to accompany you in the work of fraternity and exchange of ideas that you will carry out."
He urged the gathering of the region's Church leaders in Thailand to answer the question of what the Holy Spirit is saying to the Churches in Asia today.
"Go forward, let the laity assume their baptism, their function as laypersons, and let the singularity of each one be respected, because the universal Church is not the uniform Church, no: she is universal, with respect for the particularity of every Church," said the pontiff in his message.
The FABC is a voluntary association of episcopal conferences that aims to foster among its members solidarity and co-responsibility for the welfare of Church and society in Asia.
This year's gathering aims to "reaffirm, renew and revitalize" the Catholic Church in Asia under the theme: Journeying Together As Peoples of Asia, which is inspired by the scripture "then they went another way."