The film "Blue Room" bagged major awards for this year's Cinemalaya Independent Film Festival for its treatment of music and the war on drugs.
"Blue Room" notched five awards, including Best Director for Ma-an Asuncion Dagñalan; Soliman Cruz for Best Supporting Actor; Neil Daza for Best Cinematography, and Marxie Maolen Fadul for Best Production Design. It also won the Special Jury Award.
It is a rock and roll commentary film on youth, power, and privilege as it revolves around the story of a progressive indie rock band Rebel Rebel.
---
---
The film, in a way, showed the link between music and drugs. There are musicians who use drugs to augment their creativity. Some fans, on the other hand, use drugs to intensify the pleasure they get from music.
But after their celebratory night at the local bar, after getting their biggest break at a prestigious local music festival, they were arrested for drug possession.
Instead of the standard procedures, they were hauled to the Blue Room, a VIP detention area where they can bribe their way out through rogue cops.
The cast includes Elijah Canlas, Juan Karlos Labajo, Harvey Bautista, Nourijune Hooshmand, and Keoni Jin.
Canlas is not a neophyte in Cinemalaya as he previously appeared in "Sundalong Kanin" (2014) and "Edward" (2019).
He then rose to prominence for his award-winning performance in "Kalel, 15" where he received the Best Actor awards at the 43rd Gawad Urian Awards, 68th FAMAS Awards, 17th Asian Film Festival in Italy, and the 16th Harlem International Film Festival in New York.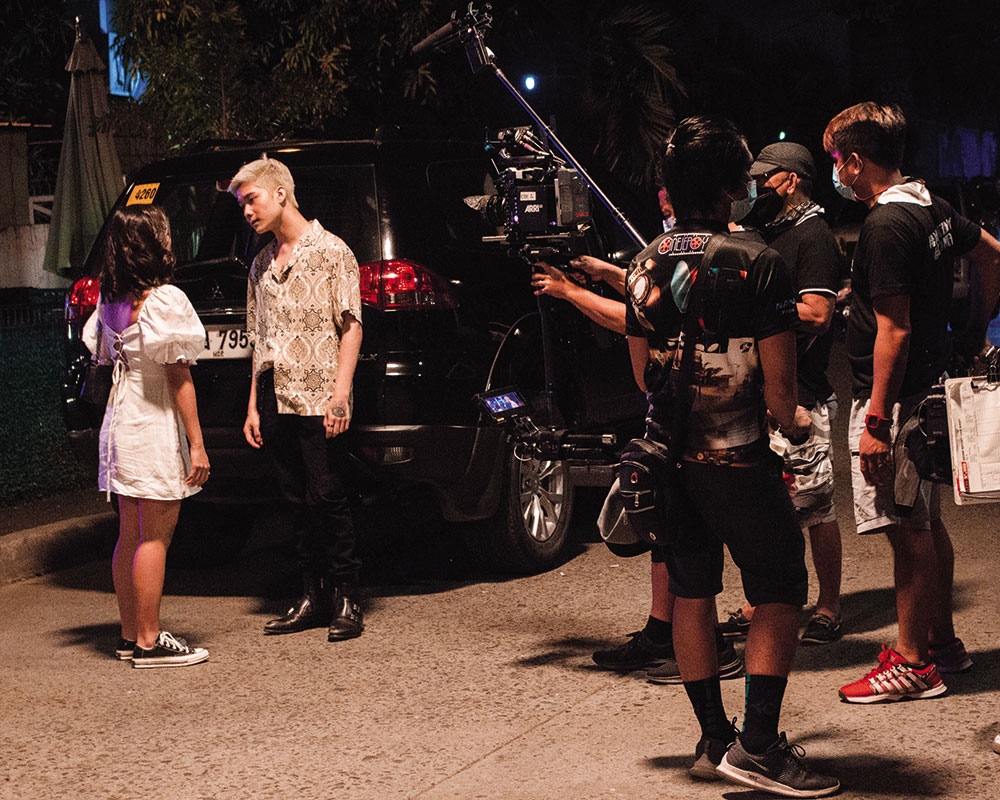 In an interview, director Ma-an Asuncion-Dagñalan said her motivation in making films like "Blue Room" is to tell the truth. "If we are 'true' to ourselves, we can grow and mature, learning from our mistakes. We can create a social bond with society if we are true to them," she said.
She said inequality will exist as long as prejudice comes from those in power, those who are on top of the social pyramid. Power has pros and cons in society, some use it to influence people, to become a better individual, but some abuse it to bully others or to be greedy.
For the police, they abuse their power by showing how entitled they are and by forcing others to accept their "authority" in society.
For the rich people or the moneybags, money is their power. They have all the means to turn things around.
One of the intriguing scenes is the "secret cell" in a police station where the young musicians had the traumatic experience of being victims of "tokhang-for-ransom."
Many of the scenes are perhaps related to the real "Oplan Tokhang," the flagship anti-drugs program of the administration of former president Rodrigo Duterte that was criticized by local and international human rights groups.
Rights groups and the media exposed a pattern of unlawful police conduct in the killings designed to paint a veneer of legality over summary executions. Many of the killings that the police attribute to "vigilantes" are in fact death-squad-style extrajudicial executions by police and police agents.
On April 2017, the Commission on Human Rights, accompanied by press people, discovered an unlawful secret detention facility hidden behind a bookshelf in a Manila police station.
The facility housed a dozen men and women in atrocious, grossly overcrowded conditions. The detainees told CHR and journalists that police, who claimed the detainees were drug suspects, had abducted them and held them in the facility for a week without notifying families or lawyers.
Detainees said inadequate lighting, ventilation, and toilet facilities forced them "to urinate and do bowel movements in plastic bags."
Detainees alleged they were tortured by police who demanded bribes to secure their freedom.
Police denied the allegations, insisting that they are still processing the detainees' arrest notifications and refused CHR requests to free the detainees.
Three films on troubled relationships and shattered dreams due to the Mindanao conflict also won major awards.
"The Baseball Player" by Carlo Obispo won best film, best editing by Zig Dulay, best screenplay by Obispo, and best actor for Tommy Alejandrino.
"12 Weeks" by Anna Isabelle Matutina won the Network for the Promotion of Asian Cinema award along with best actress for Max Eigenmann.
For "Bula Sa Langit," Pepe Manikan won the best sound design award.
The other winners for the full length films section include: Ruby Ruiz ("Ginhawa") as best supporting actress; Isha Abubakar ("Retirada") for best original music score; and "Kargo" by TM Malones as audience choice award.
Since 2005, the Cinemalaya has continued "to discover, encourage, and support the cinematic works of Filipino filmmakers that boldly articulate and freely interpret the Filipino experience with fresh insight and artistic integrity."
Atty. Dennis R. Gorecho heads the seafarers' division of the Sapalo Velez Bundang Bulilan law offices. For comments, e-mail [email protected], or call 0917-5025808 or 0908-8665786