The other day, my daughter and I were discussing how public transport drivers and consumers are at the receiving end of the fuel price increases happening every how many days.
Fingers point at so many causes of this infuriating economic deterioration. It is the Russian-Ukraine war. It is the Philippine government's inadequacy, inutility, and sluggish response to the oil crisis. It is the inappropriate, merciless response of profit-oriented local oil companies. It is the big and medium, even small scale business owners, who take advantage of the scarcity of goods. It is this and that, and we ask, "Will the poor in the Philippines be forever struggling in a purgatory of scarcity?"
So many analyses are posted in various media. But no amount of explanation can be fully grasped by ordinary citizens who, instead of trying to understand, must focus and refocus their attention on the impact of the rise in fuel prices.
---
---
The impact on the ordinary mortals — such as the fathers who earn less than what is needed for the basic needs of his family, or the mother who goes to market with a few pesos doing a balancing act of providing either nutritious or less nutritious but substantially filling food for hungry mouths, or the elderly who are trying to prioritize which "maintenance medicine" to buy first, or the commuters who must give up much needed hours of sleep to rise early and be able to get a ride and arrive in time for work — takes up all the waking hours to survive now. And is there anything we can do to help?
In the area where we live, we are very aware of the group of drivers who are forced to beg for alms since they are no longer allowed to ply the old route. Their permits have been canceled after mini buses replaced the jeepneys. In another area, also near our residence, we see many jeepneys parked and the drivers and their families just standing by hoping that a kind passerby would give them something. Once after a good harvest, we brought bundles of string beans and stopped by these families to distribute to those who wanted some. We were brought to tears when we heard some kids cheering, asking their mothers if they would have "ulam" (viand) for lunch.
My daughter concluded our exchange by saying "that is why every time I take a jeepney, I don't get my change of one peso." A good idea, I thought.
So the same day (a few days before the minimum 10-peso fare was approved), when I took a jeepney to my appointment with a friend, I gave the 2-peso change to the 10 pesos back to the driver. (The normal fare is 9 pesos but since I am a senior citizen, I had an additional 1-peso discount.) In jeepneys in the Philippines, if you are seated at the end of the vehicle, it is a practice for other passengers to pass the fare to the driver. So when I returned the 2 pesos, the other passengers became aware of it. To my surprise, four other passengers followed suit. There were 12 of us in the partially-filled jeepney.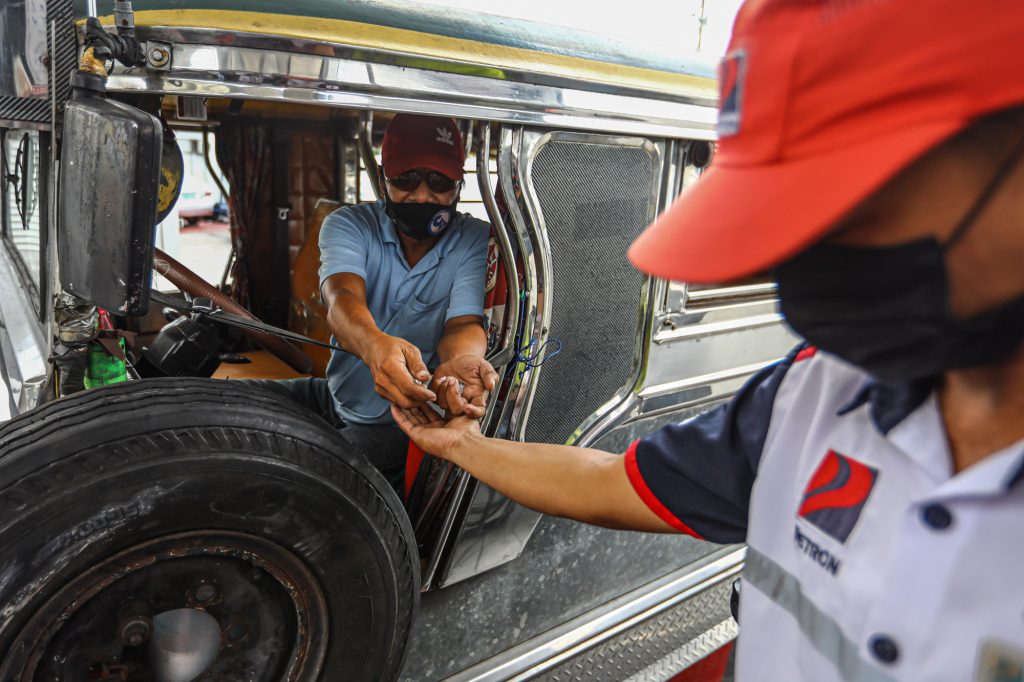 On the way home from the appointment, taking two more jeepney rides, I did the same thing and was pleasantly surprised when the same thing happened. Some passengers also didn't take their 1-peso change. Still only a minority of the now filled jeepneys did so. The driver said whereas before the pandemic he used to make 12 to 16 trips per day, this time he would usually make a maximum of 10 trips per day to give way to other drivers. I computed, if five passengers gave back their 1 peso, that would be 5 pesos per trip and the ten trips would mean an additional 50 pesos for the driver. Imagine if 10 or only less than 50 percent of the passengers gave up their 1 peso change! That would be 100 pesos per day, already a significant amount to the driver.
But then reality check tells me that those who would do this would always be the minority of the commuters. Some passengers have limited resources as well, and others may not be disposed to charity while still most would not care at all. It will always be the small, the poor, who will compose this minority of those who commute in jeepneys who will be generous enough to refuse to take the 1 peso change.
Yet we cannot discount the power of the small, the poor and the minority. Oftentimes in this socio-political milieu of the Philippines, which is wracked with misinformation, untruths, historical revisionism and corruption, being in the minority is a characteristic of those who chose to live lives that matter.
We do not see this as strange if we turn our attention to the history of the Church. Catherine of Siena, a woman with no authority, was able to bring the pope back to Rome from Avignon. The Blessed Mother chose to appear not to accomplished and knowledgeable women but consistently chose unprepared almost ignorant children in Lourdes, Fatima, and La Salette.
Nor is it strange that the weapon that could confront this enormous difficulty of drivers is so simplistic as one peso.
Remember the famous Goliath-David duel? (1 Sam 17). The giant ridiculed David "Come to me, and I will give your flesh to the birds of the air and to the wild animals of the field." (v.44). And well-meaning friends would probably reinforce this by "You are not able to go against this Philistine." (v. 33) "Huh, your one peso is ridiculously nothing."
But as we all know now, a sling and five smooth pebbles defeated the enemy. A small pebble, carefully aimed, toppled the giant, and his head was cut off by his own sword. (vv 4-54)
Small things like a seed (Matthew 13:31-32), yeast (Matthew 13:33), salt (Matthew 5:13) one drachma (Luke 15:8-10), and two small coins (Luke 21:2) were all used by Jesus in his teachings. Likewise Jesus refers to his disciples as lamb, a little flock not a tiger or lion or a regiment.
A priest once said, every ogre has a vulnerable point. And these giants of violence, profit, power, and apathy have their weak points. I dare say that charity is that weakest point.
Though a minority in terms of quantities, methods, muscle and odds, charity is the very weapon the minority can equip themselves with and go forward to battle this enemy.
One peso per ride per passenger for the driver, 18 passengers (if the jeepney is filled to capacity) per trip per jeepney, ten trips per day would amount to 180 pesos per day. This is not far from the 200-peso daily subsidy the drivers are asking.
One peso in the name of the Lord enables us to do battle with giants. Little deeds of kindness can topple the greed in the world if enough people embrace the needy and the weak with kindness.
He did say "My grace is sufficient for you, for my power is made perfect in weakness." ( 2 Corinthians 12:9)
Edita Burgos is a doctor of education and a member of the Secular Order of Discalced Carmelites. Gunmen — believed to be soldiers — abducted her son Jonas Burgos in Manila in April 2007. He is still missing.