Human rights groups on Friday, June 10, staged a demonstration in Manila to call for the immediate release of 93 activists and farmers who were arrested in the province of Tarlac on Thursday.
"We urge public authorities to free the arrested farmers and land reform advocates," said Leon Dulce, national coordinator of Kalikasan People's Network for the Environment.
"We condemn these dirty tactics that seem bent on sabotaging the distribution of the 200-hectare sugarcane estate to rightful beneficiaries," Dulce added.
---
---
The Philippines marked on Friday the 34th anniversary of the implementation of the Agrarian Reform Law in the country.
The Comprehensive Agrarian Reform Program was originally passed under the administration of former president Corazon Aquino in 1988.
According to human rights group Karapatan said at least 93 farmers, peasant rights advocates, including human rights workers, artists, and journalists were expected to go through inquest proceedings.
The farmers and activists were doing a "bungkalan," literally "cultivation," on a piece of disputed land in the village of Tinang in Concepcion town when they were arrested by the police.
The farmers and peasant advocates were charged with "malicious mischief" and "obstruction of justice."
In a statement, Karapatan denounced the arrests and the alleged undue force used against the protesters.
"We call on those poised to file complaints against the 93 to drop these complaints, and for the [police] to immediately release all detained," read the group's statement.
"We likewise ask the Commission on Human Rights to ensure that the rights of those detained, their families, paralegals, and lawyers are respected," it added.
The International Coalition for Human Rights in the Philippines called for the release of the farmers and the activists.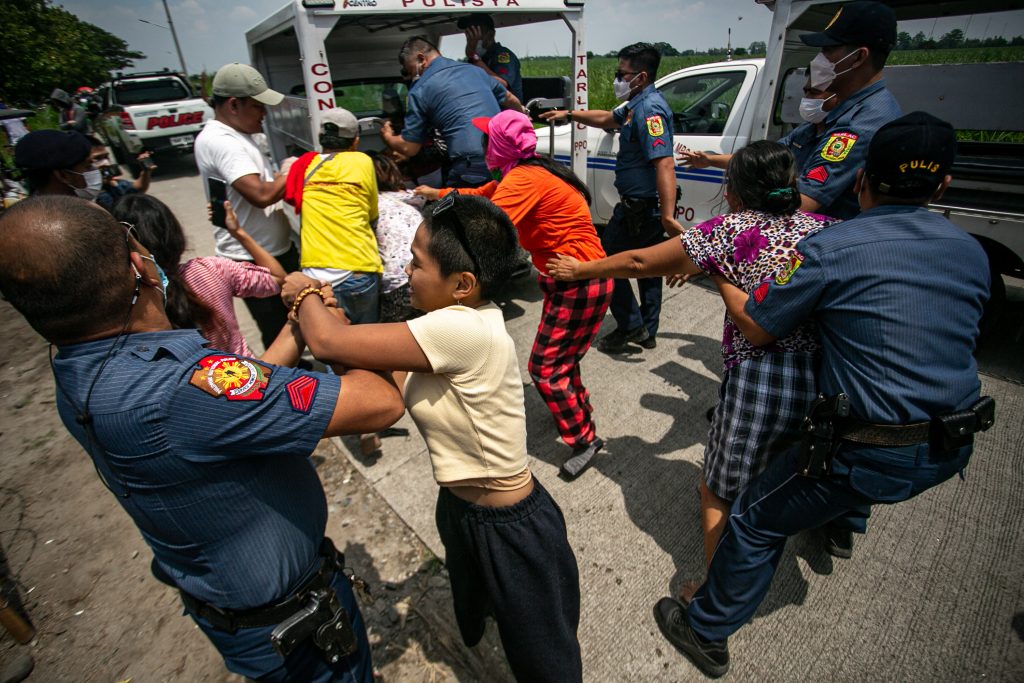 Prior to the arrests, local police had ordered the agrarian reform beneficiaries to stop the "bungkalan" and attempted to arrest Felino Cunanan Jr., chairperson of the land reform advocacy group MAKISAMA-Tinang.
"We are the legitimate beneficiary of the land. All we want is to clear the sugarcane field so that we can grow vegetables for our families to eat. If we don't plant, we will starve to death because of the very high price of goods in the country," said Cunanan Jr. in a statement.
Peasant advocacy group National Network of Agrarian Reform Advocates-Youth condemned what they said was the "biggest mass arrest" of farmers and peasant advocates under the administration of President Rodrigo Duterte.
"We are indignant with the blatant violence and lawlessness employed by police forces," said Melo Cabello, spokesperson of the youth group.
In a report sent to media, the regional police claimed that the farmers "demolished the sugarcane plantation" owned by an agriculture cooperative.
"When responding personnel […] tried to pacify them, they became unruly and tried to obstruct the law enforcers from performing their official duties," read the police statement.
The arrested farmers have reportedly been tilling the land in the past 27 years and are awaiting their official installation later this month as beneficiaries of the government's agrarian reform program.