It is heartbreaking to read about the 19 children and two adults who were killed at the Robb Elementary School mass shooting in Uvalde, Texas.
Lasting for more than 40 minutes and ending with the death of the 18-year-old lone gunman, witnesses said there could have been less deaths if the police charged in sooner than they did. The children — aged between nine and 11 — were fourth grade students described by their families and friends to be full of life, bundles of joy, helpful, loving, dancing, singing, playing ball, and simply endearing.
Feeling the anguish of the relatives as they were interviewed, I thought of my ten-year-old granddaughter and shed as many tears as there were updates in the news.
---
---
And in between tears, there was a recurring question. Why are they killing our children? Children are helpless, charming, innocent, angelic, adorable, and beautiful. They do nothing but to love back in return become targets of gun-toting "deranged" persons.
We are only into the sixth month of 2022, and already in the United States, 27 school shootings with deaths and injuries were tracked by Education Week. It keeps happening again and again. One father of a slain student in the Uvalde shooting said in frustration that there was nothing he could do to stop the shooting. He had no plans of doing anything. "It keeps happening again and again and it will happen again. I just want my baby back," he mumbled in an interview.
CNN reported that during the period January 2009 to May 2018, 19 countries registered school shootings: 288 in the US, 8 in Mexico, 6 in South Africa, 5 in India, 4 in Nigeria and Pakistan, 3 in Afghanistan, 2 in Brazil, Canada and France and 1 each in Azerbaijan, China, Estonia, Germany, Greece, Hungary, Kenya, Russia and Turkey.
Take note, the shootings occurred in schools where young defenseless students were.
In countries where there are no conflicts, such as in the US, Canada, France and Germany, schools are supposed to be safe spaces unlike in conflict areas, such as in Myanmar, Syria, and lately Ukraine, where children become the most vulnerable to violence.
The US, now in a predicament about what to do to prevent a similar Robb Elementary School incident is in a furor on the issue of gun ban. Debates and opinions of lawmakers have a hollow ring, an empty ballyhoo to the grieving parents and families of victims of the Uvalde shooting.
A closer look into the UK experience could provide some light. The same experience of a mass shooting in the Dunblane Primary School, in Scotland, happened where a gunman entered the school, killed 16 students, who were aged between five and six, and a teacher, with 15 others injured in what the UK considers as its deadliest mass shooting. This happened in March 1996. After 26 years, and since then, no more school shootings occurred in the UK.
The difference between the US and the UK violent incidents is that after the Dunblane shooting, the parents of the victims were able to mobilize themselves effectively. Sprouting from the grassroots, the campaign initiated by the parents of the victims mobilized the nation. The nation was outraged by the thought of four-five-year-old children being shot at by a gunman as if he were shooting at chicken.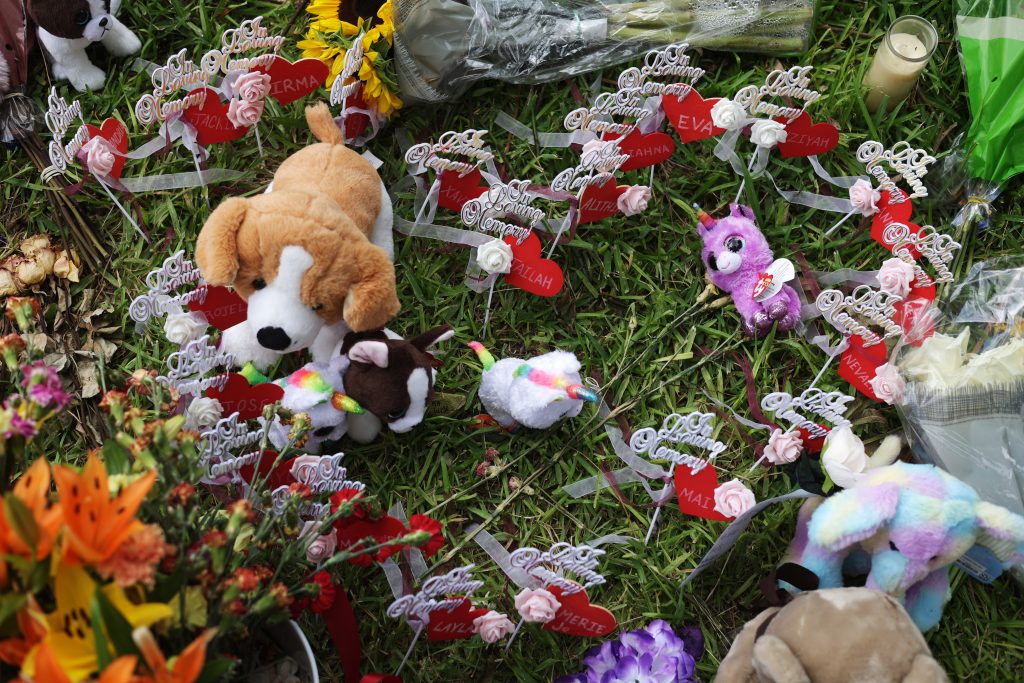 Gun Control Network was founded in the aftermath of the Dunblane shooting and this group advocated for new laws. The following year, after the Dunblane shooting, the UK Parliament banned private ownership of most handguns, as well as semi-automatic weapons, and required mandatory registration of shotgun owners.
The group now advocates for gun ban and supports victims and families of victims. From Scotland, they wrote a letter of condolences to the survivors of a school shooting in Parkland, Florida in March 2018 that left 14 teenagers and three adults dead. The letter with a message of solidarity also provided a vision for the future, referring to the group's successful campaign for gun reform. The letter writers stated that "laws were changed, handguns were banned and the level of gun violence in Britain is now one of the lowest in the world."
Amerie Jo Garza was laid to rest last Tuesday. The testimony of how much she loved in the short ten years of her earthly life could be gauged partly in how her friends' and cousin's shoulders shook uncontrollably as they kept Amerie company in her last journey. Amerie is described as kind with a heart of gold.
Maite Rodriguez, 10 years old, tried to help her classmates during the massacre. She grabbed her classmates telling them where to hide. This hero who wanted to become a marine biologist was as charismatic and as smart as she was caring, and was among the first of the 21 victims to be buried. This week will see a series of funerals for the students and teachers, all loved dearly and were dearly loved.
When the loss of lives of children do not simply end in grief and memorials but instead become the spark to start something good and create a better world, their deaths assume a noble purpose. It would be a more consoling principle to deem that the apex of their life was the death at a very young age for love of humanity. There is such a thing as "martyrs of love."
Edita Burgos is a doctor of education and a member of the Secular Order of Discalced Carmelites. Gunmen — believed to be soldiers — abducted her son Jonas Burgos in Manila in April 2007. He is still missing.