Climate campaigners in Manila staged a demonstration on Thursday, June 2, to protest the continued support of Japan's Sumitomo Mitsui Financial Group (SMBC) for fossil fuel projects in the region.
"It is reprehensible that while SMBC maintains a policy of no support for new coal-fired power plant construction or expansion projects, its support for existing projects continues," said Ian Rivera, national coordinator of the group Philippine Movement for Climate Justice.
Rivera said the financial institution also supports technologies such as Carbon Capture, Utilization and Storage and ammonia co-firing, "which basically extends the life of power plants that should be decommissioned."
---
---
"We have been calling on SMBC to plug the numerous loopholes in its coal sector policies," he said.
SMBC is one of the top fossil fuel financiers in the world that committed not to provide support for new construction or expansion of coal-fired power plants and announced a policy committing to achieve net-zero emissions by 2050.
It is also a member of the Net Zero Banking Alliance of banks worldwide that committed to aligning their lending and investment portfolios with net-zero emissions by 2050.
Thursday's protest action was staged as SMBC held its annual general meeting where shareholders were expected to vote on proposals filed by NGOs that seek to strengthen the financial institution' climate change measures.
"We are calling on SMBC shareholders: Take action to stop all financing for coal, gas and oil now. The world is watching you," said Lidy Nacpil, coordinator of the Asian People's Movement on Debt and Development.
The Asian Peoples' Movement on Debt and Development and the Asian Energy Network have organized demonstrations across Asia starting on Wednesday, June 1, to call on SMBC to put in place concrete climate targets that are consistent with the Paris Agreement.
SMBC has poured over US$109 billion into oil, gas and coal projects between 2016 and 2021 despite being a member of the Net Zero Banking Alliance, said the civil society groups in a statement.
Its "most egregious project" is the East African Crude Oil Pipeline where SMBC serves as financial advisor and project loan arranger for French energy giant TotalEnergies.
"The SMBC Group's current policy is not consistent with the Paris Agreement's goal of keeping global temperature rise to below 1.5°C," said Nacpil.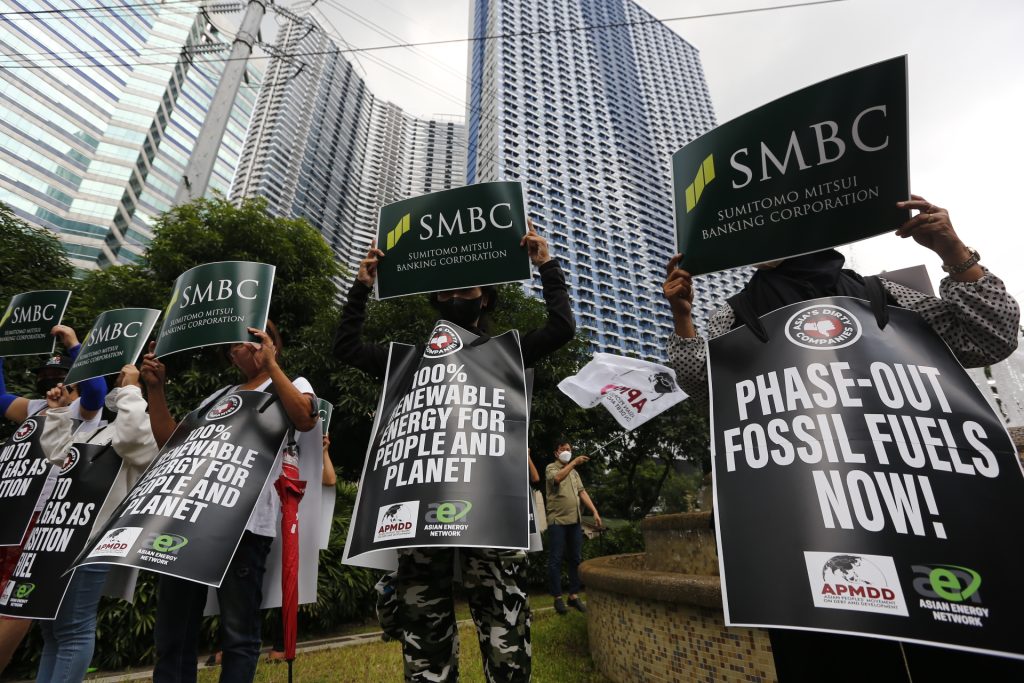 The SMBC Group, along with JPMorgan Chase, and Intesa Sanpaolo were the top bankers of Arctic oil and gas last year. The sector saw US$8.2 billion in funding in 2021.
Chuck Baclagon, regional campaigner of the group 350.org, said they need a "clear commitment" from SMBC "to align with the 1.5C goal of the Paris Agreement.
"[he financial institution] needs to plug the loopholes in its coal sector policies, as well as halt financing for new oil and gas development," he said.
"Climate science is clear that new oil and gas investments must stop in order to stabilize climate change," said Baclagon.
The Global Coal Exit List shows that between January 2019 and November 2021, up to 376 commercial banks provided US$363 billion in loans to the coal industry, but only 12 banks accounted for 48 percent of total lending.
The top five lenders are three Japanese banks — Mizuho Financial, Mitsubishi UFJ Financial, and SMBC — Barclays from the United Kingdom and Citigroup from the United States.