A pro-junta militia that recently claimed responsibility for the slaying of opposition party members is now openly threatening to kill journalists and their families over content the military regime has dubbed "destructive to the state."
Last week, eight members of the deposed National League for Democracy (NLD) and their supporters were found brutally murdered with badges or cards on their bodies displaying the insignia of a group calling itself the Mandalay branch of the Thway Thauk, or "Blood Comrades," militia.
A social media post on the group's Telegram account last week also called for the deaths of reporters and editors working for news outlets in Myanmar including The Irrawaddy, Mizzima, Democratic Voice of Burma (DVB) and The Irrawaddy Times — as well as their family members.
---
---
Khit Thit media editor Tha Lun Zaung Htet, who was among those named in the Thway Thauk's list, said he believes the group is acting on the orders of authorities, despite junta claims to the contrary.
"This group is surely linked to the military because the victims were taken away by police or military vehicles and the bodies were later dropped by these same vehicles," he said, adding that he is in possession of "photos taken by witnesses."
Photographs obtained by RFA show leaflets or cards bearing the group's logo of crossed swords over the image of a man from Myanmar's royal era left near the victim's bodies — the same logo seen posted on the social media accounts of junta supporters and nationalist activists.
Junta deputy minister of information, Maj. Gen. Zaw Min Tun, said during a press conference last week in Naypyidaw that the military has no ties to the Thway Thauk, adding that the only pro-junta militias active in the country formed independent of the regime in rural areas.
At the same press conference, he accused seven media outlets of being "destructive elements" in Myanmar, including RFA, Khit Thit Media, The Irrawaddy, Mizzima, DVB and The Irrawaddy Times.
"Ten local and foreign media outlets wrote around 55 inciting reports meant to disrupt Thingyan," he said, referring to Myanmar's April 13-16 New Year Water Festival, he said.
"We saw seven media outlets reporting possible bomb threats during the week of Thingyan, and also publishing articles telling people not to participate in the festivities as a way of protest."
Thingyan — normally a bustling and jubilant holiday — was eerily silent in Myanmar's main cities of Yangon and Mandalay, as residents chose to boycott junta-led festivities and heed warnings by armed opposition forces that the areas could become the target of attacks.
An RFA investigation found that authorities arrested nearly 100 people in the two cities, as well as Myawaddy township in Kayin state, in the first 10 days of April as part of a pre-Thingyan crackdown. Some of those detained had joined anti-coup protests, while others were accused of being members of Yangon-based anti-junta paramilitary groups, including the People's Defense Force (PDF).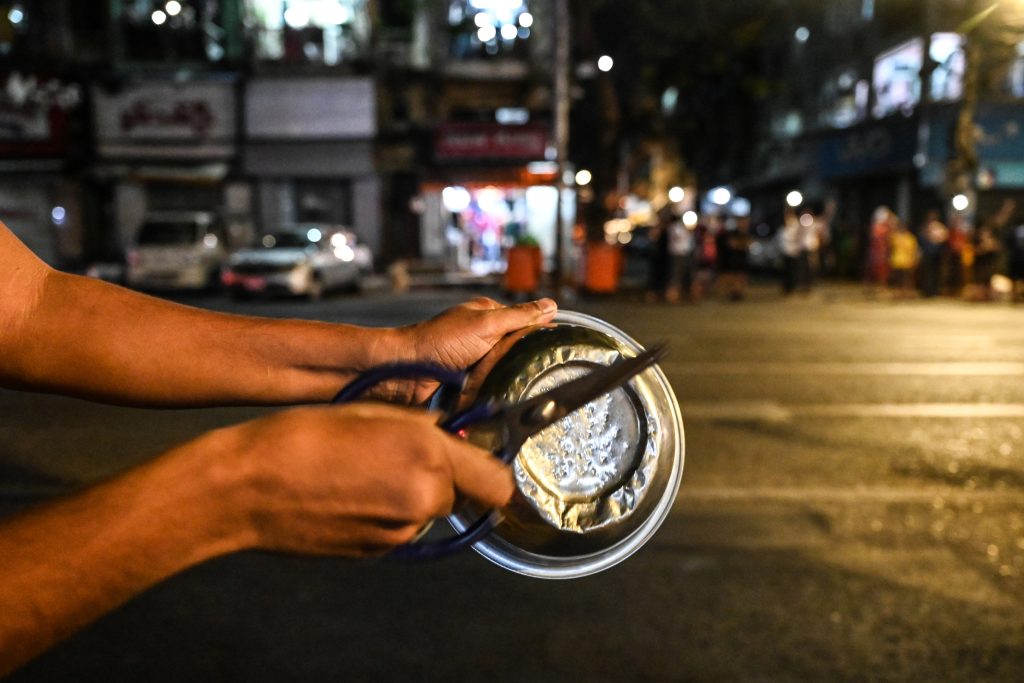 'A new low' for press freedom
Days ahead of International Press Freedom Day, veteran journalist Myint Kyaw said that the junta's calling out of media outlets, combined with threats by groups such as the Thway Thauk, constituted "a new low" for Myanmar's media environment.
"We can say that [the junta and the Thway Thauk] have the same views because they think the media supports the opposition," he said.
"It's not new that they would accuse us of such things when they think we are writing against them. But it's unprecedented for them to threaten us and our families."
Sein Win, executive editor of Mizzima News, said the military and pro-junta armed groups are targeting and suppressing the media and journalists who report negatively on the junta, and expects the situation to continue while the military remains in power.
"They don't want people who criticize the military, who seek the truth or who value freedom of the press," he said.
"People will be arrested, imprisoned, and even killed. So long as there are military coups, democracy will remain dormant. Evil will reign if democracy cannot be given space to thrive."
An observer of the media, who declined to be named citing fear of reprisal, warned that a lack of legal protection for journalists in Myanmar will cripple the country's development.
"In short, freedom of the media is not protected in accordance with the law or international standards in current times," they said.
"Some are threatened, some are arrested, and some have died. … Journalists are seen as criminals and are constantly threatened. We are going back to the Dark Ages."
More than 50 journalists have been arrested on charges under Myanmar's Penal Code since the military's Feb. 1, 2021, coup, rather than for violations of the country's media law.
The business licenses of outlets including Myanmar Now, DVB, Khit Thit, 7 Days, Mizzima, Myitkyina Journal, The 74 Media, Tachileik News Agency, Delta News Agency, Zeyar Times and Kamaryut Media were revoked shortly after the military seized power.
Paris-based media watchdog Reporters Without Borders ranks Myanmar 140th out of 180 countries in its annual Press Freedom Index and says the media environment is now at a danger level following last year's coup.
Copyright © 1998-2020, RFA. Used with the permission of Radio Free Asia, 2025 M St. NW, Suite 300, Washington DC 20036.