Church and civil society groups urged Filipino voters to take advantage of the Holy Week observance "to reflect and discern" what is best for the country.
"We hope that our fellow Filipinos can find the time to really reflect and discern this Holy Week," said Bishop Jose Colin Bagaforo, national director of Caritas Philippines, the social action arm of the Catholic Church.
The prelate said he hopes that the Holy Week observance will help people "decide on the best leaders this country deserves."
---
---
In a statement, Bishop Bagaforo said it is heartening to see that Filipinos are now more involved in discussions about the future of the country.
"We hope this shift in conversations online — from personal rants to discussions on platforms and issues — will translate to real change after the May 9 elections," said the bishop.
Caritas Philippines earlier partnered with humanitarian and development organization Oxfam Pilipinas to launch a "three-point priority agenda" to encourage Filipinos to vote in an "informed and policy-based way."
The organizations also called on candidates to focus on attaining a "just and equal Philippines" beyond the elections.
"With less than a month left before the elections, it's important that we really take the time to scrutinize candidates and their track records," said Lot Felizco, Oxfam Pilipinas country director.
She noted that the country "has long been struggling with the problems of poverty, inequality, disasters and conflicts" and with the added threats of the pandemic and climate change, "there is so much at stake for this year's elections."
"It's easy to be distracted by the popularity of some candidates but we really need to scrutinize their platforms and see if they have a comprehensive plan for the problems that will greatly affect Filipinos in the next years," she said.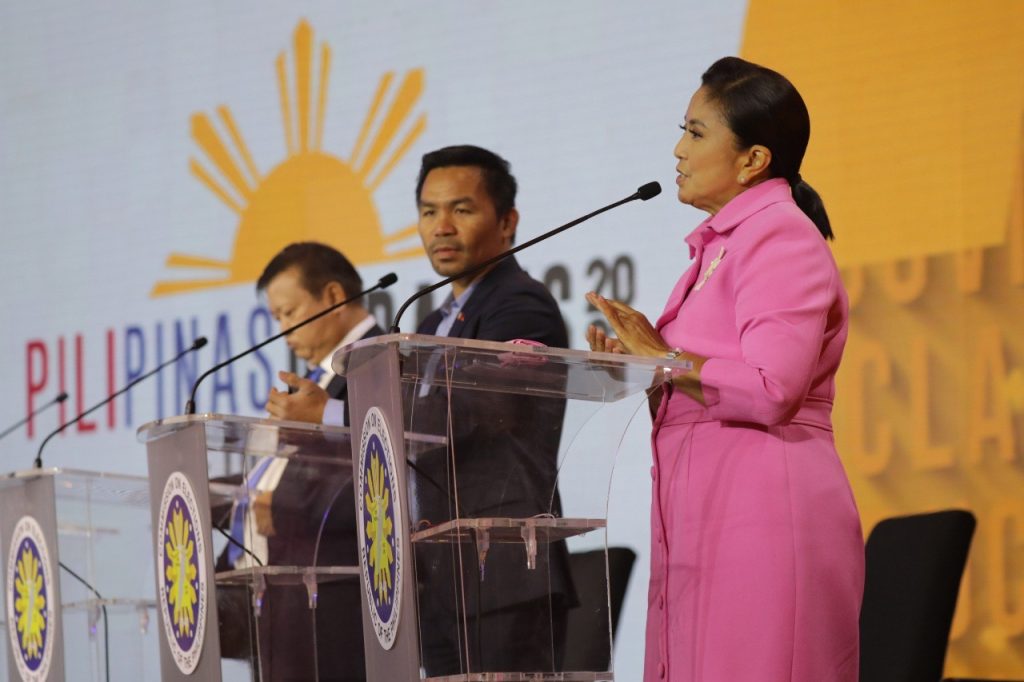 Both Caritas and Oxfam expressed hope that future leaders will consider their electoral agenda, which highlights three main calls: "Fight for Climate Justice," "Champion Gender Justice," and "Strengthen our Economic Recovery."
The latest Intergovernmental Panel on Climate Change report on climate mitigation made clear that governments should act on the climate crisis with a great sense of urgency, primarily by shifting to renewable energy.
"This agenda calls for our future leaders to have clear and effective programs and policies to address the climate crisis," said Antoinette Taus, and "Ambassador for Resilience" of Oxfam Pilipinas.
"We call on them to have a firm stand on its global commitment in stopping global temperature rise, to adapt climate resilient efforts in disaster management and to shift to cleaner energy," she said.
"Climate change greatly affects Filipinos and worsens the people's already poor living conditions. It is about time that we reclaim our dignity as people," she said.
The Oxfam Pilipinas electoral agenda also calls for the country's future leaders to strengthen, support, and implement gender-responsive programs and policies that address the key issues of women and children such as Violence Against Women and Children, Reproductive Health Rights, Teenage Pregnancies, and Unpaid Care Work, as well as the impacts of the COVID-19 pandemic to the lives and livelihood of Filipinos.
"We are at a very important point in our history. Our choices will define what our future will look like in the next six years," said Felizco.
"We hope that as we reflect and discern our choices in the next few days, we remember why and for whom we are voting for," she added.