Religious leaders around the world can do more to ensure human rights protection in Myanmar, advance peace and justice, end the reign of the military junta, and restore democracy in the country.
"Everyone has an important role to play," said Patrick Phongsathorn, human rights advocacy associate of the group Fortify Rights, in an interview with LiCAS News on Thursday, March 24.
"What religious people can do is get in touch with [political leaders] and urge them to act on Myanmar," said Phongsathorn on the sideline of the launch of a 193-page report that details alleged crimes against humanity committed by Myanmar's military following the Feb. 1, 2021, coup.
---
---
Titled "'Nowhere is Safe': The Myanmar Junta's Crimes Against Humanity Following the Coup d'État," the report noted that the country's military and police committed murder, torture, and forcible displacement of citizens during the six months after the February coup.
The report, co-authored by Fortify Rights and the Schell Center for International Human Rights at Yale Law School in the United States, identified 61 senior officials, including coup leader and armed forces chief Min Aung Hlaing, who were allegedly behind the abuses.
"If there were any doubts about whether the junta's crackdown constitutes mass atrocity crimes, this report should lay them to rest," said Tom Andrews, UN Special Rapporteur on human rights in Myanmar.
"The actions of the military junta of Myanmar should be called what they truly are: crimes against humanity," Andrews said at the launch of the report that was streamed online. 
"Justice is sorely needed in Myanmar, and we believe this report can provide the basis for future investigations," said Roger Polack, one of the report's authors.
The report collated testimonies of at least 128 witnesses, including medical personnel and first responders, to show how the military shot at people during demonstrations. The report also quoted soldiers who testified that snipers were deployed to kill protesters.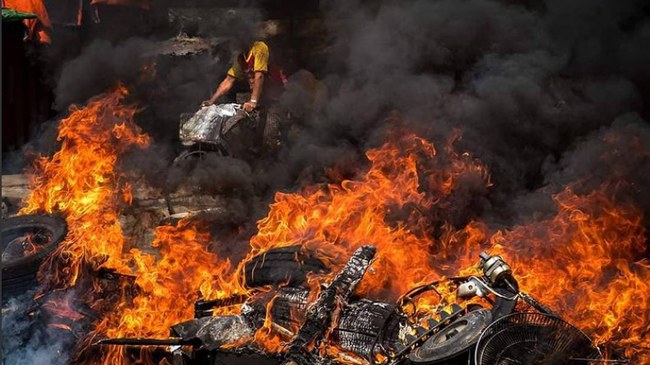 Stop selling weapons to Myanmar
Other countries should stop selling weapons to Myanmar's military to stop the atrocities, said Phongsathorn in the LiCAS News interview.
He also urged companies to "stop doing business with military-owned companies" in the country, specifically those involved in oil and gas, gemstones, and timber.
"No government should offer any kind of official recognition, support, or cooperation to the Myanmar junta and should instead recognize and support the National Unity Government, the legitimate elected representatives of the Myanmar people," added Phongsathorn.
He said the military junta is "persecuting anyone who would oppose their rule regardless of religion," but faith leaders — Catholics and Christians — who provided help to victims of abuses have also become targets.
"We have also heard of and documented attacks on churches," said Phongsathorn, citing an incident in Kayan Tharyar village near Loikaw, Karenni State, on May 24, 2021, when soldiers fired at a Catholic church where civilians were sheltering.
At least four civilians were killed in the attack and eight others were wounded, including children.
"We do not know the full extent of the junta's attacks on churches in the country, but it is clear that they are targeting all facets of civilian infrastructure, including community centers and places of worship," said Phongsathorn.
He said he does not see the situation improving in the immediate future.
"We're seeing daily junta attacks on civilians across the country, in particular in Karen, Karenni, Chin, and Kachin States, and Sagaign Region," he told LiCAS News.
Phongsathorn said that "for progress to be made, and hope restored, the UN Security Council should act more decisively, pass a resolution, and work to bring peace to Myanmar."
In a statement last week, the United Nations said Myanmar's military had engaged in systematic human rights violations, many amounting to war crimes and crimes against humanity.