Less than a third of registered voters turned out to vote in elections for Hong Kong's Legislative Council (LegCo) on Sunday, in the first election to be held in the city under Beijing's rules ensuring only "patriots" approved by the ruling Chinese Communist Party (CCP) can hold public office.
Just over 1.3 million registered voters, or 29.28 percent, had cast their ballots in geographical constituencies by 9.30 p.m., an hour before polls closed on Sunday, with final figures expected in the early hours of Monday.
The figures compared with turnout rate of more than 70 percent in elections to the District Council at the tail end of the 2019 protest movement, which saw a landslide victory for pro-democracy candidates, and with turnout of more than 50 percent in previous LegCo elections in 2012 and 2016.
---
---
---
Hong Kong leader Carrie Lam dismissed questions from reporters about an expected low turnout rate after casting her vote at 9.30 a.m.
"The government hasn't set any target for the voter turnout rate, not for this election, not for previous elections, because there is a combination of factors that will affect the voter turnout rate in any election," Lam said, adding that the main aim of the election was to ensure that "patriots rule Hong Kong."
Asked if Beijing had set any targets, Lam replied: "I am not aware of any targets on the voter turnout rate being set by the central government."
As Lam went with her husband to cast her vote, three people stood outside the polling station with placards that read: "We want truly universal suffrage," a slogan of both the 2014 Occupy Central movement and the 2019 protests.
Meanwhile, crowds gathered a protest picnic in West Kowloon Cultural District titled "Minions Ruling Hong Kong."
"I'm no longer going to vote," a participant surnamed Lee told RFA.
Country outings
A passer-by surnamed Chung said the atmosphere wasn't the same as that of the 2019 District Council elections.
"Sure, go and vote, if there are any candidates you like," he said.
Instead of voting, residents took advantage of free public transportation on Sunday to visit country parks and beauty spots, with dozens standing in line at urban bus stations en route to the coastal resort town of Sai Kung.
"We thought we'd take the free bus to go hiking in Sai Kung today," one person surnamed Lau told RFA. "Everyone's pretty relaxed today."
"I'm planning to go hiking in Sai Kung today," bus passenger Ho Sang said, while a passenger surnamed Kwok added: "Today is a great day to go hiking."
Of the 90 available seats in LegCo, only 20 are returned by direct popular vote in geographical constituencies, with 40 appointed by a Beijing-backed committee and 30 by industry and professional groups, as well as rural committees known as the Heung Yee Kuk.
China's National People's Congress (NPC) approved new rules in March preventing anyone from standing for election in Hong Kong without the approval of a newly-expanded committee of Beijing loyalists.
The Election Committee that previously voted for the city's chief executive was expanded, and now also directly appoints some members of the Legislative Council (LegCo).
Nobody is able to stand as a candidate for LegCo or chief executive in the city without its say-so, reducing what were already only partial exercises in democracy to cosmetic displays that resulted in a slate of candidates all loyal to the CCP.
While some of the 90 seats in LegCo will are still returned by direct election in geographical constituencies, there is now scant room for candidates who don't toe the party line, while 40 seats are now de facto appointments by Beijing.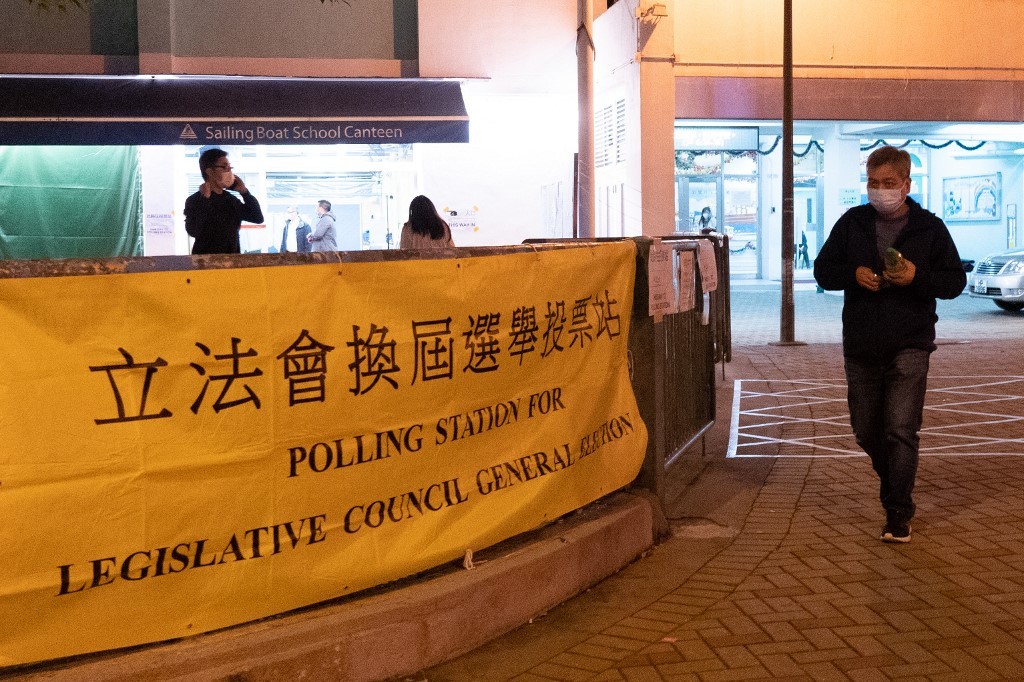 No CCP critics allowed
No candidate who makes comments in any way critical of the Hong Kong government or the CCP was allowed to run, with official media citing a draconian national security law imposed on Hong Kong by Beijing from July 1, 2020.
The U.K. has criticized the changes as being in breach of the 1984 Sino-British Joint Declaration, in which China agreed to leave Hong Kong's electoral system and democracy unchanged until 2047.
The pro-democracy League of Social Democrats said on its Facebook page that Lam's government had done its utmost to prevent opposition and pro-democracy candidates from standing in the election, including a blacklist, and a set of rules to determine whether an office-holder's oath of allegiance to the government is valid or not.
"Lam's administration has created a number of barriers to prevent opposition voices … [including] national security police vetting of all candidates," it said. "This means that no candidate is eligible to stand in elections without CCP approval."
It said Lam's claim that low turnout reflected a high degree of public trust in the government was "ridiculous."
It said the majority of opposition politicians are now behind bars or awaiting trial under a citywide crackdown on public dissent and political opposition under the national security law.
Hong Kong activist group Liberkong held a mock referendum in London on Sunday with the question "Will you recognize the results of today's election?"
The first voter was Ivan, who told RFA that the LegCo poll is a highly selective election, and can't be representative of public opinion, especially given that much of the former opposition camp is now behind bars.
"The Hong Kong elections are a political show that Beijing is putting on for the rest of the world," he said. "Hong Kong people must express their opposition."
Copyright © 1998-2020, RFA. Used with the permission of Radio Free Asia, 2025 M St. NW, Suite 300, Washington DC 20036.