When Pope Francis, a Jesuit, was elected pope in 2013, the Church witnessed a new vitality and hope. What can we expect from Bishop Stephen Chow Sau-yan, also a Jesuit? The answer was quick: "I am not Francis!"
Bishop Chow sat over a cup of coffee to chat with the diocesan newspapers — the Sunday Examiner and the Kung Kao Po — a couple of weeks before his episcopal ordination and installation as the ninth bishop of Hong Kong.
Bishop Chow acknowledged the common factor that he shares with the pope: "As Jesuits, one of our General Chapters gave great importance to spiritual conversation and discernment in communion — communion not just among the Jesuits, but we have to discern with non-Jesuits in mission and our lay-partners in mission. I think that is an important way for a bishop.
"And I don't believe in running the diocese like a corporation with big strategic plans. We have to listen to different sectors, especially laypeople. They have a voice to represent. And this is what the pope means by Synodality. Francis is very much a Jesuit!"
---
---
---
Childhood
Bishop Chow was baptized on the 10th day after his birth at the parish of the Holy Souls of Purgatory, which is now known as Our Lady of Mount Carmel, in Wan Chai. He attended Rosaryhill kindergarten and primary school before joining Wah Yan College. He showed great interest in academics and co-curricular activities and was keen on learning judo until one day he developed a severe, life-threatening form of epilepsy.
Repeated hospitalization, prolonged treatment and medication traumatized the young man. He thought he might die. His father brought him to the Cathedral of the Immaculate Conception to see a priest. Contrary to his fears that the priest would scold him for not going to the church regularly, he found compassion in Father Antony Tsang Hing-lam and that infused faith in his young mind.
"When the pendulum swings, it swings to the extremes!" Bishop Chow laughed. He began to frequent church and the sacraments, even to the point of the priest telling him not to come back for Confession on the same day!
His health condition affected his academic grades and even hampered his social life. Hence, he became involved in different Catholic groups on campus as well as in the parish, serving as an altar boy, with the Christian Life Community and the Apostleship of Prayer, as well as with the Red Cross.
"You name it, and I was there … except that I did not go back to judo, because my parents would not allow me to," he said, adding that he gradually became acquainted with the Jesuit priests of the campus and began to think, "Becoming a Jesuit was not a bad idea!"
His results were not good enough to gain admission into either of the two available universities in Hong Kong. Still, his father could afford to send him to the University of Minnesota in the United States of America.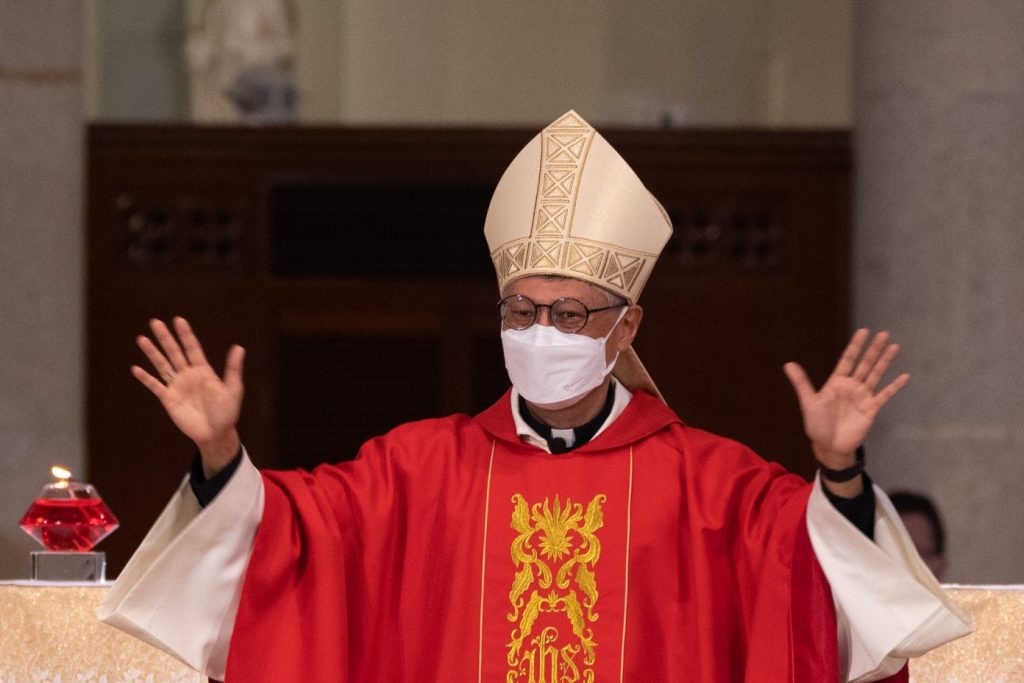 Vocational journey
Bishop Chow felt that one important development during the years he spent in the university was his attraction to the altar and the sanctuary in the church. Although the parishioners at this US parish were not so welcoming of foreigners, "I felt attracted to the altar every time I went to the church and had a feeling deep within me that that is the place where I should be," Bishop Chow recalled, adding, "I could not lie to myself. That was an important part of my vocation story, like my heart telling me where I should go."
He studied Psychology and Philosophy for his undergraduate degree at the university because deep in his heart, he believed that these streams would be helpful in the future if he could join the seminary. He even approached a Jesuit community of the Wisconsin Province, inquiring about the procedures for joining. However, they asked him to apply to the Jesuit Community in Hong Kong because he expressed his desire to work here. Undecided as yet, although he visited the Jesuit community in Hong Kong, he was uncertain of making a decision. Back in the US to complete his studies in 1983, Bishop Chow decided to apply to the Jesuits and wrote to the superior in Hong Kong and he was readily accepted.
Informing his parents and family of his decision was the next hurdle. "I wrote the longest letter I have ever written in my life to my parents and siblings," he said. For him, it was important to have the permission and blessings of his parents to join the seminary. Two weeks later, when he realized that his father was going to talk to him over the phone, he rehearsed well and psychologically prepared himself for the conversation with the help of a friend and his wife.
Bishop Chow recalled the conversation as if it happened just yesterday. "How is the weather there?" was his father's first question. "Do you know why I called?" to which he replied in the negative. "You are old enough to make your own decisions. Rationally, I can accept that [you will enter the seminary], although emotionally, I do not like your decision at all," said his father on the other end of the phone. "I already wanted to kneel to thank God because father's approval was important."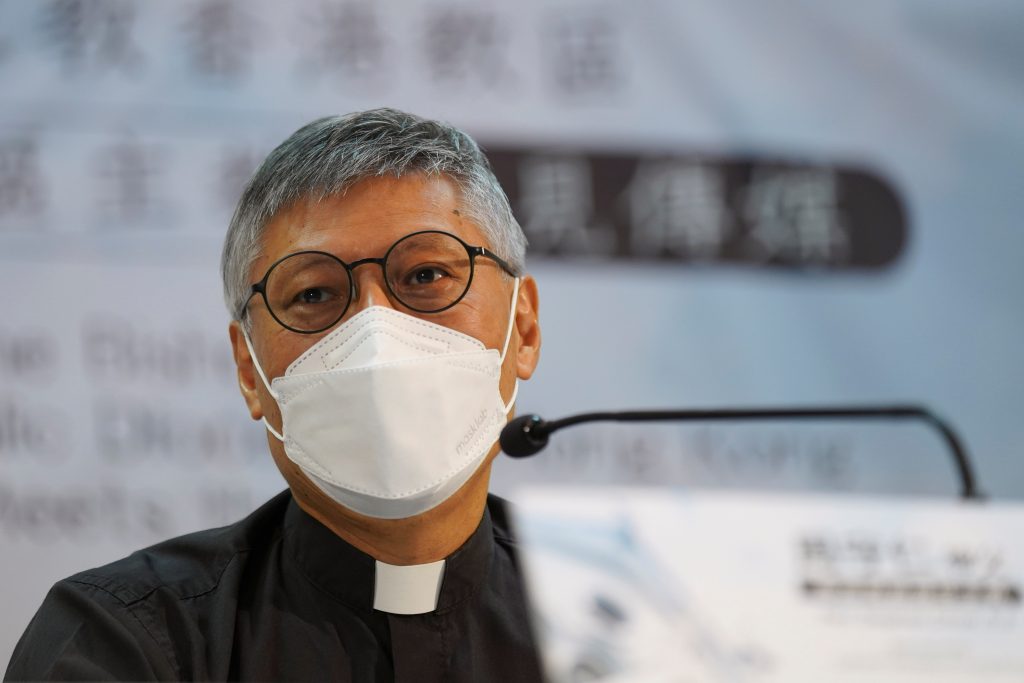 In the Society of Jesus
Joining the Jesuits in Hong Kong, he was sent to Ireland for his formation, spending four years in Dublin. He completed the novitiate and two years of licentiate in Philosophy with a thesis on Karl Marx. It was the time when Liberation Theology in vogue. In 1988 he returned to Hong Kong to pursue his Theology formation at the Holy Spirit Seminary.
After completing his studies, he was ordained a deacon by John Baptist Cardinal Wu in 1993. His superiors permitted him to pursue his Masters' degree in Organisational Development at Loyola University in Chicago before being ordained a priest by Cardinal Wu in 1995. Looking back on those years in formation, Bishop Chow acknowledges the amazing ways God has been preparing him to work for him.
He was appointed as the Chaplain and teacher at Wah Yan College. Although he had the opportunity to pursue his PhD, he chose to remain with his students and support them during the uncertainties of 1997. Two years later, he returned to the US to pursue his doctoral studies in Human Development and Psychology at Harvard University.
The experience at the universities in the US gave him the idea for the ambitious project for a Liberal Arts college in Hong Kong. This stream is not provided in the universities in Hong Kong. "Our educational system does not foster independent thinking and critical thinking." Although the project had to be scrapped, it gave him visibility among his confrères in the Chinese Province of the Jesuits, which led to his subsequent election as the provincial superior.
"During my 14 years as a school supervisor, I faced many storms. But such controversies made me stronger and made my skin thicker," the bishop noted, adding, that these experiences gave him the conviction that "evil is self-destructive in the long run. What is important is, we don't join the evil to beat them."
Recalling his mission in the two Wah Yan Colleges he said, "Integrity is the core thing that makes the Church different in the world. People come to us not because we are shrewd as financiers or professionals, but because they still have hope that there is integrity in the Church. I am not saying that the Church is without any mistakes, but many good laypeople and pastors try their best to live up to what they believe in—the gospel. That is what I have strived for as school supervisor: to educate our young men with values and character."
Bishop Chow mused over the amazing ways through which God has been guiding him over these years noting: "If I had not been a supervisor to the two schools and the Liberal Arts college project, I would not have become a provincial. And if I had not become a provincial, the Vatican might not have noticed me."
His vegetarian lifestyle bears witnesses to his compassion towards people and nature. A cancer survivor himself, Bishop Chow has maintained a strict vegetarian diet since 2005. While studying in Ireland, there was a lot of meat to eat. "Vegetables served on the table were regarded as "certified dead on arrival," he laughed. On his return to Hong Kong in 1989, he stopped eating meat. Since 2005, even fish has been out of his menu! "You look at a fish and the fish look at you. You feel compassion, and how could you eat it?" he asks.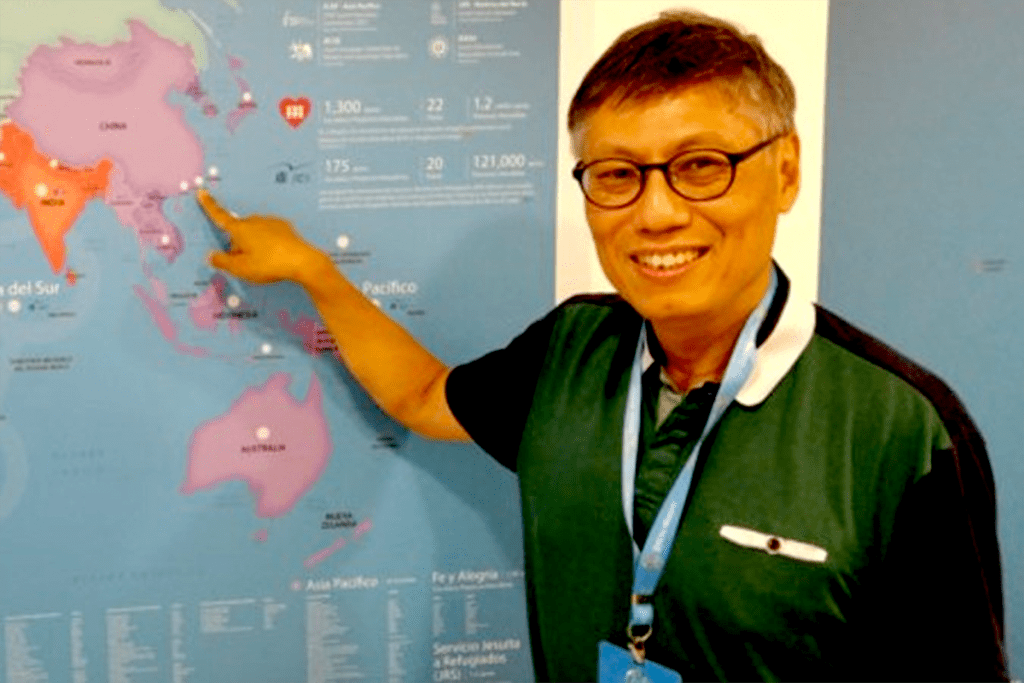 Concerns for the young people
His responsibility for schools for over a decade and association with young people generated in him a special interest in their concerns. "Wagging your fingers at young people is not good. Young people want to be listened to, and they want us to listen to them," the bishop said. To be with young people he identified two basic qualities: empathy and passive listening. Without empathy, you don't understand a person. Empathy doesn't mean that you have to agree with them. "If you are empathetic, you will be a little more sympathetic," he said.
Bishop Chow envisages a practical approach in ministry towards the youth. A highly philosophical or spiritual approach wouldn't do any good, but at the same time, he does not agree with the idea of having 'your feet on the ground.' "If both your feet are firm on the ground, you cannot move; you will be static. To move forward you need the balance of one foot on the ground and the other in the air," he said.
"I want to encourage our young people to look far," Bishop Chow said. He referred to the image of the giraffe in his Coat of Arms that looks beyond the shield. "The future of the world and the future of the Church belongs to the young people. If you are not happy with the present situation, don't get stuck there. Instead, think of how would you want the world, the Church and Hong Kong to be in 30- or 40-year's time? Then identify people who think similar and share the same views of life and work together. Set a vision for the future and plan for the goal," he said.
"For example, the pandemic: it will not be with us forever. But we have to learn to live for and with each other. Are we helping the poor to receive the vaccination? If we fail to take care of the poor, the pandemic too will keep recurring. We need to learn to do that. The pandemic has taught us to love and care for one another," he said.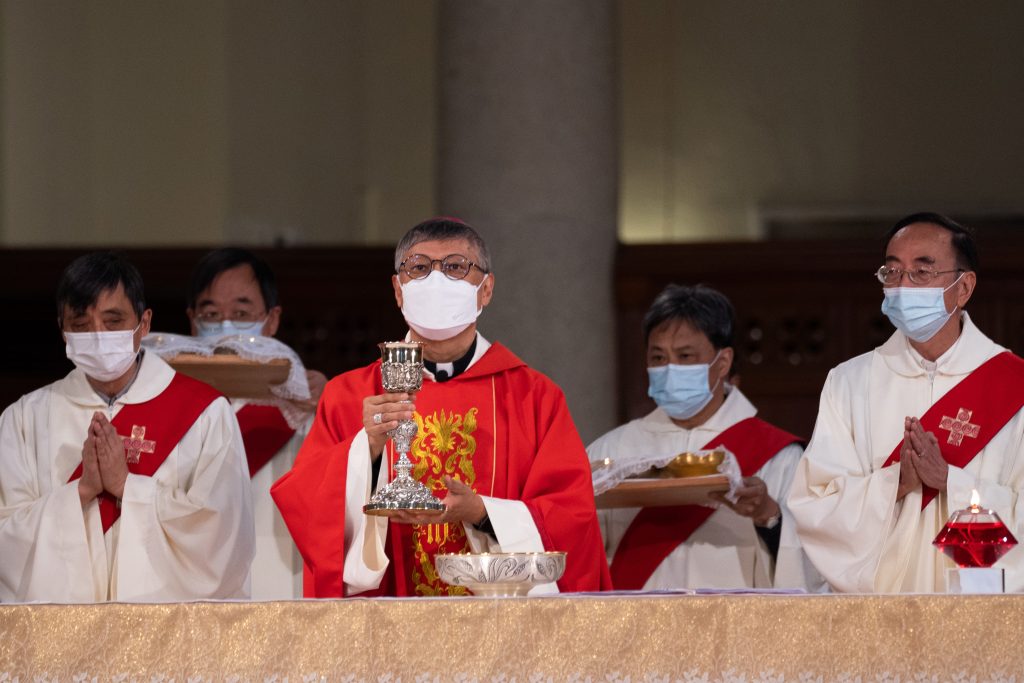 On Synodality
When queried about what changes he expected in his life as a bishop, he laughed: "I am not a bishop yet, so I don't know!" With the pope's call for synodality in the life of the Church, Bishop Chow hopes we will listen to one another and discern together for the mission. "If you are serious about Vatican II, people of God as the body of Christ, you cannot walk away from the call for synodality. Francis is pushing us to live the Vatican II," he observed.
'For example, the pandemic: it will not be with us forever. But we have to learn to live for and with each other. Are we helping the poor to receive the vaccination? If we fail to take care of the poor, the pandemic too will keep recurring. We need to learn to do that. The pandemic has taught us to love and care for one another'
The bishop further explained that "any changes could cause some amount of confusion and disturbances to the status quo. But if you do not go through those disturbances, how do you grow? Even in growing up [of a person], there is pain. When a person enters puberty, there are a lot of changes. Does anyone want to stop puberty so that you do not change? So also with the Church, we need to grow and therefore, those uncertainties are not always a bad thing."
He said, "We should always ask: what do you want to see in the future—a divided Church and divided world, or do we want everyone to be winners? The big problem the world faces today is that we are stuck in ideologies. Ideologies kill because the very definition of ideology is 'I am right, and you are wrong.' There is no dialogue. We need to learn to discern together. Discernment is a gift of the Holy Spirit. But today, not many people believe in the Holy Spirit! We are often over-dependent on ourselves; our convictions. They are not bad, but we need to open ourselves to be different and to be surprised by the Holy Spirit."
The bishop said, "We [priests or church leaders] always talk about 'collaborators working with us.' It should be the other way round. We have to learn to collaborate with laypeople. We are all collaborators; we listen to one another; we discern together for the mission. It depends on how far we go with synodality. I hope, we can go further. Indeed, it will be a complex process and will rock the boat, but it gives hope. And that's how the Church grows."
Clericalism is present not only among the priests. Sometimes the lay faithful in different associations and groups are more clerical than the priests, he said pointing out, "Titles and qualifications are required for the secular world or public occasions; not in the Body of Christ, because Christ is our only head. To stay healthy, it is important to do regular exercise and cut the fat!"
He continued, "One could be very conservative but must not attack others for not being conservative. The Church should be like a big tree where birds of different kinds and colours could find their nest."