Cases of gender-based violence increased during the COVID-19 pandemic around the world, including the Philippines, amid the lack of action of governments.
A report by international aid agency Oxfam noted that in the Philippines, there was a decrease in access to gender-based violence desks and support services in communities.
The observation was the result of a "gender snapshot survey" conducted among 279 respondents in areas in Eastern Visayas, Bicol, National Capital Region and the Bangsamoro Autonomous Region.
---
---
---
The report said that only three percent of the respondents said they still had access to gender-based violence desks during and after the typhoons and the COVID-19 lockdowns.
Only four respondents said there was no change in the level of access.
At least nine percent of the respondents said they had access to reporting desks before the pandemic and a series of typhoons that hit their communities in 2020.
There were also 15 mentioned cases of violence against women and children — including rape and sexual harassment — in the surveyed communities.
"We are concerned that there are gender-based violence incidences that are also underreported because of mobility restrictions, and cultural barriers to reporting abuse," said Oxfam Pilipinas gender justice advisor Jeanette Kindipan-Dulawan.
"Our survey showed that almost 48 percent of the respondents are worried about the lack of access and information to reporting desks and support services for gender-based violence," she said.
Dulawan said there were some respondents who said they were worried about physical, sexual and emotional violence committed by partners or relatives.
There were also 16 respondents who said they were concerned about child or early marriage, something that is still being practiced by some Filipino communities.
Dulawan said the national and local governments need to work harder to ensure the safety and protection of women and girls and non-binary people from violence and abuse in their own homes and communities.
"While we are focusing on protecting the population against the virus, we may be neglecting the most vulnerable members of our society, some of which may face higher risks of gender-based exploitation and abuse," she said.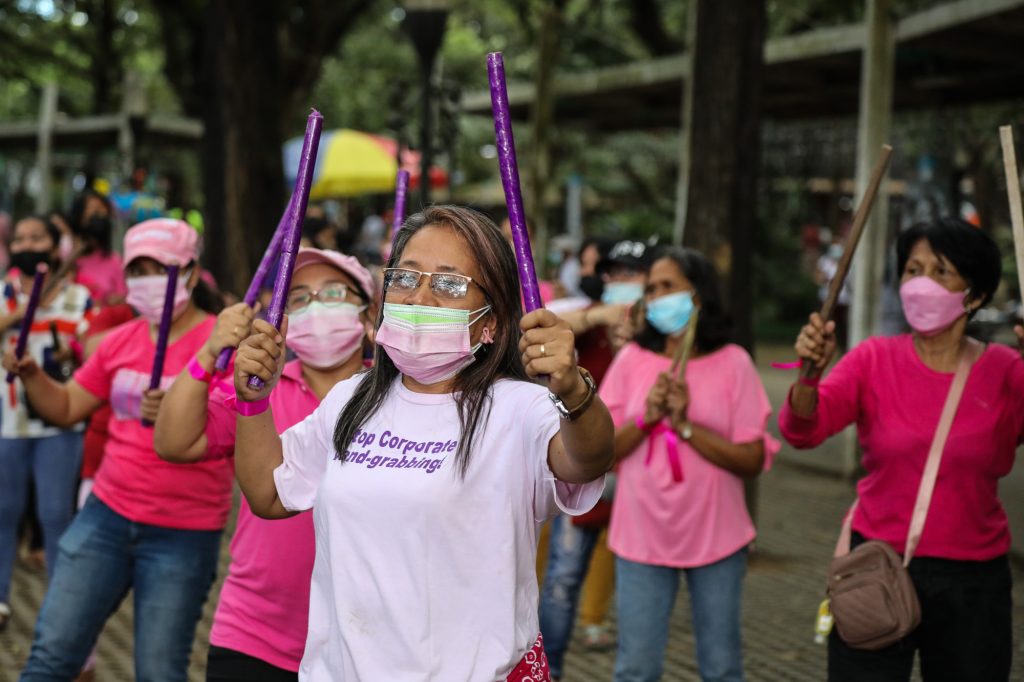 Worldwide, the report said that in many households, the pandemic has created a "perfect storm" of social and personal anxiety, stress, economic pressure, social isolation, including with abusive family members or partners, and rising alcohol and substance use, resulting in increased incidences in domestic abuse.
The Oxfam International report shows that not enough countries have acted with sufficient seriousness to tackle the gender-based violence pandemic.
In 2018 alone, before the pandemic, over 245 million women and girls were subjected to sexual or physical violence by an intimate partner – a greater number than the global total of coronavirus cases (199m) between October 2020 and October 2021.
"It is a scandal that millions of women and girls, and LGBTQIA+ people have to live through this double pandemic of violence and COVID-19," said Oxfam International executive director Gabriela Bucher.
She said gender-based violence has led to injuries, emotional distress, and increasing poverty and suffering, all of which are utterly inexcusable and avoidable.
"The pandemic has exposed the systematic failure of governments around the world to protect women and girls and LGBTQIA+ people from violence against them – simply because of who they are," said Bucher.
Meanwhile, women's rights organizations have been more likely to have been hit by funding cuts, exactly at the time when their work is most needed.
In an Oxfam survey published in June this year, over 200 women's rights organizations across 38 countries reported reduced funding and shrinking access to decision-making spaces. Thirty-three percent had to lay off between one to ten staff, while nine percent had to close altogether.
Even though 146 UN member states have formally declared their support for action against gender-based violence in their COVID-19 response and recovery plans, only a handful have followed through.
Of the US$26.7 trillion that governments and donors mobilized to respond to the pandemic in 2020, just 0.0002% has gone into combating GBV.
"The pandemic has worsened long-standing gender discriminations, and this has increased the vulnerability of women and girls and LGBTQIA+ people to violence and abuse," said Bucher.
"If governments do not deliberately initiate strong, properly funded strategies to tackle this, the gains made in women's empowerment in the last 30 years are at risk," she added.
A few governments, however, have made efforts to respond to the crisis. For instance, Indonesia and New Zealand introduced national protocols and identified gender-based service providers as essential workers.