Anti-tobacco groups on Friday called for a higher minimum age to access cigarettes, saying that people below 21 years old should not be allowed to buy tobacco products.
"We need to protect young people's health and development from the bad effects of cigarettes and addiction to nicotine," said Dr. Rachel Rosario, executive director of the Philippine Cancer Society.
Other groups said the government should uphold policies against the tobacco industry's alleged interference in policymaking.
---
---
---
"We already know the how's of preventing this needless loss of lives and suffering. What we need to do is act now and work together to prevent these avoidable deaths," said Menchie Auste, chief executive officer of the Cancer Warriors Foundation.
The groups called for the passage into law of House Bill No. 8763, or the Smoke-free Environment Bill, that will expand the coverage of the smoking ban and strengthen the power of local government units to enact stricter smoke-free ordinances.
They also urged senators to junk Senate Bill No. 2239 or the Non-Combustible Nicotine Delivery Systems Act, more commonly known as the Vape Bill, that seeks to roll back regulations on the sale, manufacture, and marketing of vapes and e-cigarettes in the country.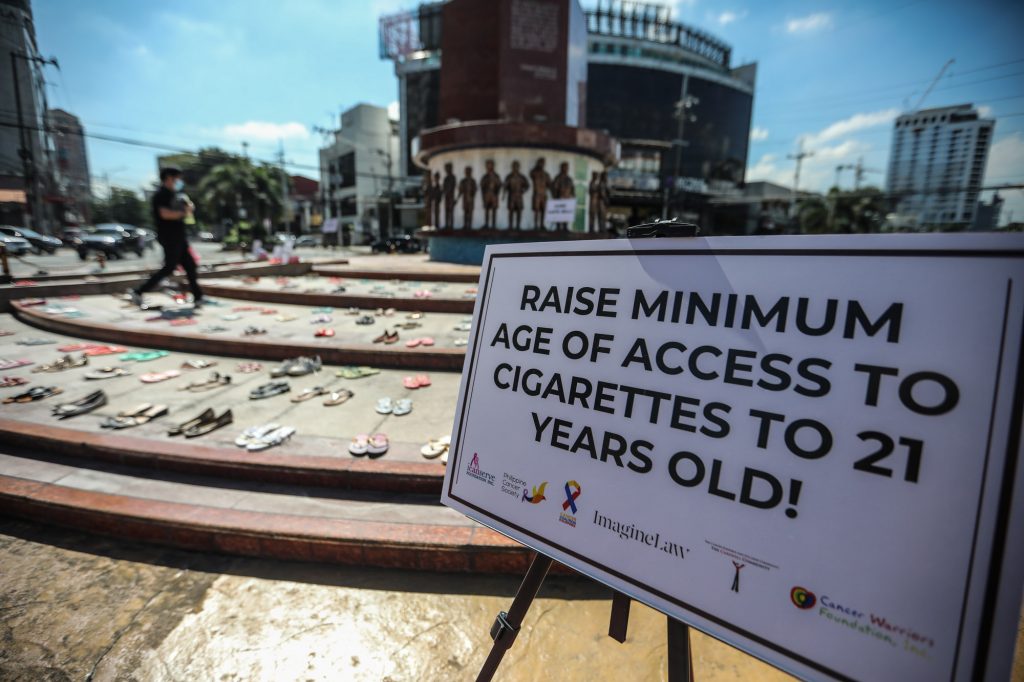 The group called on the government to uphold a joint memorandum circular between the health department and the Civil Service Commission that protects policymaking and government processes from the influence of tobacco companies.
"The [memorandum circular] is our vaccine against the tobacco epidemic," said Sophia San Luis of the public interest law group ImagineLaw.
"Without it, tobacco companies will continue to spread the deadly diseases caused by their products," she said.
The groups stage a demonstration on Friday by holding an art installation featuring 321 pairs of shoes and slippers in Quezon City, representing Filipinos who die every day due to tobacco-related diseases.
"This installation has a clear message: tobacco companies and their products are deadly. They are not partners in public health and are instead the cause of death of hundreds of Filipinos every day," said San Luis, citing data from the Department of Health.