There's a saying that goes like this, "the greatest artists are always the devout ones."
For sculptor Ed De Guzman, however, although art and religion are not contradictory, these are also not complimentary.
"My doing 'Jesus art' has nothing to do with faith or religion," he said when asked about his participation in an online art exhibit for the Holy Week.
"Some people paint sunsets, [but] that doesn't make them astronomers," he said.
De Guzman said he is "not religious" but is "God-fearing."
---
---
---
He has been working on Jesus Christ subjects for more than a decade already. "It is a subject I am familiar with and a subject I love," he said, adding that it is "not a devotion" but "a fascination."
"I'm very fascinated not of Jesus' life but of the concept of the ultimate sacrifice," said the artist.
"Would you know of anybody who would give his life to save you?" he said. "That is the ultimate essence of love."
De Guzman is one of 128 Filipino artists who is taking part in "Hesukristo," an online art exhibit curated by Art Show Philippines.
"Hesukristo" features the reflections and interpretations of Filipino artists about Jesus Christ.
De Guzman's piece titled "INRI" uses found objects and recyclables, such as rusted nails, discarded packing materials, and plastics, to paint a portrait of Jesus.
"My intention was to create His likeness from the things that people disregard and throw away," he said, adding that he wanted to impart a message of humility.
Faith, like art, comes in different strokes, said artist Brenda Subido Dacpano.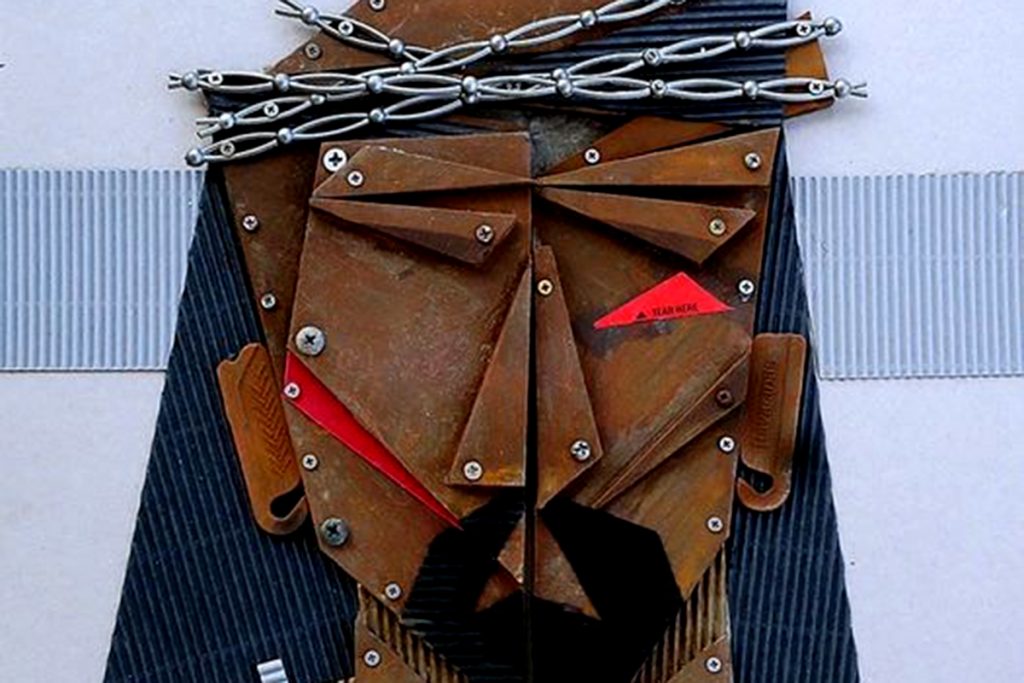 Her faith comes in bold strokes as shown in her "Hesukristo: Nasaan ang Pananagutan (Jesus Christ: Where is Responsibility."
"When impunity prevails, perpetrators of human rights violations are exempted from punishment, victims' rights to justice and redress are denied," Dacapano told LiCAS.news.
"Maybe Jesus is also asking us, 'Where's the accountability?'" she said.
"I relate religiosity to the everyday lives of the downtrodden and marginalized, how they cope with everyday living and hardships," said Dacapano. "I relate them to the sacrifices of Jesus."
She cried while doing her piece because the message is "very close to my heart."
"I know so many people who were killed under [the administration of President Rodrigo Duterte]," she said.
Dacano, a community journalist, poet, and activist, experience being tagged as a communist by the state security agents.
She said the threats no longer scare her.
She was arrested during the years of martial law in 1982 when she was still student in the northern Philippine city of Baguio.
While in detention and with the help of other detained activists, Dacano turned her prison cell into an art workshop.
After her release, the artist never stopped her activism and held on tighter to her faith.
"My faith kept me going," she said. "I have faith in God that He will guide me and faith in the people I serve that they will continue to believe in every little thing I do."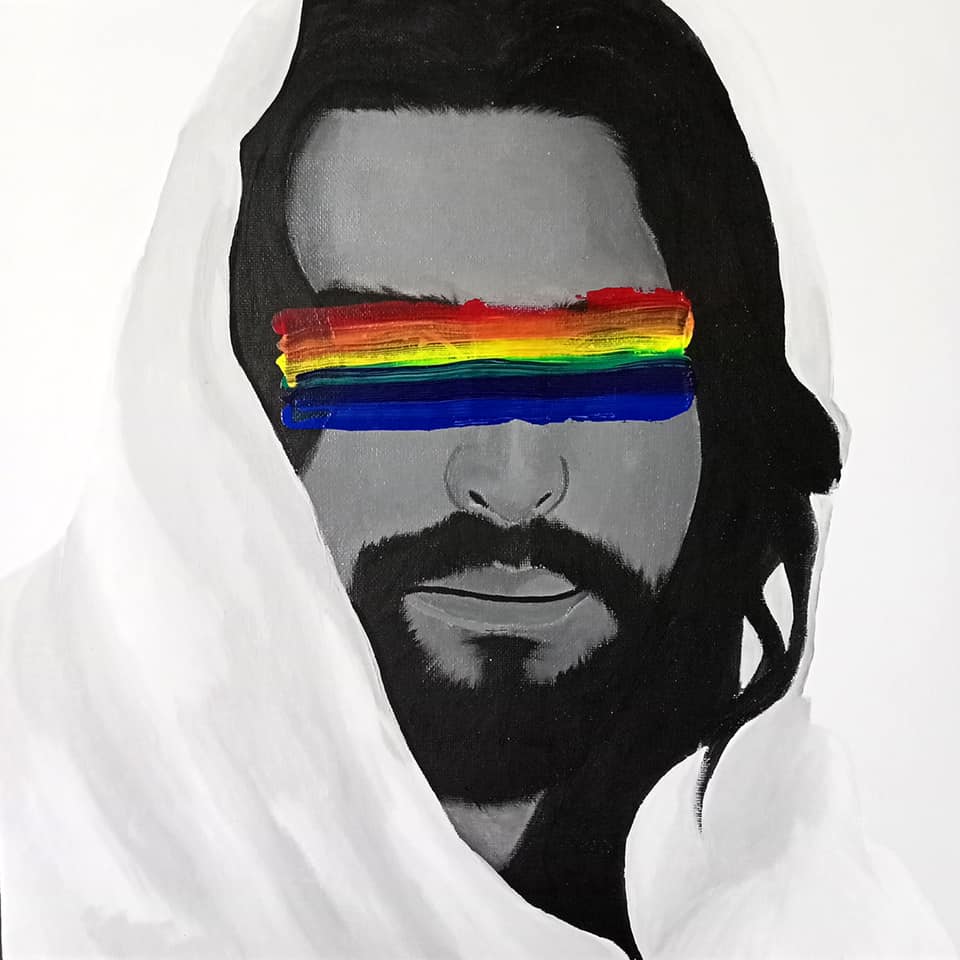 Kim Roy, meanwhile, has been attracting attention to his "Soul not the Gender" piece online.
"There's so much hate that I just hope Jesus would be there to speak for himself," the artist said in an interview with LiCAS.news.
How he wished that through his brush Jesus would be speak to those who use the Bible to attack gays, bisexuals, lesbians, and other genders.
"I have read about Pope Francis telling people not to judge others' faith because of their gender," said Roy.
The pope's statement offered the artist hope that the LGBTQ+ community would be understood by others.
"Creating this piece was a wake up call for me, that I shouldn't stop believing in Him despite my flaws," Roy said. "I realized that it is not other people who should dictate my faith and my gender."
The more he get criticisms for his being gay, Roy gets stronger in his faith. "We are all sinners, that's why we ask for forgiveness," he said.
"If the critics think they will have more points for salvation because they are not homosexual, it's up to them, but for me, I will continue believing in God," he said.
The "Hesukristo" exhibit is the second online show by Art Show Philippines that tackles Philippine religiosity.
In July last year, the group hosted "Amen" that featured religious art.
Art Show Philippines founder and curator Frederick Epistola said faith, like art, is something personal.
"Jesus is a revolutionary teacher who inspires through His teachings about our faith, love, compassion, sacrifices, and tolerance," he said.
"The true image of Christ for me can only be visualized through one's own personal faith," he added.