Several Catholic dioceses in the Philippine capital have declared a lockdown of all churches following the rise in the number of COVID-19 cases in the country.
The centuries-old San Agustin Church in the old walled city has been closed on Sunday, March 21, following the death of its parish priest due to the coronavirus disease.
Augustinian priest Arnold Sta. Maria Cañoza succumbed to the disease at the age of 45.
Father Cañoza had been a professed religious in the Order of Saint Augustine for 14 years. He first professed his vows in June 2006 and made his solemn profession in February 2011.
---
---
---
Due to the priest's death, the convent will be on indefinite lockdown and access to the church will be restricted.
"Operations at the parish office will also be suspended until further notice," read an announcement from the parish. "We ask for your understanding and prayers," it said.
On Saturday, the Philippines recorded 7,999 new coronavirus infections, the second straight day that the country posted a record high in daily cases.
The Department of Health said total confirmed cases have risen to 656,056 while confirmed deaths have reached 12,930, after 30 more were recorded on Saturday.
Metro Manila dioceses to lock down churches
Several dioceses in the Philippine capital have declared a lockdown of churches for two weeks starting on March 22 until April 4.
"This is to encourage the faithful to stay home and keep them safe," said Bishop Honesto Ongtioco of Cubao in a statement released on Sunday.
The prelate said that although closing places of worship at the highest point of the liturgical year is "heartbreaking … we also open our eyes to a situation that puts many of our faithful at risk."
The Catholic Church will be observing the Holy Week starting March 28, Palm Sunday, until Easter Sunday on April 4.
"Numbers (of COVID-19 cases) are surging and scientific data show that unless drastic interventions are done, these numbers will not decline anytime soon," said Bishop Ongtioco.
"Together, we must embrace an act of self-denial for the sake of many of our brothers and sisters," he said.
He assured the faithful that Church leaders and ministries will exert all possible efforts to find the best and most fruitful ways to celebrate Holy Week "on safe, online platforms."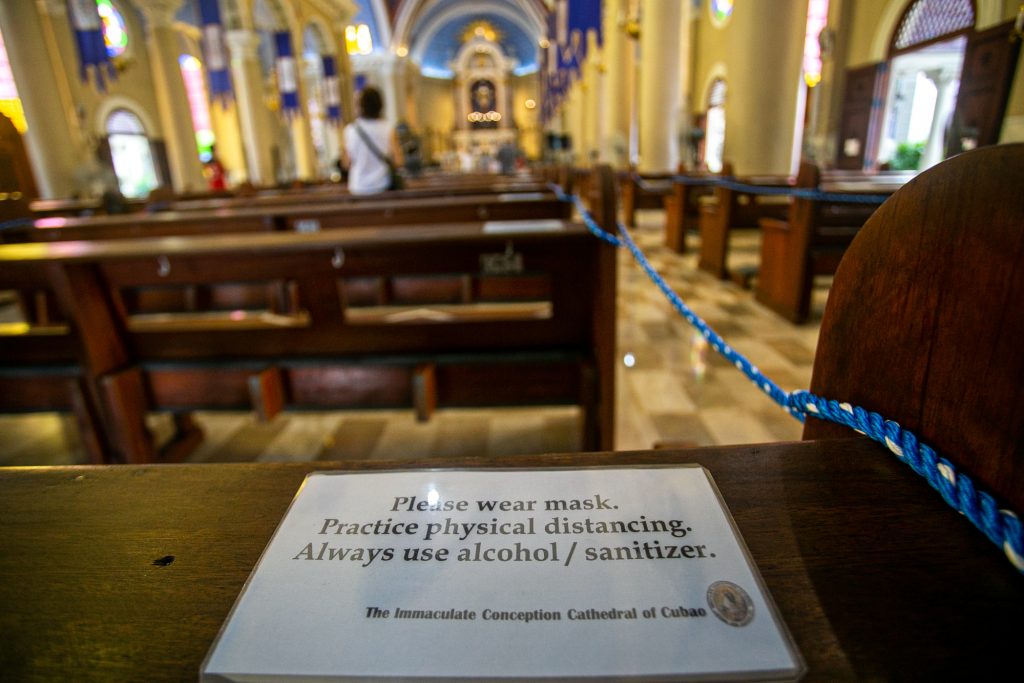 In Diocese of Novaliches, Bishop Roberto Gaa issued a circular on March 20, noting a "strong need, even major imperative" for churches to go into a lockdown.
"I believe that if nothing drastic is done and things are left as they are now, the worsening situation could spill further onto other places both within and beyond our diocese," said the bishop.
"It would appear that the only way for us to control the further upsurge of COVID cases is to restrict the movements of people," said Bishop Gaa.
The prelate urged parishes to stream Masses and other religious activities online beginning March 22.
"We urge our people to please stay home and simply follow these activities online," he said.
"We also urge parish offices to cut down their workforce to half and even restrict the movements of their church personnel to church building and grounds only," said Bishop Gaa.
He added: "I know how hard this decision might be for many of us Catholics as our churches are places where our people go seek and find refuge, and coming as this is at this holiest time of the year."
"Still, I take comfort in the words of the Lord in the Gospel reading of this 5th Sunday of Lent, 'Truly, I say to you, unless the grain of wheat falls to the earth and dies, it remains alone; but if it dies, it produces much fruit' (John 12:24)," said the bishop.
In the Diocese of Pasig, there will be no public Masses in all parishes and chapels starting March 22.
The Archdiocese of Manila also suspended all public celebrations of Masses from March 22 to April 4.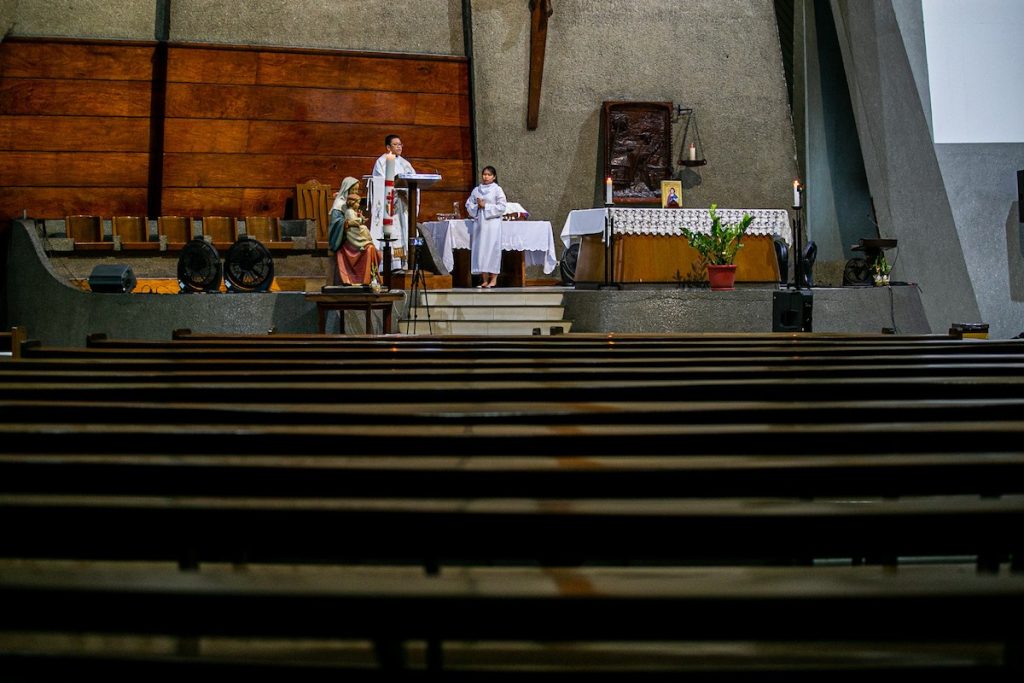 Lipa archbishop tested positive of COVID-19
Archbishop Gilbert Garcera of Lipa has tested positive for the coronavirus disease, the prelate himself said in a circular dated March 20.
"As you have already known, some priests and I tested positive for COVID-19," he said, adding that they are in a health-managed condition.
"While necessary medical treatment continues, I must admit that the battle against COVID-19 is far from over," said the archbishop.
The prelate asked everyone to pray for their immediate recovery and to pray for an end to the pandemic.
"I thank all priests, religious and lay faithful for your well wishes and prayers." he said.
"Once again, I am requesting all priests to offer your Masses, Holy Hours, and recitation of the Rosary for our immediate recovery and end to this pandemic," added the prelate.
Meanwhile, the social action arm of the Archdiocese of Manila announced that Father Anton Pascual, executive director of Caritas Manila, has tested positive of COVID-19.
Church-run Veritas 846 said the priest is now being treated at Cardinal Santos Medical Center while the other infected employees are under quarantine.
The Caritas Manila building on Jesus St. in Pandacan district in Manila has also been placed under lockdown until March 28.
The Church-based non-profit organization assured that it will continue to provide services in Metro Manila and nearby areas, especially to those affected by the pandemic.
---
---
---
The Philippines is battling a renewed surge in infections, including those of the new and more transmissible variants, delaying the further reopening of its pandemic-stricken economy.
"The country's recorded COVID-19 cases remain high. Better to stay home if going out is unnecessary," the Health department said.
The Philippines logged 114 COVID-19 cases because of new coronavirus variants, including six infections of the homegrown P.3 variant, after a new series of genome sequencing on 150 samples.
It reported 46 new infections of the B.1.1.7 variant first detected in Britain, and 62 cases of the B.1.351 variant discovered in South Africa. This brings cases for those variants to 223 and 152, respectively.
The Philippines has the second-highest COVID-19 cases and deaths in Southeast Asia, after Indonesia. – with a report from Reuters