Spain is looking forward to another "500 years" of inspiration from the Filipino people who welcomed the early Spanish missionaries and explorers who arrived five centuries ago in the country.
"We commemorate the arrival, the discovery, not of the country, not of the Philippines, but the astonishing beauty of the country (and) the humanity of its people," said Spain's ambassador to the Philippines, Jorge Moragas Sanchez.
Sanchez spoke during the launch on Tuesday, March 16, of the design of proposed Guiuan Museum and a Quincentennial Commemorative exhibit as part of the celebration of the 500th anniversary of the arrival of Portuguese explorer Ferdinand Magellan in the country.
---
---
---
"In that critical time when Magellan's men were starving, dying, out of water, the first touch took place between the Spanish expeditioners and the people of Suluan who brought and served good food, fish, coco liquor," said the ambassador.
"The first touch defines in a way what I feel we should commemorate tomorrow and the day after, the first touch between our people that will inspire us for the next 500 years," said Sanchez.
"We are showing the world our history of kindness, our history of humanity as our ancestors from Suluan island offered food and water to the tired, sick, and weary men of Magellan," responded Mayor Analiz Kwan of Guiuan town in Eastern Samar.
To dramatize the celebration, the Spanish training ship Juan Sebastián Elcano raised its sails and anchored off the coast of the town.
The ship arrived in the Philippines on March 16 to reenact the first circumnavigation of the globe—one of the most significant achievements in the history of mankind.
The ship will be off the coast of Suluan and Homonhon islands until March 18 before departing for Cebu, to "the very places where the expedition made the first visual contact, landing and human encounter on those very dates."
"The journey was a historical leap forward and a technical challenge for that time," read a statement from the Spanish Embassy in Manila.
Initially, five ships and 238 men departed Spain as part of the expedition and only 18 men and one ship made it back three years later.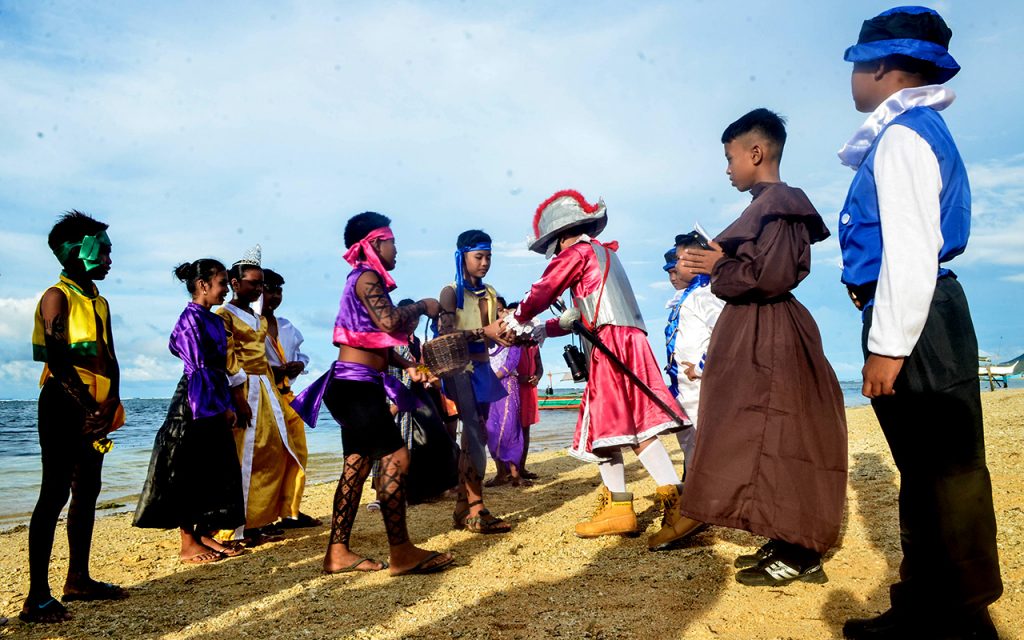 Magellan and his men left Seville, Spain, on August 10, 1519, onboard five ships — San Antonio, Concepcion, Santiago, Victoria, and Trinidad.
At dawn of Saturday, March 16, 1521, the Magellan expedition came upon an island called "Zamal" (Samar).
Magellan and his team disembarked and stayed more than a week, starting on March 17, on an island later known as Homonhon.
From there, on March 25, the expedition went on to sail to Limasawa, Cebu, and later Mactan where Magellan died in the hands of the villagers there.
On March 31, the Catholic Church will mark the anniversary of the first Easter Sunday Mass in the Philippines on Limasawa Island in Southern Leyte province.
Archbishop Charles John Brown, papal nuncio to the Philippines, is expected to grace the occasion.