I don't even know where or how to begin. To put into words what is unspeakable.
How easy it is to say I condemn in no uncertain terms the carnage which happened in Calabarzon, where nine people fell by the bullet on account of their being activists and progressives. But how can bemoaning it change things?
Nothing can bring them back.
---
---
---
These progressives have lost good men and women that Sunday afternoon to the trigger-happy fingers of combined police and military operatives who wouldn't think twice of murdering innocent people at the behest of their president.
Like the little over 30,000 who perished under President Rodrigo Duterte's war on drugs, the victims of the communist crackdown under Executive Order No. 70 died without the benefit of due process.
Worse, as members of left-leaning activist groups, they were presumed guilty of some crime even though they were noncombatants. This means only one thing: any attempt by the populace to raise a grievance against this tyrannical administration, to make human rights as their benchmark, have only the barrel of the gun to look forward to.
Emmanuel "Manny" Asuncion, the secretary general of BAYAN in Cavite and a mass organizer in the Southern Tagalog region, was among the fatalities.
Chai Lemita Evangelista and Ariel Evangelista of Batangas, who belonged to the labor rights group Pamantik-Kilusang Mayo Uno, also fell during the operations. According to some reports, their 10-year-old child was able to escape.
The bloodbath came two days after President Rodrigo Duterte issued the order to kill all communists at each and every encounter with police or the military, and make sure to kill them.
"I've told the military and the police, that if they find themselves in an armed encounter with the communist rebels, kill them, make sure you really kill them, and finish them off if they are alive."
Duterte added, "Forget about human rights. That's my order. I'm willing to go to jail, that's not a problem."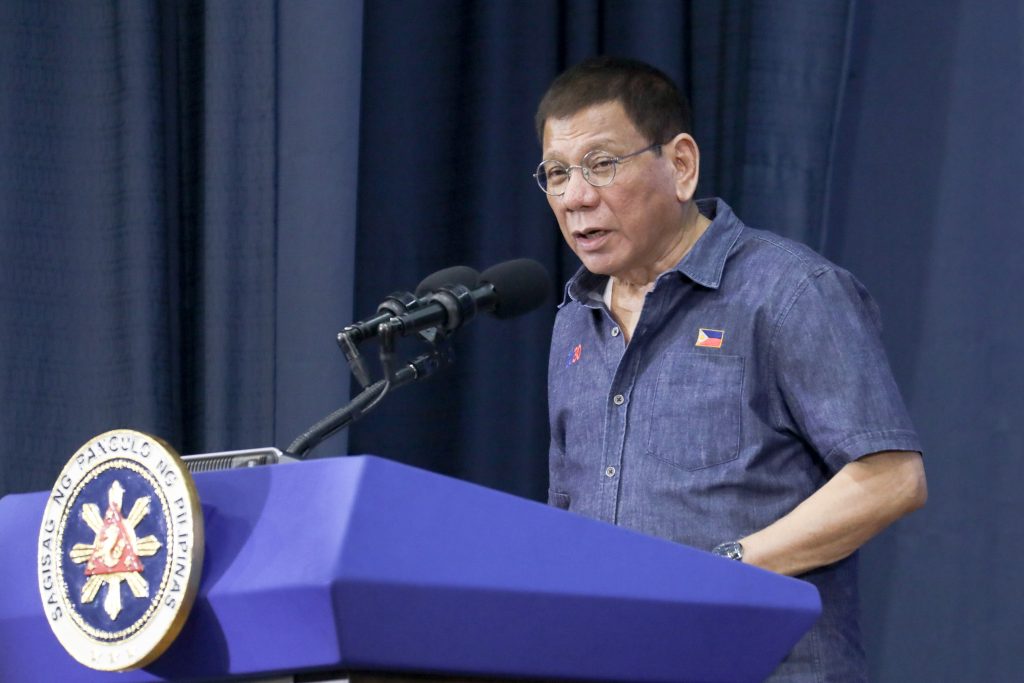 According to authorities, the simultaneous raids were conducted under the whole-of-nation approach to end the communist insurgency or Executive Order No. 70.
I can't help but wonder: does this crackdown have anything at all to do with the bounty Duterte had once promised for every dead "communist"?
In 2018, if you recall, Duterte offered a bounty for every communist rebel killed during police and military operations, turning what they claim as a national security and whole-of-nation approach to ending insurgency into what has become another money-making racket.
"You want money? I'll give you money. I will make it 20,000 pesos per head," Duterte said as noted by Al Jazeera.
With the nine who were killed, should the offer hold true, that amounts to Php180,000. The question is: who gets the lion's share of the blood money?
Where Duterte gets his wherewithal to pay for the widespread slaughter of activists and leaders of progressive groups remains unknown.
Quoting Carlos Conde of Human Rights Watch (HRW), Al Jazeera reports on the promise of pay-per-kill offer, "Instead of promoting measures to ensure those responsible for abuses, including communist rebels, are held accountable in accordance with international law, Duterte is 'encouraging his troops to commit war crimes' with his bounty offer."
On the recent Calabarzon carnage, HRW said, "The fundamental problem is this [anti-insurgency] campaign no longer makes any distinction between armed rebels and noncombatant activists, labor leaders, and rights defenders… It is not a coincidence that these deadly raids happened two days after President Rodrigo Duterte ordered police and military to 'kill all' communists and 'don't mind human rights.'"
How is this even justifiable, to say nothing of it being legitimate? How should any of us make sense of the slaughter?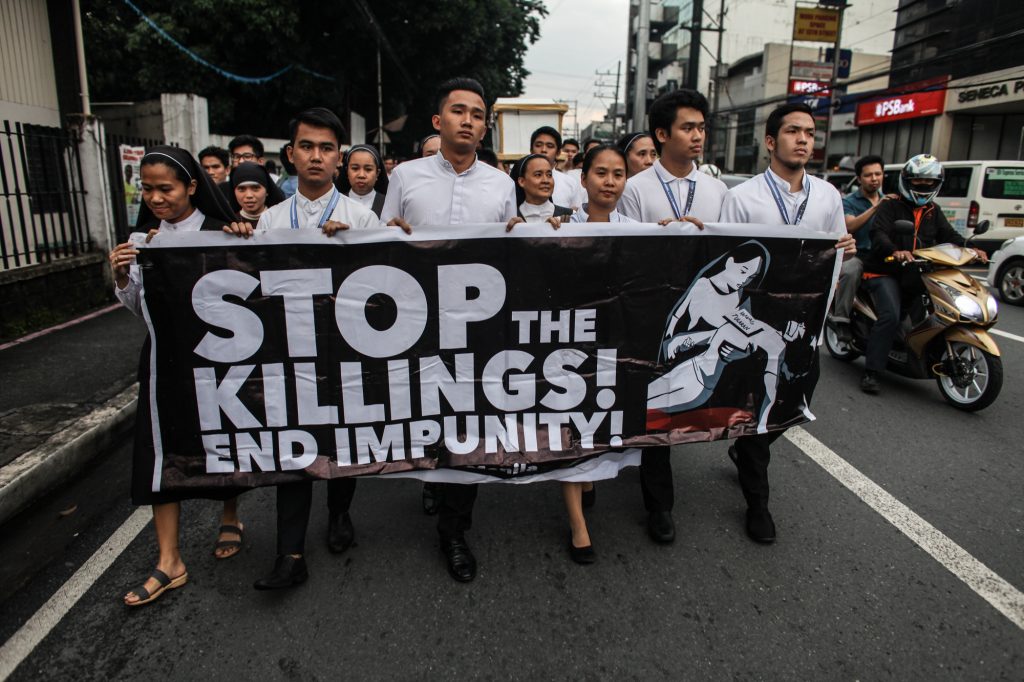 I likewise cannot help but wonder who or what is behind this crackdown. I mean, the one financing the blitzkrieg. It's somewhat easy to point to the billions of intelligence funds earmarked for such a campaign.
Duterte reportedly bagged Php4.5 billion in confidential funds for his office alone in 2020, comprising more than half of the allotted P8.28 billion for intelligence work.
But then, it begs the question: what's in it for the President to spend so much? Is he not getting anything in return? I doubt that very much. In short, who or what is egging him on? And for what "return on investment"?
The end of communist insurgency? I find that rather naïve, if not altogether deceptive.
For who, in this day and age, would wield more than enough capitalist ambitions, to say nothing of a track-record of bloodlust and money to boot, to bankroll such an endeavor?
Who or what would benefit from progressives and activists being waylaid and half-a-century of communist insurgency ended?
Our democracy? Not when this benighted republic is being run like a Nazi concentration camp. Not when a Gestapo government has the last word on who lives and who dies.
Well, let's just say your guess is as good as mine.
What bothers me in the main is how all this could all end: with the perpetrators denying not so much their involvement in the crimes but their supposed inability to be responsible for them.
In Primo Levi's book, The Drowned and the Saved, the author's final recollection and summation of the rule of Adolf Hitler's Third Reich, he mentioned something of the justifications presented by two of the death camps' most notorious officers—Adolf Eichmann and Rudolf Höss (the latter as the inventor of the hydrocyanic acid chambers in Auschwitz) during the trials:
"In substance, the two defended themselves in the classical manner of the Nazi militia, or better yet, of all militiamen: we have been educated in absolute obedience, hierarchy, nationalism; we have been imbued with slogans, intoxicated with ceremonies and demonstrations; we have been taught that the only justice was that which was to the advantage of the people and that the only truth was the words of the Leader. What do you want from us? We were diligent executors […] The decision were not ours because the regime in which we grew up did not permit autonomous decisions: others have decided for us, and that was the only way it could have happened because our ability to decide had been amputated. Therefore, we are not responsible and cannot be punished."
---
---
---
Top this with the vindication that the frightful conditions these officers revolved under—a dictatorship—are what forced them to do their heinous acts, and what do we have? The convenient excuse, in fact an exaggeration, that they, too, are victims of the horrifying prospect of losing their jobs and any hope of being promoted, if not assassinated themselves and their families, should they find the boldness to break tradition and defy Duterte's orders.
In short, better them than us.
Duterte's cabal argues that such violence is required for its preventive force. But as Primo Levi had observed in his book, violence, by its very nature, becomes frenzied over time. State violence only gives birth to more armed insurgency, insurgency being the only language left for a largely tortured populace to push back.
In the end, each murder forms the miseducation of the Filipino: that violence and carnage are our only recourse to peace. This has got to stop now.
Joel Pablo Salud is an editor, journalist and the author of several books of fiction and political nonfiction. The views and opinions expressed in this article are those of the author and do not necessarily reflect the official editorial position of LiCAS.news.