The National Historical Commission of the Philippines has formally turned over the newly restored Basilica of St. Martin de Tours in the town of Taal to the Archdiocese of Lipa.
The turnover of the restored church came three years after a 5.5-magnitude quake that hit the province of Batangas damaged the historical site, including the church's facade.
Popularly known as Taal Basilica, the 164-year-old structure is considered to be the largest church in the Philippines and in Asia, standing at 291 ft long and 157 ft wide.
---
---
Construction of the present church began in 1856 by Father Marcos Antón with Spanish architect Luciano Oliver. Although it was unfinished, it was inaugurated in 1865.
The huge church was completed by Father Agapito Aparicio in 1878 who added the main altar of Doric style measuring 79 ft high and 33 ft wide.
The stone church had three naves with a grand transept and an elegant facade with Ionic and Doric orders.
A small tower on the left side of the facade contained the large church bell, which was destroyed by an earthquake in 1942.
The church was restored in 1953 in preparation for the Canonical Coronation of the Our Lady of Caysasay.
The following year, on Dec. 8, 1954, the church was declared a Minor Basilica, the third in the country to be given such honor.
The church was again restored in 1972 by the Taal Quadricentennial Council for the 400th anniversary of the town's establishment.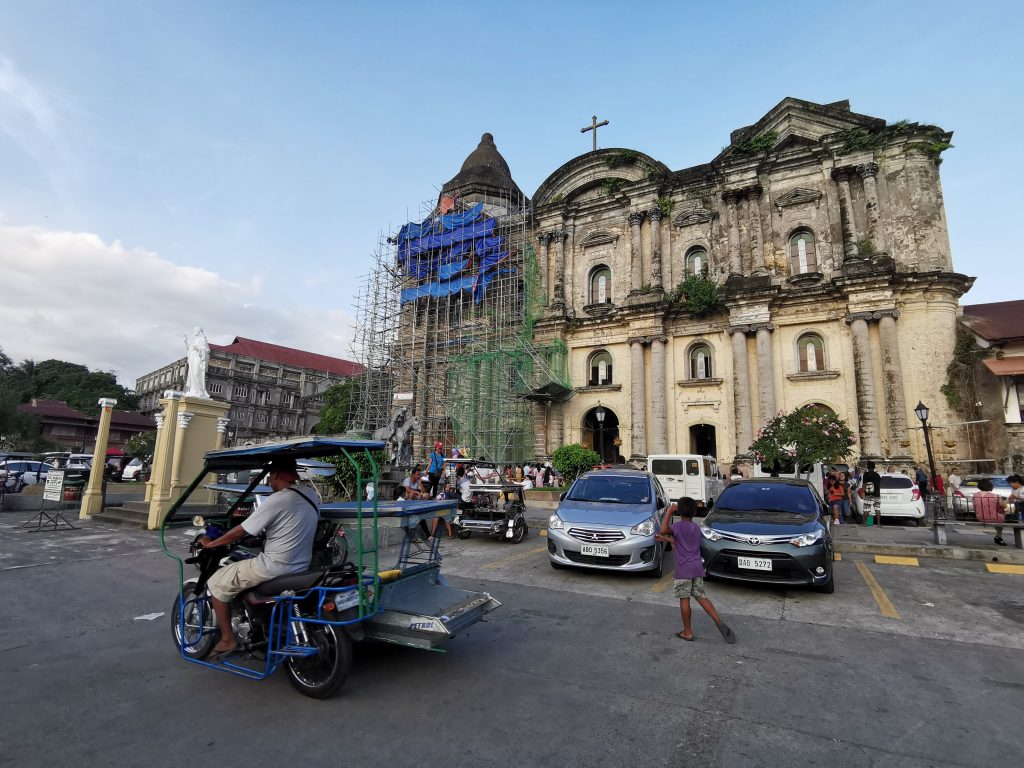 In 2011, the basilica underwent another renovation as sections of the church interior were repainted to its original trompe l'oeil ceilings.
The tower was also modified to imitate the old tower destroyed by the earthquake of 1942 and a new set of carillon bells was later installed.
On April 4, 2017, the basilica was damaged by a 5.5 earthquake that struck Tingloy, Batangas.
The basilica was significantly damaged again due to the twin earthquakes that struck the neighboring towns of Mabini and Taysan later in the year.
The church was declared a National Historical Landmark for its contribution to Philippine history.
"We owe it to the next generation of Taaleños, the Batangueños, and the Filipino people to marvel at this built heritage which we can all truly be proud of," read a statement from the commission.
Part of the restoration was the changing of the roof and the walls of the church. The facade was also reinforced, brining out the original look of the adobe walls.
When Taal volcano erupted in January this year, the church was among those that were blanketed by ash and was closed for a few days.