Filipinos welcomed Pope Francis' personal message and prayer for those most affected by the series of disasters that visited the country in recent weeks.
"Something in me felt light knowing the pope remembered us and assured us that he is praying for us," said Lita Malundras, a 50-year-old school teacher from Marikina.
Thousands of families in Marikina were displaced after floodwaters and mud brought by typhoon "Ulysses" (international name: Vamco) inundated the city on the eastern part of the Philippine capital on November 12.
---
---
---
Bishop Rex Andrew Alarcon of Daet, south of Manila, said the pope's message has given hope to the faithful as they face challenges of rebuilding their communities.
"We are very glad to receive Pope Francis' expression of closeness and solidarity," said the bishop in an interview over Church-run Veritas 846.
"It brings hope and assurance of God's closeness to us, especially to our brothers and sisters who suffer much from the wrath of the recent typhoons," added Bishop Alarcon.
The prelate, who heads the Episcopal Commission on Youth, said that aside from material needs, affected communities "need the moral and spiritual support to lift our spirits."
"More than our eyes can see, the moral-spiritual support and bond with the Holy Father and many others, as well as the material support, are a witness to our being brothers and sisters, sharing a common humanity," said the bishop.
Bishop Alarcon described the pope's message as proof that the Holy Father "values his social encyclical 'Fratelli Tutti,'" which literally "All brothers."
"Indeed, we are 'fratelli tutti, we are all siblings…. We remember, 'he arose in haste' to be personally with the victims of typhoon Yolanda (Haiyan), braving the bad weather," said the bishop.
He was referring to the visit of Pope Francis to the city of Tacloban in the central Philippines that was devastated by super typhoon Haiyan in 2013.
"We felt his closeness and solidarity. Once again, we feel we are not alone," said Bishop Alarcon, adding that "the presence and assurance of a father is very important for the family, especially the young, the children, and the most vulnerable."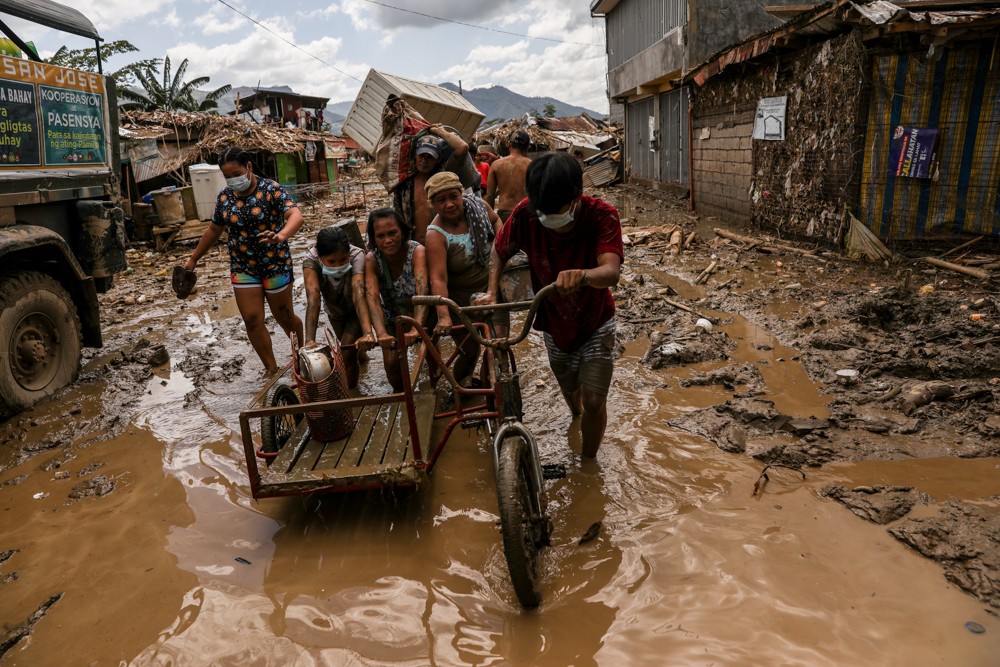 Bishop Joel Baylon of the Diocese Legazpi, one of the areas devastated by super typhoon "Rolly" (Goni) early this month, expressed his gratitude to the Holy Father for his "solidarity and prayers."
"May his oneness and sincere concern inspire in us the same spirit of solidarity to work together with renewed hope in our efforts to rebuild and rehabilitate our respective communities," said Bishop Baylon.
Pope Francis offered prayers for Filipinos who have been affected by the disasters that hit the country in recent weeks during Angelus in the Vatican on Sunday, November 15.
"I express my solidarity with the poorest families who are are also the most vulnerable to this calamity," said the pontiff in Italian.
He also offered his support to "all those who are doing all they can to help them."
On November 13, a day after typhoon "Ulysses" bit the country, the pontiff met with Filipino Cardinal Luis Antonio Tagle, who heads Caritas Internationalis, in a private audience.
Caritas Philippines has earlier launched a global appeal to help those affected by the disaster.
The death toll from the typhoon has risen to 69, with 12 people still missing, as of Sunday evening.
Many areas remained submerged in floodwaters in the northern province of Cagayan, which was worst hit by the floods
---
---
---
As of November 15, the government's National Disaster Risk Reduction and Management Council reported 173 incidents of flooding and 38 incidents of landslides.
Over 1.7 million people have been affected across the regions of Ilocos, Cagayan Valley, Central Luzon, Calabarzon, Mimaropa, Bicol, Cordillera Administrative Region and National Capital Region.
Flooding has caused massive damage, including 236 sections of road and 98 bridges. Power supply has been interrupted to 312 municipalities and cities, and water supply to around 50.
At least 22,756 houses have been damaged and 3,096 totally destroyed.
As many as 324,617 people have been displaced from their homes and moved to 2,991 evacuation centres.
Six cyclones hit the Philippines in a span of just four weeks, including "Ulysses" and super typhoon "Rolly," the world's most powerful this year.