At least two Catholic bishops welcomed the news of Joe Biden's election as the next US president.
"I hope he can restore morality in [the United States]," said Archbishop Martin Jumoad of Ozamiz.
"I hope abortion will be outlawed," said the prelate, adding that "a nation that kills its own children is a nation without hope."
Biden has been an advocate of abortion rights, vowing to enact legislation making Roe vs Wade "the law of the land" if it were overturned by the US Supreme Court.
Roe vs Wade is a landmark decision of the US Supreme Court that ruled that the Constitution of the United States protects a pregnant woman's liberty to choose to have an abortion without excessive government restriction.
In 2019, he said that reproductive rights "are a constitutional right. And, in fact, every woman should have that right."
Bishop Ruperto Santos of Balanga, vice chairman of the Episcopal Commission on Migrants and Itinerant People, said Biden's election is a relief especially for "dreamers."
"Immigrants could secure citizens, skilled laborers could travel and seek work, and reunification of children separated to their families," said the prelate.
"With the migrants and refugees, it is a light at end of their long, perilous journey," added Bishop Santos.
---
---
---
The Filipino bishop said the relationship between the Philippines and the United States will still continue despite the change in leadership.
"We have a strong bond, tested alliance with the US. We have shown our solid fidelity and true friendship with them during the second World War," he said.
Bishop Broderick Pabillo of Manila said if Biden is a true Catholic, "he should follow God's teaching about the sanctity of each human life from conception to natural death."
"Hope everybody will accept him as president," said Bishop Pabillo.
President-elect Joe Biden declared it was "time to heal" a deeply divided America in his first speech after prevailing in a bitter election.
President Donald Trump, however, refused to concede and pressed ahead with legal fights against the outcome.
"The people of this nation have spoken. They have delivered us a clear victory, a convincing victory," said Biden in his home town of Wilmington, Delaware.
The Democrat pledged that as president he would seek to unify the country and "marshal the forces of decency" to battle the COVID-19 pandemic, rebuild economic prosperity, secure healthcare for American families and root out systemic racism.
"This is the time to heal in America," he said.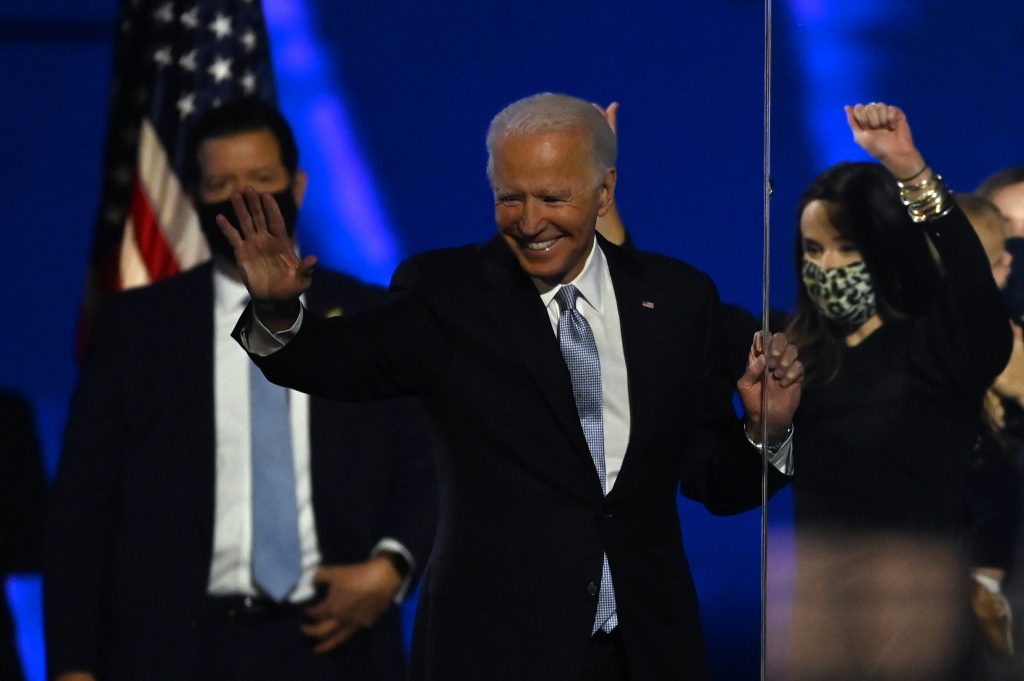 He also thanked Black voters, saying that even at his campaign's lowest moments, the African American community had stood up for him. "They always have my back, and I'll have yours," he said.
Biden was introduced by his running mate, US Senator Kamala Harris, who will be the first woman, the first Black American and the first American of Asian descent to serve as vice president.
"What a testament it is to Joe's character that he had the audacity to break one of the most substantial barriers that exists in our country, and select a woman as his vice president," Harris said.
Congratulations poured in from abroad, including from conservative British Prime Minister Boris Johnson, Canadian Prime Minister Justin Trudeau and German Chancellor Angela Merkel, making it hard for Trump to push his repeated claims, without evidence, that the election was rigged against him.
Trump, who was golfing when the major television networks projected his rival had won, immediately accused Biden of "rushing to falsely pose as the winner."
"This election is far from over," he said in a statement.
Trump has filed a raft of lawsuits to challenge the results but elections officials in states across the country say there has been no evidence of significant fraud, and legal experts say Trump's efforts are unlikely to succeed.
Biden's win ends Trump's chaotic four-year presidency in which he played down a deadly pandemic, imposed harsh immigration policies, launched a trade war with China, tore up international agreements and deeply divided many American families with his inflammatory rhetoric, lies and willingness to abandon democratic norms.
With Reuters report