I will govern as an American president. There will be no red states and blue states when we win. Just the United States of America. – U.S. President-elect Joe Biden
It's a tight race. And it's not over as of this writing. Much too tight that it begs the question: would defeating former U.S. President Donald Trump change the way tens of millions of Republicans look at American politics?
One glance at the U.S. elections and it is clear that the closest electoral race in American history needs some thoughtful examination. Next to voting for Trump, the worst mistake one could do is expect the United States to go back to "business as usual" after all the unthinkable things Trump has done and continues to do in the last four years.
See, even if Biden wins over Pennsylvania to push him ahead of the race in the final few hours, making him President-elect, he will have to deal with an America that is not only stubbornly GOP, but one that remains fiercely loyal to a cult personality—Donald John Trump.
---
---
---
Make no mistake: many of these so-called "red" Americans are not as loyal to Republican conservatism as they are to the living icon of modern-day misogyny and racial supremacy.
Susan B. Glasser, staff writer for the New Yorker magazine, wrote a very interesting piece explaining this. In her New Yorker column "Biden may win, but Trump remains President of Red America," Glasser argues how Trump's divisiveness might continue regardless of what many have seen as his clear failure at the polls.
"It never should have come to this," Glasser wrote. "After nearly four years of Trump's divisiveness and incompetence, the country has been beset by truly grave crises in 2020. With a deadly pandemic raging and an attendant economic catastrophe, more than seventy per cent of Americans said, in the latest Gallup poll, that they believed the country was headed in the wrong direction."
But she adds: "Yet Trump's support from the Republican Party base never collapsed, and on the eve of the election almost every conceivable outcome was still possible, from a narrow Trump victory to a Biden landslide."
In other words, Joe Biden winning the 2020 U.S. elections is like knocking on the doors of a circus where the ringmaster assigns him first act: walk the tightrope. No nets. And a crowd wishing he'd miss a step.
Glasser puts it way better than I ever could: "So what now? We can say one thing so far: the anxiety and uncertainty of this election season will extend into a post-election struggle, possibly a protracted one, with potential consequences for our democracy…"
Biden faces a disturbingly divided America. The fight is so close, the race just inches from each other, that you wonder: after ripping immigrant children from their parents, holing them in cages, after more than hundreds of thousands dead due to the pandemic, after making a complete mockery of civil and human rights, spreading rumors of electoral fraud without a shred of evidence, after all the exhibition of misogyny and the pornography of the worst of humanity—after doing all that is unthinkable—why is a huge portion of Americans supporting Trump?
The problem doesn't stop there. Senior political analyst David Gergen, in an interview with CNN, said that faced with a largely Republican Congress, a gridlock between the Executive and the Legislature could ensue, making Trump a "continuing force" even after the possibility of losing in the polls.
Imagine a loyalist vote of a little over 60 million with no signs of flipping to blue. That would be really tough for Biden. This is also where it gets precarious, what Glasser calls a "post-election struggle," with potential consequences to American democracy.
I think what she means by that is this: here we are seeing what amounts to a not-so-distant-future skirmish between Trump the political personality and America as a principle and an ideal.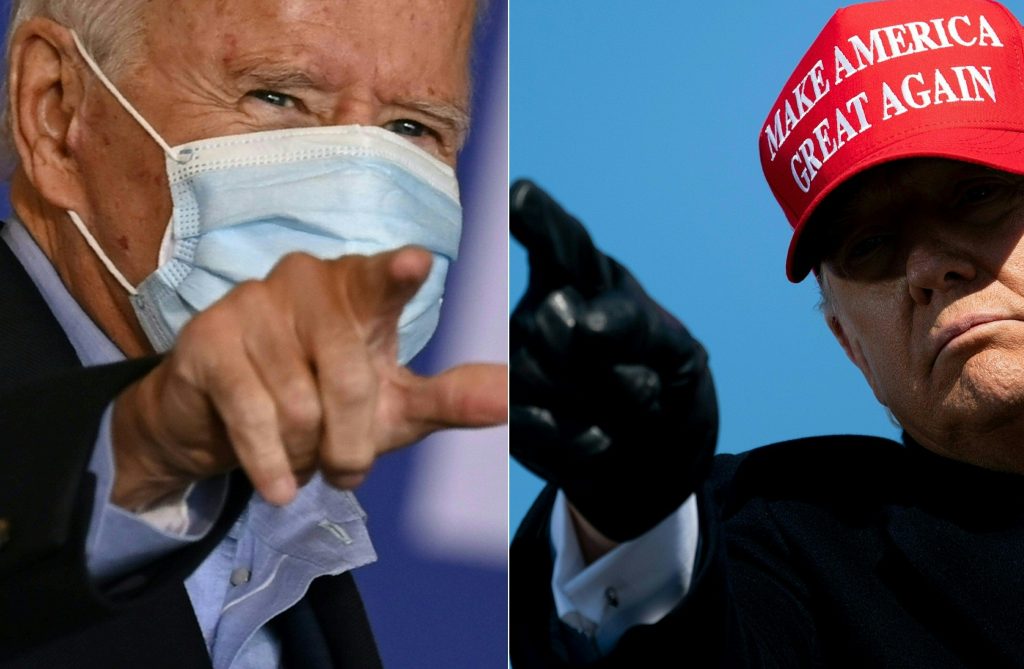 Don't get me wrong. I think Biden himself scantily represents that ideal in full. I am speaking of an America shaped with the spilled ink of the Declaration of Independence, the dream of their founding fathers.
America under Trump seems to have lost its way—the America shaped by the fires of civil rights, of freedom of speech and of the press. Suffice it to say at this point that it would be a herculean effort on the part of Joe Biden to find out where America is going.
Tougher, too, for the Republicans if Trump would make good his threat to run again for office in the next elections. Four years of utter disregard for law can put the Grand Old Party in a tight situation, or worse, on the receiving end of scathing public scrutiny.
Because on the other side of the fence, many Americans, too, are realizing that having an autocrat goes against the grain of everything the United States had stood for, at least on paper. New generations of minorities are on the growth spurt, challenging unorthodox norms introduced by Trump.
One Republican's claims on CNN, that the party couldn't have won seats in Congress without Donald Trump—"Trump was responsible for all of these wins […] A lot of Republicans would be grateful for Donald Trump for what he does"—may end up eating his own words.
Trump's tantrums during the last few hours of the counting already showed that he has little respect for the vote of the people, that his sole concern revolves around his personal losses. That, if anything, would prove detrimental to Trump's political and partisan affiliations in the long haul.
---
---
---
In fact, Trump's unrelenting allegations of electoral malfeasance sans any proof, which leads to the undermining of democratic institutions, show how disconnected he is to the same. Trump makes the elections all about himself, which, in the final analysis, exposes his real values or the lack of it.
Even as I write this, the Convention Center in Philadelphia where the ballots are still being counted is undergoing evacuation because of a bomb threat. Authorities received a tip that "an individual or a group was travelling to the city from Virginia in a Hummer with the intention of attacking the election location."
This may just be the first of many violent upheavals if and when Biden wins, what with Trump stoking the fires of hate and doubt. Proof? British politician and activist Nigel Farage posted a video of Washington D.C. establishments "boarding up" to stop a possible antifa.
While Farage may have hinted that such fears are the product of possible repercussions from more liberal groups should Trump win, I say it could come from anywhere. The question is: who would benefit the most if America's democracy spirals downwards?
As Joe Biden reaches the cusp of a highly possible victory in the 2020 polls, the United States, too, is inching ever closer to the tipping point of an extremely violent, if not uncertain, future.
And this is one of those very rare times I wish I'm wrong.
Joel Pablo Salud is an editor, journalist and the author of several books of fiction and political nonfiction. The views and opinions expressed in this article are those of the author and do not necessarily reflect the official editorial position of LiCAS.news.