It was morning of July 29 last year. I got up early to prepare myself for my thesis defense later in the afternoon. As soon as I opened my eyes, my brain started to work fast, as if it never slept — processing anxieties, excitement, criticisms, and everything that can possibly arise as a result of my year-long research on "Digital Shepherding," a theory on the use of digital media for new evangelization.
I felt so much discouragement from the time I proposed this research. I seldom got support from people because the topic seems irrelevant for the academic community. Thank God I have with me some of my brothers in our spiritual family to show support.
"The time has come!" I told myself. And with limited time given, I confidently presented my study. After much deliberation, suggestions, and even dispiriting comments, I was relieved upon hearing from the chairman of the panel the success of my research
---
---
---
Did it start and end with a thesis?
The motivation to conduct the study started when I worked for a Catholic radio station where I handled a program that provides information to the faithful through the digital platform. My friend from our social media unit, Jackelyn, and I did everything through various campaigns, events, and promotional activities to propagate the use of digital media in new evangelization.
It led us to a conclusion that not everyone in the Church is prepared to use digital media. Some are not even open to the idea of establishing a social communications ministry, gave it least importance, and worse, even criticized us for doing so.
Change came when the country was placed under community quarantine due to the coronavirus pandemic. Local government units implemented total lockdowns to contain and prevent the spread of the disease. People adopted the "normalization" of online transactions. Video conferences have become the new normal for business meetings and online classes.
What were considered to be informal were institutionalized. Dioceses, parishes, and church communities went online. The social communication ministry became "relevant," its value recognized, and the idea of going digital accepted.
In his message for World Communications Day in 2013, Pope-emeritus Benedict XVI stressed the capacity of digital networks to provide a resource that nourishes the prayer life of the faithful.
"The networks facilitate the sharing of spiritual and liturgical resources," he said, adding that it helps people "to pray with a greater sense of closeness to those who share the same faith."
As Masses were streamed online, webinars on catechesis and religious instructions, and other online pastoral activities, sprouted on my newsfeed. I felt that my thesis has become more relevant these days than it was before.
While my concept of "digital shepherding" is not limited on the social communications ministry, the course of events made it an academic research-turned into prophecy, from an ignored ministry to a valued service.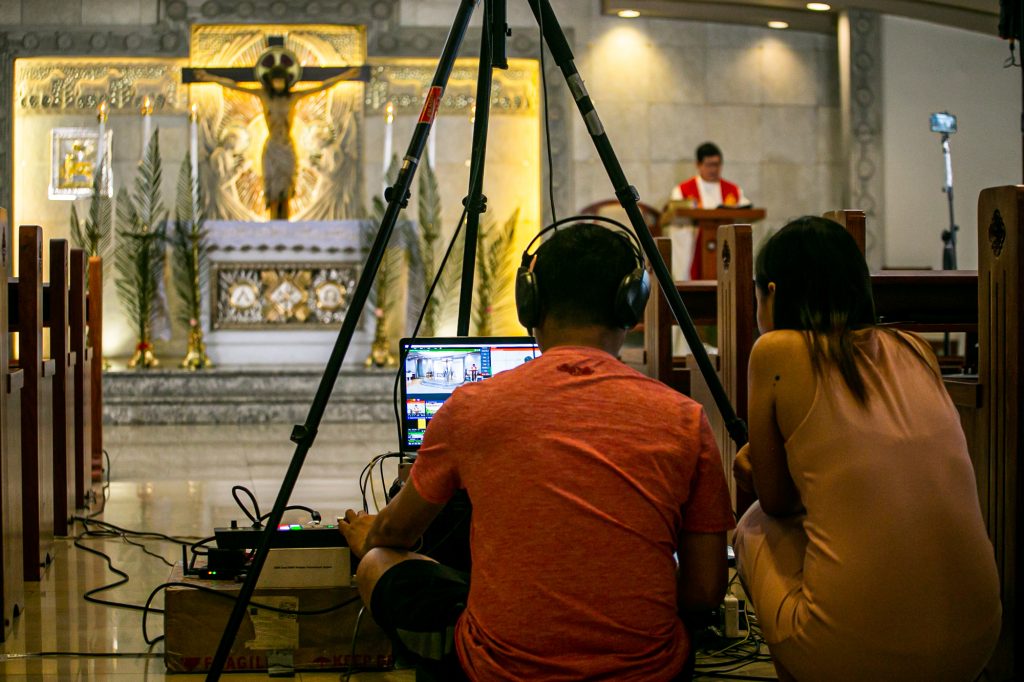 SOCOMM: What it is and what it is not?
The gradual acceptance of social communication ministries at different levels of the Church is commendable. Even those who in the past did not prioritize its establishment now recognize its importance.
However, a lot of people think that SOCOMM is purely a media ministry.
While the contemporary usage of social communications ministry and Church media is interchangeable, media communication alone is not a ministry, and it is not right to assume that it is just a Church "counterpart" of a public relations/information department, or a mere commercial media company.
Divine Word priest Franz Josef-Eilers stressed that the scope of social communications goes beyond the tools used.
In his book, "Communicating in Ministry and Mission," the priest said the concept of Social Communication "goes far beyond technologies and 'media' as instruments! It must be considered rather as a process in society and thus includes all ways and means of communicating in and of human society."
Father Eilers emphasized that the focus of social communication is on society, persons, relationships and understanding, not just becoming a mere media communication that is fixated on technology, instruments, business, and profit.
While our current situation forces the faithful to go online, it's disappointing to witness how some people involved in the ministry turned this "cyber-temple into a market place."
Some take pride in having the best live streaming. Some brag of the number of social media subscriptions, while others become competitive, resulting in nitpicking and criticizing initiatives of other parishes or dioceses.
Everyone in the media ministry should be reminded that SOCOMM is social communications and not social competition.
As Church communicators, no matter how good we are at delivering the best production output, no matter how skilled we are at doing graphics, video editing, or coverage, no matter how best our equipment are, if our minds are blown up with pride of having these "best technology or skills" the goal of the social communications ministry will be defeated.
Apostle James reminded us that "for as the body without spirit is dead, so faith without works is dead." For as a body without spirit is dead, so is output without outcome is dead. There can be no best outcome a social communicator can obtain than the closeness, responsiveness, and interaction of the faithful to the Church.
---
---
---
Openness to the establishment of social communication ministries should not end with the end of the pandemic. The Church should adopt innovative ways to communicate efficiently.
With that, we need to be fully HD, not the technology, but to be "Humble and Determined" as we go online. Humility, or the attitude to serve without expecting any praise from others, is a capstone to sanctify one's works.
Like any other ministry, SOCOMM is not a career but a vocation. When you reach its peak, it will give you comfort. The more we reach out for the top, the more we must guard out hearts from pride and complacency.
With the efforts of the Church to maximize the use of communications technology, I'd like to ask, do our efforts show the mission or just exhibition? Quo Vadis SOCOMM?
Adrian Banguis-Tambuyat is a a communication practitioner specializing in online content strategy and broadcast journalism. His interest focuses on social justice, youth formation, communication theology, and mass media evangelization"