A Catholic bishop questioned the decision of President Rodrigo Duterte to grant "absolute pardon" to a United States Marine who was convicted in 2015 of killing a transgender woman.
"It is strange that Duterte gave that pardon," said Bishop Arturo Bastes, retired prelate of Sorsogon.
"I would have wished that [the US Marine] would serve some time in prison in reparation for his crime of murder," added the bishop.
---
---
"We must show to the world that the life of every Filipino must be respected," said Bishop Bastes.
On September 7, Duterte granted "absolute pardon" to Lance Corporal Joseph Scott Pemberton, an American Marine convicted of homicide over the killing of Filipino transgender woman Jennifer Laude.
Pemberton had been sentenced to 10 years in prison in December 2015.
Father Silvino Borres of the Coalition Against Death Penalty said the granting of absolute pardon to Pemberton is a manifestation of the "unfair justice system under the present administration."
"We are hoping he would extend the same benevolence to thousands of other inmates who are deserving than Pemberton," said the priest.
Bishop Teodoro Bacani, retired prelate of Novaliches, expressed hope that Duterte will also be as kind to Filipinos "especially the erring ones like drug addicts, his critics, and activists."
The bishop said the decision of the president was a "good decision" because it will give the US Marine another chance in life.
"I hope he makes good use of this opportunity," said Bishop Bacani.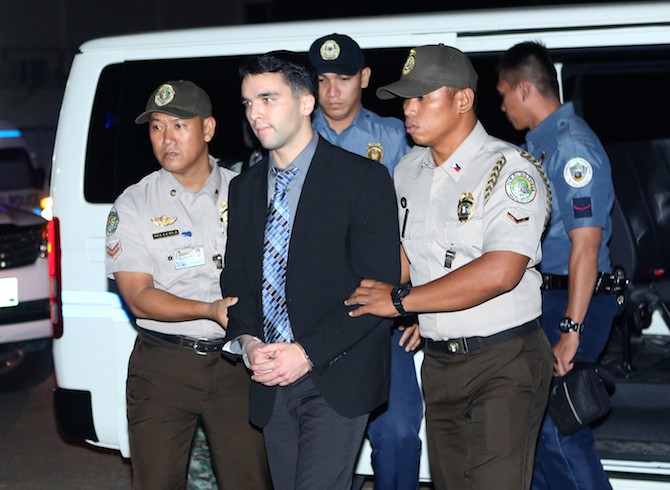 Activist groups condemned the early release of Pemberton from prison on account of "good behavior."
Human rights group Karapatan decried the US Marine's release, describing it as a "travesty of justice" in the Philippines.
The Center for Women's Resources said Duterte's decision was a "deplorable act," adding that "there is absolutely no justifiable reason to release Pemberton from detention."
The group blamed what it described as the "lopsided military agreements" between the United States and the Philippines for the rights violations committed with impunity in the country.
"Now more than ever, the call for the abrogation of [the Visiting Forces Agreement] and other lopsided military agreements must be intensified," read the statement from the women's group.
Lawyer Edre Olalia, president of National Union of People's Lawyers, described the pardon as "a brazen and shameless sell-out".
"What makes it even more atrocious is that Pemberton's entitlements and liberty were apparently politically bartered through an onerous and servile military agreement," said the lawyer.
"What cheap price sovereignty and national dignity [are]," he said in a statement.