Catholics in the sleepy southern Philippine town of Mindanao marked the feast of St. James the Greater on July 25 amid the strict implementation of health protocols due to the coronavirus pandemic.
The parish of Dapitan in Mindanao, however, altered some traditional activities during this year's celebrations.
For the first time since the 1870s, the faithful were not allowed to congregate in the premises of the church.
Instead, the image of the saint on a white horse was placed on a pick-up truck bed and paraded around town on the eve of the feast.
---
---
---
Parish priest Patrick Dalangin said despite the "alterations" and limitations on mass gatherings due to the pandemic, "the people's display of devotion to the patron saint did not change."
"This year, amid the coronavirus pandemic, we saw the maturity of the religiosity and devotion of the faithful to St. James the Greater," the priest told LiCAS.news.
In times past, people would flock inside the church before the procession starts.
A frenzy of devotees would fight their way to go under the image in what they call the "patunob," which literally means "to be stepped on by the saint."
During the celebration, people would wave leaves of the "parpagayo" plant and shout "Viva Señor Santiago."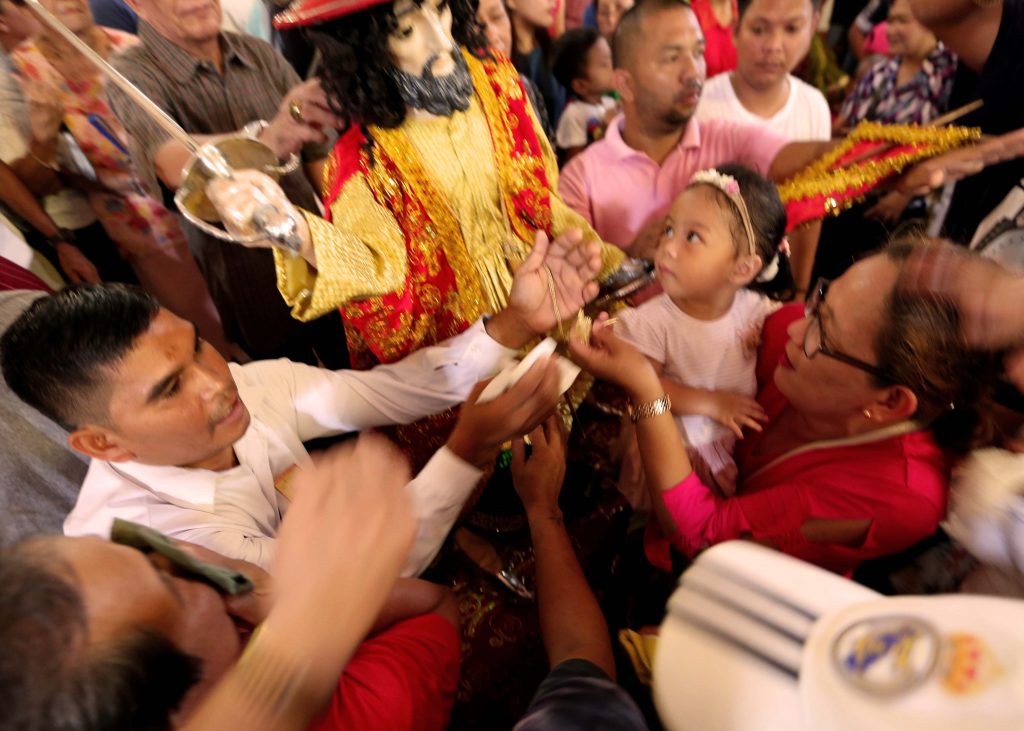 Rex Hamoy, local historian and a professor at the city's university, said the annual tradition marks the Christian victory over the Moors in the Battle of Clavijo, also known as the Battle of Covadonga in northern Spain, in 722.
It was the first major victory by a Christian military force in Iberia following the Moors' conquest of the region in 711.
The battle marked the beginning of the so-called "Reconquista," a period in the Middle Ages when Christian forces began to retake Muslim controlled areas.
It was told that the battle was won after an apparition of St. James the Apostle who was dressed as a knight with a sword in hand and on a white horse.
In the 16th century, Jesuit missionaries brought the story of the Battle of Clavijo in Dapitan, which was then frequently attacked by bandits.
Hamoy said local legend suggests that the people of Dapitan, inspired by the story of the Battle of Clavijo, fought back and defeated the bandits.
"Since then, the people here believed that St. James has been protecting Dapitan and its people not only from invaders but also from calamities and disasters," said Hamoy.
Father Dalangin said the coronavirus pandemic and the restrictions on the mass celebration of the religious event "made the people's devotion to the patron saint even stronger."
"Many of the prayer intentions that we received from the faithful nowadays seek the intercession of St. James the Greater for healing and protection against the disease," he said.
The feast of St. James is one of the most high-spirited and extravagant celebrations in the Philippine Catholic calendar.