A senator and a member of the House of Representatives in the Philippines have confessed to skirting quarantine rules by attending meetings in Congress and at the presidential palace.
Health experts warned that Philippine senator Aquilino Martin Pimentel III and congressman Eric Go Yap exposed hundreds of people to the virus that has already infected more than 600 people and killed at least 35 others in the country.
A massive new round of contact-tracing and testing also sets back the health department's pledge to hasten delivery of test results and plans to prioritize health workers.
---
---
---
Even more dangerous, a nation already straining from lockdown pressures saw on full display disparities in the government's reaction to powerful violators of draconian quarantine rules and its treatment of poorer communities.
The government has been placing people with travel histories in outbreak areas and those with direct exposure to confirmed cases either in quarantine facilities or home-quarantine.
Earlier, legislators have given President Rodrigo Duterte special powers and unlimited supplies of funds to improve implementation of the lockdown.
Speaker Alan Cayetano and other officials posed with a banner on March 23 that read: "Together with doctors and frontliners, we went to work for you, so please stay home for us."
Congressman Yap was at that special session and joined colleagues for dinner, departing only when he suffered chills.
He was tested on March 15 and received the results on March 25. He also joined a March 21 meeting in the presidential palace, several congressional hearings, and relief operations.
Yap claimed he had kept his distance from other officials and wore a mask at these meetings, but his Facebook page shows him unmasked and, in one instance, standing close to three other legislators, including Speaker Cayetano and Senator Bong Go, who continues to act as Duterte's closest aide.
In a March 25 meeting, Go hovered over Duterte several times to help the president focus on important parts of a nationally televised address. Both Go and Duterte earlier tested negative for the virus.
Duterte has been criticized for waving off health advisories against hand shaking, claiming he is not afraid to die.
The Presidential Security Group on March 26 said Yap had "failed to disclose all needed information," adding that troopers on duty "assessed him according to the answers on the said form he submitted."
It was the basis of which the congressman was allowed entry to the palace.
Yap's movements forced Speaker Cayetano, Go, Senate President Vicente Sotto III, and several other legislators and contacts into self-quarantine.
Meanwhile, aside from work meetings, Senator Pimentel attended two parties, and photos circulating on Facebook indicate the presence of politicians and other celebrities.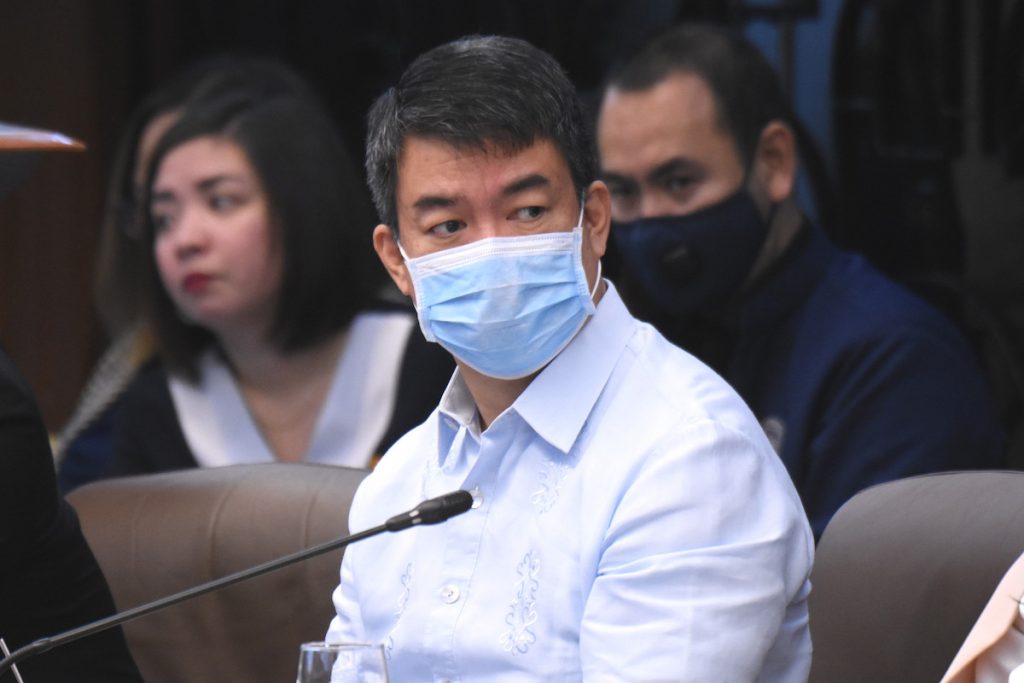 Health officials are busy contacting those he exposed to the virus.
As the controversy over officials' behavior grew, Senator Imee Marcos announced that her brother, former senator Ferdinand Marcos Jr., has also been tested after feeling unwell following his return from Spain.
Imee said her brother was "getting better" at home, contradicting rumors that he was under intensive care in a hospital.
Senator Sonny Angara also announced that he had tested positive for the disease.
"I have not been in contact with the public since taking the test last March 16. I ask for your prayers that together we are able to pull through this tremendous challenge," he said in a statement.
The family of Governor Rebecca Ynares of Rizal province, on the eastern borders of the national capital, also announced she had tested positive for the virus.
A popular actress was hospitalized with pneumonia and a character actor in films and soap operas died from the illness.
Resignation calls
Calls for the resignation of Senator Pimentel snowballed on social media after he admitted bringing his pregnant wife to the hospital on March 24, four days after submitting to a diagnostic test.
Anger spiked as the senator insisted that he did not break quarantine rules because health officials only reached him with test results when they were already in the hospital.
---
---
---
While he informed hospital staff of his test results after a call from health officials, the senator did not tell them he underwent a test for the new coronavirus after suffering body pains, fever, and other flu-like symptoms.
After a week of urging Filipinos to stay indoors and threatening to arrest those who break the "lockdown" rules that allow only one person per household to go out for essential errands, health and justice department officials downplayed Senator Pimentel's infraction.
Legal experts said Pimentel violated at least three laws in failing to disclose his status as a person under monitoring and recklessly exposing other people to harm.
Health Undersecretary Maria Rosario Vergeire said the department needs to study the case even as the director of the hospital, already reeling from the rise in admissions of the worst-affected patients, denounced Pimentel for reckless behavior that exposed delivery complex staff to the virus.
Justice officials said they could not file a case without a proper complaint. Justice Secretary Menardo Guevarra said they would "temper" the law with compassion.
Class divide
Rights advocates, however, said little of that compassion is on display in poorer communities.
On March 26, baton-wielding, masked policemen lashed out at residents of Quiapo, a congested district in the capital Manila, who remained in the streets.
A video of the operation showed one officer cursing and threatening that "the next time, we will shoot you" before hitting one of the bystanders.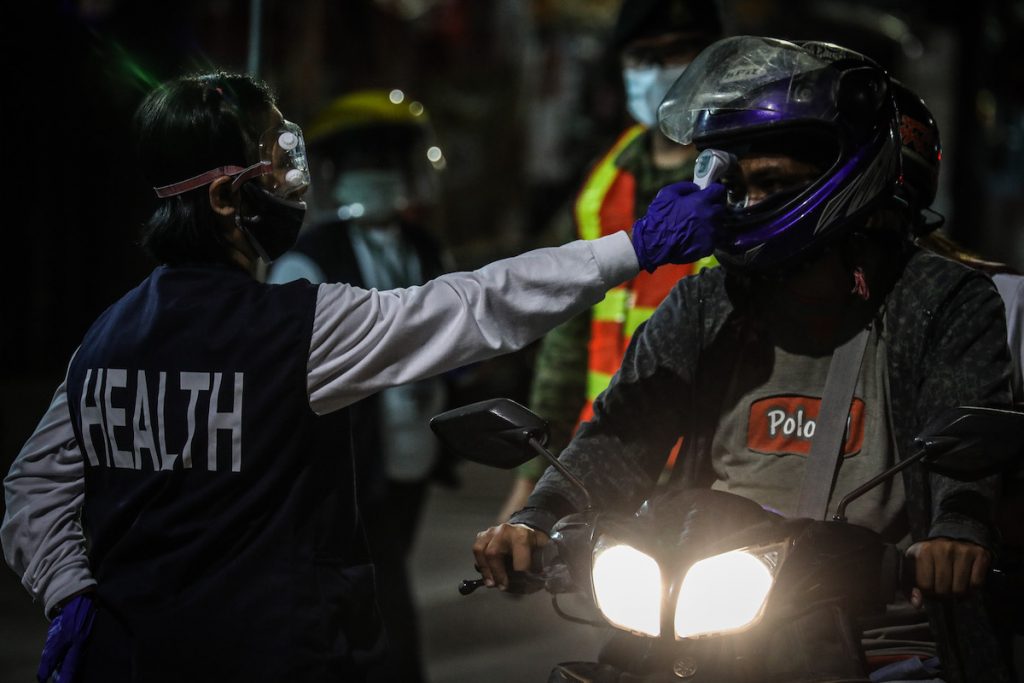 Elsewhere, village officials stuffed teenaged violators into dog pens and police in the city of Paranaque made people sit under the sun for hours.
Curfew violators have also spent the night outdoors. A 69-year-old homeless woman was arrested and faces multiple charges.
Human Rights Watch Asia said hundreds were rounded up in a week in Bacolod City, in the central part of the country, and crammed into already overcrowded detention facilities.
Dr. Saturnino Javier, director of Makati Medical Center, where Senator Pimentel went, gave a rare private sector rebuke of a high official.
"He added to the burden of a hospital trying to respond in its most competent and aggressive manner to cope with the daunting challenges of this COVID-19 outbreak," said the doctor of Pimentel.
At least six big hospitals in the capital region have already scaled back operations as thousands of exposed front-line health workers have gone into quarantine.
Congressman Yap excused his behavior, saying he was afraid of criticism about being lazy should his test turn out negative.
Harried health professionals said the politicians' actions would divert badly needed resources, further endangering a sector which has already lost nine doctors to the virus.
A dearth in test kits limits the service only to patients with serious symptoms, the elderly and those with underlying health conditions, and VIPs whose jobs affect national security and national interest.