At least four major private hospitals in the Metro Manilla are desperate for relief as thousands of their frontline workers have retreated into quarantine amid the new coronavirus pandemic, that has already killed six doctors and infected dozens of medical personnel.
One after another, The Makati Medical Center, The Medical City in Pasig City, and St. Luke's Medical Center in Taguig and Quezon City called for the immediate implementation of a Health Department directive mandating dedicated COVID-19 wards in government facilities.
The calls came four days after 11 hospitals appealed for a comprehensive state response to the crisis, which has already killed at least 35 patients and infected 552 others.
---
---
---
"The panic is escalating, mortality is increasing, our supplies of personal protective equipment are running short," read a statement from the hospitals.
It added that front-line staff are increasingly getting depleted "as more of them are quarantined or physically and emotionally exhausted, and a number of our medical colleagues are already hooked to respirators fighting for their lives in various ICUs."
"Soon we will have a shortage of respirators. We have every reason to be scared; we are, indeed, very scared because we feel that we are on our own to face our countrymen in dire need of help," added the statement.
As provinces across the country received confirmation of their first new coronavirus cases, only to later report their first deaths, doctors have taken to social media to show makeshift protection, sometimes using little more than cheap plastic raincoats taped tightly around their torsos. Other health workers were reduced to using large trash bags.
In towns and cities, volunteers consulted manuals to transform plastic drink containers into stop-gap masks for facilities running out of the N-95 standard supply.
"The Health Department had enough time to plan from the first reported cases in early February as forecast tracks and containment measures were already available," Dr. Tony Leachon told LiCAS.news.
"They sent troops to war without weapons," said the internist and cardiologist, who for over a decade has helped government health bodies streamline their services.
But infectious disease specialist Dr. Edsel Salvana defended the government, saying quarantine regulations are mostly based on inputs from their their technical advisory group.
Catching up
President Rodrigo Duterte imposed a lockdown on the main island of Luzon on March 16. After ten days of severe limits on the movement of people, the streets remain empty in the capital.
The president signed on March 24 a law giving him extraordinary powers to realign state funds for the needs of front-line medical services and social welfare nets for 18 million poor citizens.
His government is struggling to catch up after a deluge of protests from millions of daily wage earners suddenly stripped of income. Officials also issued contradictory orders that impeded the flow of supplies to critical industries.
The "Bayanihan to Heal as One Act" also allows Duterte to control private businesses under special circumstances, and frees critical agencies from procurement red tape.
The president, in a televised address, warned officials at agencies under a special task force they would face sanctions if they hold up purchases and distribution of urgently needed supplies.
A few hours before Duterte spoke, Speaker Alan Cayetano, his running mate in the 2016 elections, dismissed reports that hospitals were short of protective gear as "fake news."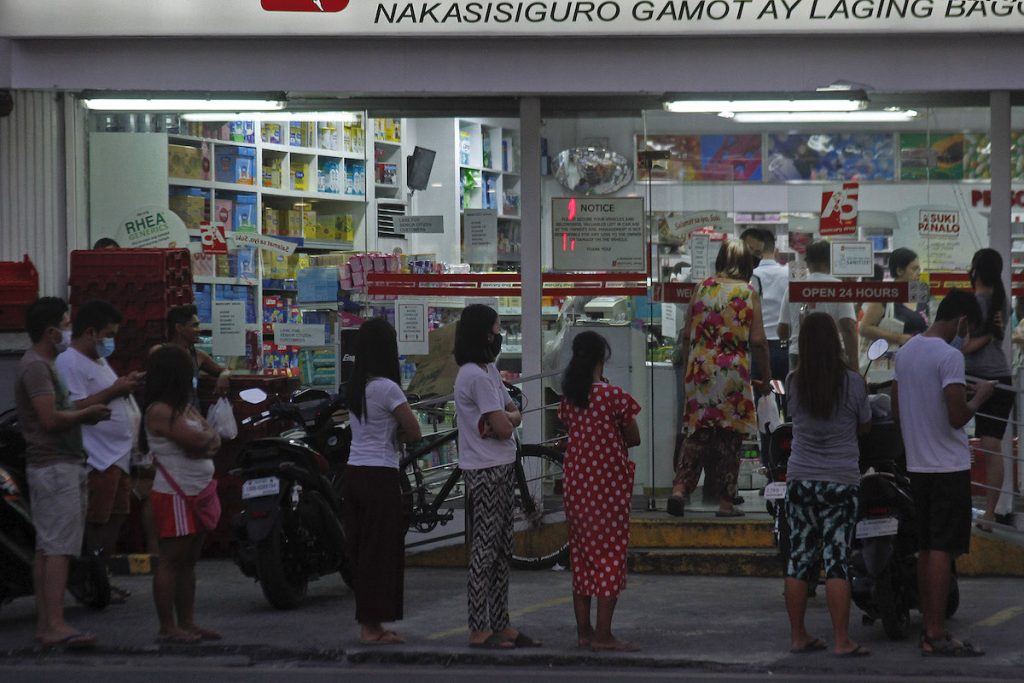 Nightmare
The four private facilities appealing for help have treated the bulk of the early community transmission cases in Metro Manila. The disease has also taken a toll on the state-run San Lazaro Hospital, the Philippine Lung Center, and the Philippine Heart Center.
Officials in a dozen provinces linked most of their new cases to the exodus of Metro Manila residents just before the lockdown closed commuter air, sea, and land services.
The government had allowed enough time for the mass movement "for humanitarian reasons," said Salvana.
Hospitals have set up triage tents to prevent admitted patients and staff from additional exposure to infections.
As overwhelmed hospitals scaled down operations, groups of doctors set up free online consultation systems for patients and hotlines for those lacking access to the internet.
Medical professionals warned that without expanding testing and the distribution of equipment, the novel coronavirus contagion could paralyze a health system that has only one doctor for every 33,000 citizens.
---
---
---
The Research Institute for Tropical Medicine, which has functioned as the country's lone testing center for months, rushed to plug a diagnostics backlog that has seen patients dying before their results are out.
While the original protocol promised results within 48 hours, some patients have been waiting for almost two weeks as they battle for their lives.
The Health Department said it expects a rise in the number of confirmed cases as five accredited hospitals launched testing facilities in Metro Manila and the provinces.
With four million people living in the capital's slums, the government's worst nightmare is community transmission in villages already on the margins of health services.
But even with the arrival of 100,000 test kits from China, the Health Department said it would continue to test only those showing serious symptoms.
Doctors continue to send home asymptomatic persons even if they have had possible contact with confirmed cases.
Manila Mayor Francisco Moreno Domagoso and Pasig Mayor Vico Sotto have tapped economy hotel chains to lend their premises for a special quarantine facility.
Both stressed the need to safeguard poorer neighborhoods where conditions make it impossible to quarantine suspected carriers.
The impending return of 10,000 workers from the paralyzed cruise industry also presents a headache as all need to be quarantined for two weeks.