Dr. Josephine Grace Chua Rojo works 24-hour and 10-hour alternate shifts as a senior resident at the Corazon Locsin Memorial Regional Hospital in Bacolod, a city in the central Philippines.
In normal times, she and other doctors of the "millennial" generation spend their breaks on sleep marathons, or watching Netflix, shopping, maybe enjoying a drink or two in bars.
Not anymore. After a few hours of sleep, Rojo goes online to check on donations for an intervention project to keep daily wage earners at home during the country's one-month lockdown to stem the spread of the new coronavirus.
---
---
---
Then she and colleagues start repacking donations into two-day food packages for families and fan out in teams across the city.
In the first three days of their Home Quarantine & Protection Project, which started on March 19, about a dozen doctors and 100 donors and volunteers delivered a thousand food packs in the city and in Cebu where satellite teams have stepped in to plug social welfare holes.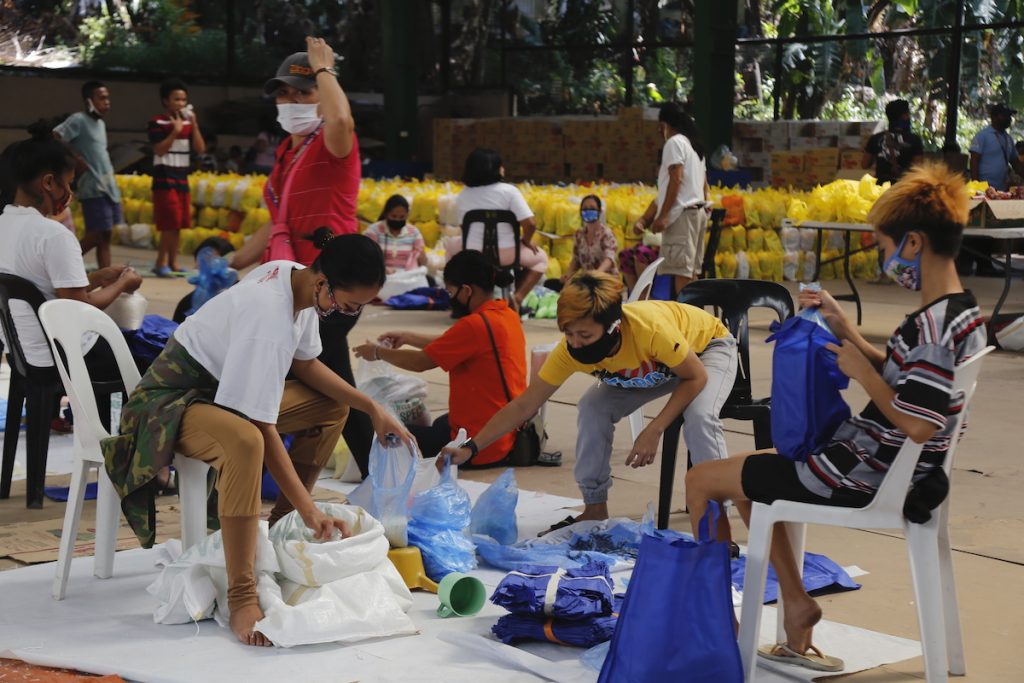 Another team of younger doctors, initially organized to help feed doctors, nurses, technicians, guards, and cleaners, has expanded to serve the homeless.
Their hashtags say it all. #HelpOthersStayAtHome is used in the project for street workers. A second hashtag is #SharingIsProtecting.
Their slogan, "sa loob at labas" (inside, outside), translates a work-life ethic seen among doctors of a generation that elders often belittle as self-absorbed slackers.
Education first
They slog it out one street at a time, one meal at a time.
Rojo said memories of a school project ten years ago inspired her.
"I can no longer recall what strategies we proposed," she said. "But maybe, if we'd cared enough to protect this world we are all citizens of, things could have been better than it is today."
The young doctors know theirs is a stopgap measure until "the government gets its act together" and the poor get the help they need.
Bacolod has one confirmed case of the new coronavirus and several others waiting for results from the Research Institute for Tropical Medicine.
The Health Department's count of confirmed cases nationwide breached the 500 mark on March 24, with 33 deaths. Officials expect a surge in cases with the arrival of hundreds of thousands of test kits and approval of the sale of commercial kits to hospitals.
"Daily wage earners like street sweepers, sidewalk vendors, and pedicab drivers are among those marginalized who cannot afford home quarantine because it will leave them hungry," Roho told LiCAS.news.
"They are strategically located in public places and they also facilitate the transport of commuters," she added.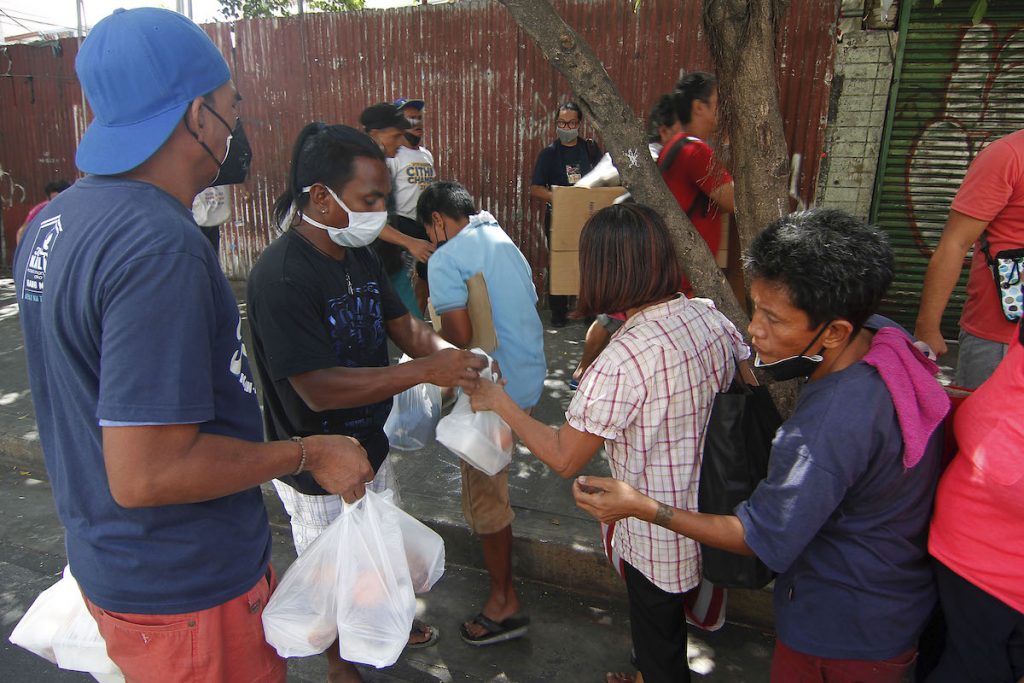 Bacolod Mayor Evelio Leonardia also declared a quarantine on March 16, the day President Rodrigo Duterte expanded the original Metro Manila lockdown to the entire main island of Luzon.
Residents are still allowed to go out for essentials and the transport of goods remains normal.
Rojo studied other aid initiatives and decided to innovate.
"We didn't want big gatherings. That would defeat our purpose," she said.
But even more important, Rojo stressed, was the concept of empowering the beneficiaries by offering them a choice.
They send out teams on motorcycles and on foot to engage small clumps of wage earners on the streets. They explain what the new coronavirus is and why the quarantine is important for the safety of their families. They give out fliers in the local language.
Most daily wage earners only have a vague notion of the virus that has sparked a pandemic, the doctors discovered.
Even when folks get it, the common response is: "But how do we feed our families?"
Many of the working poor fall outside the government's traditional safety nets, which prioritize the unemployed.
Their responses provide volunteers the opening to ask: "If you had the means, would you stay home?"
Everyone said "yes."
Only then would a second motorcycle, bringing just enough supplies for the group, get the food packs from a vehicle discreetly parked a block away.
The new focus on social media communications places the most vulnerable at a disadvantage, said volunteer Imee Baylon.
After distributing packs of goods to 30 drivers, she said the reactions that touched her the most were not the smiles at the sight of the food packs, but the gratitude at finally understanding the risks of the new coronavirus and the steps needed to safeguard their families.
"Yes, every day we are bombarded with information about COVID-19 from all forms of media and the internet, but maybe not these people who are preoccupied on sourcing out daily income for day to day living," she said.
Some doubters wondered if persuasion would work, Rojo said. But follow-up checks, she pointed out, show that the ones they reached do stay home.
---
---
---
'Bayanihan'
Rojo started the project with savings that were only good "for 200 two-day packs."
She called up colleagues and didn't need to make a hard sell. They chipped in and then started reaching out to their families and friends, who then widened the circle by inviting civic organizations used to disaster work, like fire brigades.
Within three days, the Bacolod group had touched base with doctors in the Visayas Island of Cebu and the northern part of Negros Occidental.
It was important to tap volunteers and train them while only a few doctors and nurses are under quarantine.
When cases rise and all the doctors know this will happen sooner than later, it will be all hands on deck, a frantic race to save lives, followed by strict quarantine.
Management of the University of Santo Tomas Hospital in Manila has scaled back operations as more than 500 staff were sent into quarantine.
Rojo said she is confident that when residents find themselves backed into a corner, the interns will take over.
The medical students initially organized #ParaSaBayan (for the country) to help front-liners when the hospital freed them from service to minimize exposure.
The interns know they are the third wave that will come in when the contagion eats into the ranks of residents and staff, and more senior consultants — many with underlying health conditions.
Christian Bayoneta and other peers joined ranks with Rojo's groups, focusing on a food and education drive for the homeless, while learning the ropes of street-work engagement.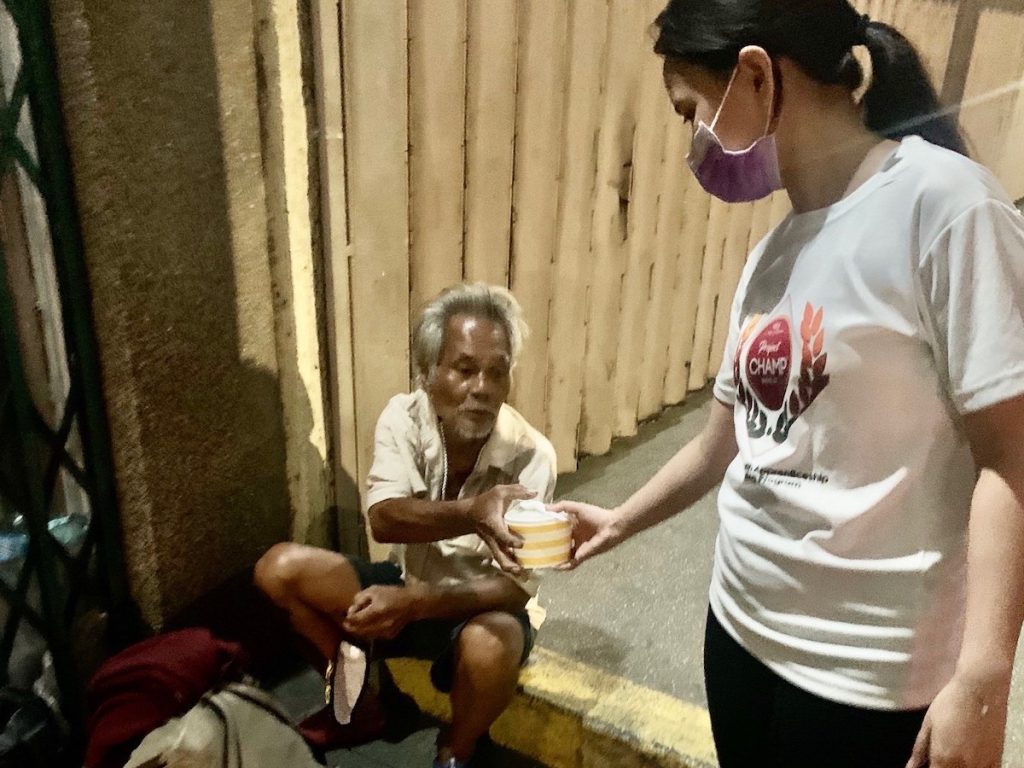 For the homeless, they bring food cooked in a member's home and explain the risks of remaining on the streets.
"We fight this battle against COVID, one meal at a time," said Bayoneta. "We also tell them how to keep themselves healthy and COVID-free despite their living conditions."
Volunteers often come to find their beneficiaries near piles of trash, where they scavenge for food, clothing and anything else they can use.
"Please know that if we protect them, we are protecting ourselves, too," Bayoneta responded to worried friends.
The information they share prompted other groups to ask for the "humane rescue" of the homeless as they pledged to help the city with their clothing and food needs.
Rojo's initiative has become "The Bayanihan Mission", as professionals in the medical and allied fields across the country responded over the weekend.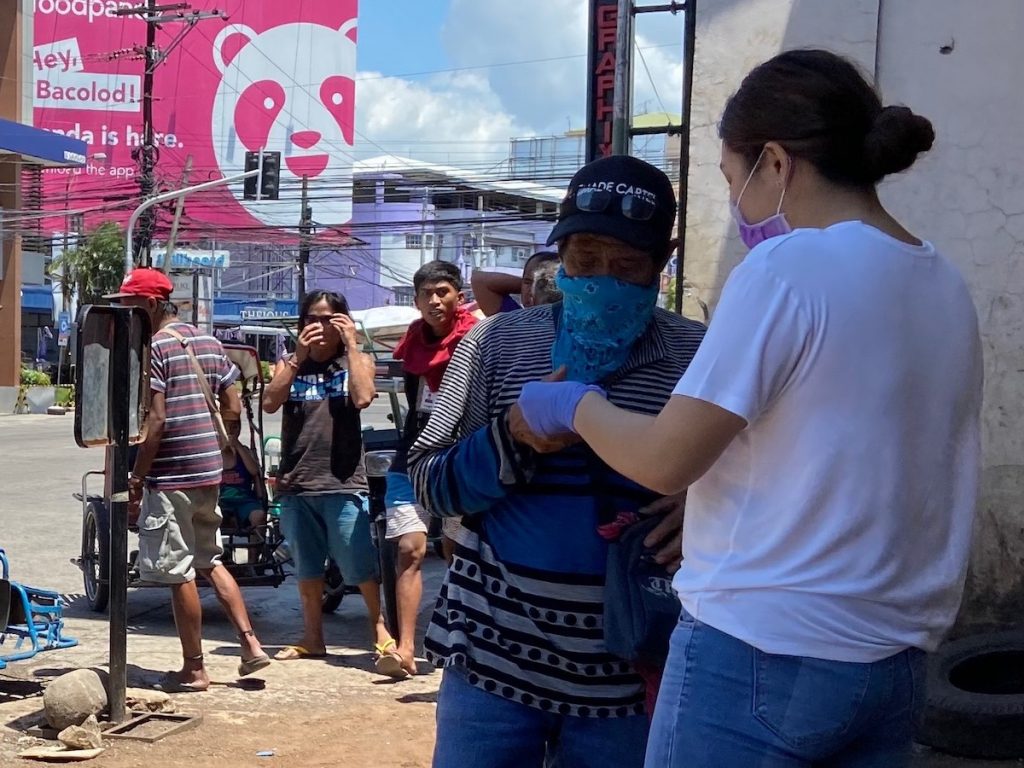 "It can't be business as usual," she stressed. "We can't wait for the government."
Duterte's allies passed a law pre-dawn on March 24, giving him a free hand to align public funds for 18 million vulnerable Filipinos.
Meanwhile, Bayoneta's small class of junior interns missed out on their graduation rites.
Instead, keeping to physical distance guidelines, they received their IDs for the Home Quarantine project with "Pomp and Circumstance," the classical piece featured in graduation marches, coming out of a mobile phone speaker.
"You may not be able to serve the hospitals now because of the circumstances, but what you do in this difficult time is embedded in your character. Salute!" a senior resident commented on their video post.
"We are all proud of you."
---
---
---
There is an undercurrent of pain and frustration in other messages young doctors post on social media.
They have legitimate gripes: A dearth in protective gear and testing kits continues to plague public and private hospitals. Five doctors have already succumbed to the new coronavirus.
They will not keep silent because people's lives are at stake. But they have stepped in with grace and grit to fill a vacuum of services.
"I keep telling myself to always be grateful for having an actual home to stay in, with warm blankets instead of sacks to cover me, and a soft bed instead of the hard, cold sidewalk to sleep on," said Bayoneta.
"If there's anything positive this pandemic caused, it taught us to become human again," he said.
"Let us do our part in helping them any way we can. During this time of need, they need us now more than ever. Anywhere you may be, you can do something. Something is always better than nothing."