While most Indians were ringing in the New Year, in the dead of night, a hard-line Hindu mob barged inside a church in southern India's Tamil Naidu state, destroying everything in sight and warning the Christians of dire consequences if they didn't change their ways.
Peter John, a young Catholic, told LiCAS.news how he was roused from his sleep when the vandalism spree got underway.
Upon hearing car windows being smashed, he looked outside, only to view a mob armed with iron bars trying to barge into the church.
---
---
---
Peter was among several parishioners who had been sleeping in the church following a spike in anti-Christian attacks in his nearby village.
But no one had expected such an attack to occur as people were celebrating the New Year.
"It was all chaotic. By the time we could do anything, the mob was inside the church. They abused and ridiculed us, accusing us of forcefully converting people to Christianity," Peter said.
After repeated pleas, the mob finally left. However, they warned the parishioners not to hold Mass inside the church, saying they could be attacked any time, day or night.
"It was all worrying to the core. I still have nightmares about that incident, but we are fortunate enough to be alive. We were not lynched," Peter said.
A rising trend of violence
The incident recounted by Peter is just one such anti-Christian attack to have hit the country since the pro-Hindu Bhartiya Janata Party (BJP) came to power in 2014.
With their electoral success has come a growing faction of hardliners who want to turn India into a strictly Hindu nation, viewing Christians and other religious minorities as foreigners in their own land.
They have further accused Christians of forcibly converting Hindus.
There are 966 million Hindu citizens in India — some 80 percent of the country's 1.3-billion-strong population. Muslims number 172 million, about 14 percent, while Christians account for 2 percent of the population at 29 million.
According to United Christian Forum (UCF), an inter-denominational Christian organization in India that fights for the rights of Christians, there were more than 52 anti-christian attacks reported in the first two months of this year.
The UCF recorded 300 anti-Christian attacks in 2019, 292 in 2018, and 208 in 2017. 
---
---
---
Christian lawyer Tehmina Arora told LiCAS.News that it is a matter of grave concern that anti-Christian attacks are witnessing an upsurge, threatening to upend centuries of religious pluralism in the country.
"No one should be targeted for their faith. Religious extremism is threatening India's centuries-old culture of pluralism and religious tolerance. State authorities need to ensure that all persons are able to freely practice their faith without fear of mob violence, in line with the guidelines issued by the Supreme Court of India," said Tehmina.
Christian leader and former member of the Delhi Minority Commission, A.C. Michael, said India's-anti conversion laws have become a tool for the country's federal government to target the Christian community.
He claims hard-line Hindu mobs have been given a green light to target poor Christians.
"Police in many states shield the culprits and target the victims, accusing them of converting Hindus to Christianity. This is unprecedented and a deeply worrying trend," said Michael.
Conversion claims
In a small hamlet in Uttar Pradesh, a pastor was accused of forcibly converting Hindus to Christianity. The pastor was then imprisoned, and only later managed to secure bail from a local court.
Meanwhile, Jospeh Mandhavi, a 39-year-old Christian from India's northern state of Chattisgarh, spoke of the harassment that he and his family suffered for their faith.
Joseph said his ancestral land was taken away from him, while he and his family have suffered beatings at the hands of hard-line Hindus.
"We were not allowed to irrigate our fields, purchase groceries from a local store or attend any social gatherings. We were viewed as unacceptable members of the village solely because of our faith," said Jospeh.
He said he was threatened that his family would be killed if he didn't abandon his faith and convert to Hinduism.
Fearing for his family, Joseph ultimately decided to leave his village with his family and resettle with relatives.
Pastor Dev Kumar from India's northern state of Uttar Pradesh was last month threatened by members of the hard-line Hindu organization, Rashtriya Swamsevak Sang (RSS), to stop holding prayer services in his church.
The group had accused the pastor of converting the local Hindus to Christianity.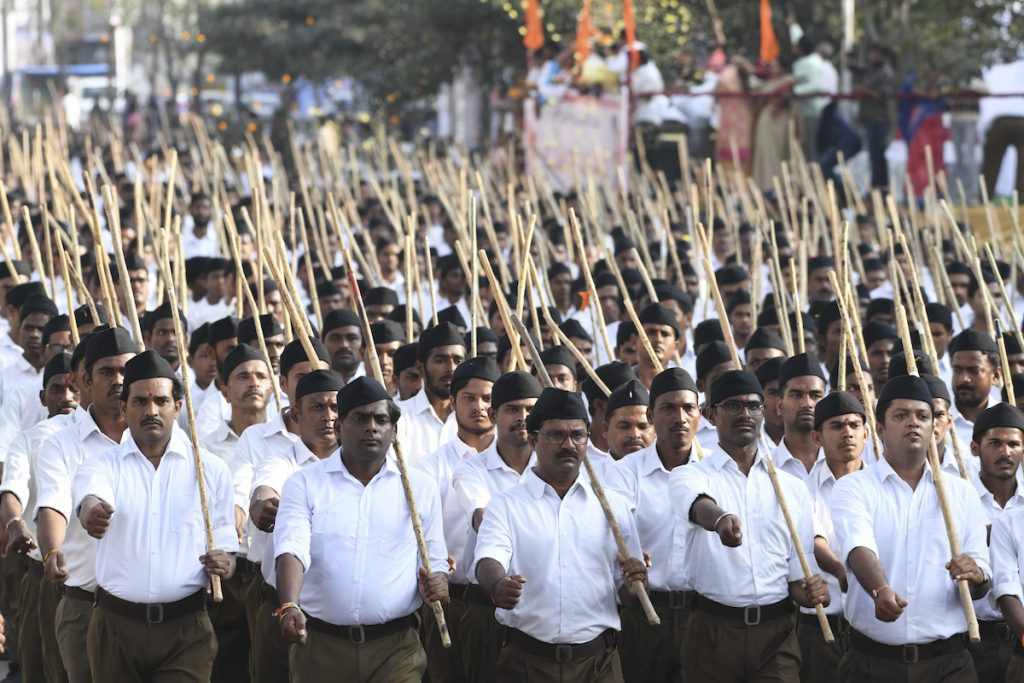 Founded in 1925, RSS claims that India is the land of Hindus and religious minorities should accept Hindu supremacy. The organization has also advocated for population caps on religious minorities to ensure Hindu dominance. Although a non-governmental organization, RSS has strong ties to Prime Minister Narendra Modi ruling Hindu nationalist Bharatiya Janata Party (BJP).
Pastor Dev said members of the group disrupted the prayer service several times, and when he went to police to file a complaint, he received a very cold response.
"The police said that before lodging any complaint, they will have to inquire whether or not I was forcefully converting people to Christianity. Instead of taking action against the group, the police says it will inspect the prayer service," said the pastor.
---
---
---
He claims the police neither came to the church nor provided security for the prayer meetings.
"We were exposed to future attacks, and anyone can come anytime and vandalize everything," said pastor Dev.
In February, parishioners from the Gorakhpur area of Uttar Pradesh allege that police raided their houses in the middle of the night and threatened them with dire consequences if they did not renounce their Christian faith.
"They threatened that our names would be removed from the ration cards and we would not be able to use any government utilities like water or electricity unless we abandoned our faith," one of the parishioners said. "When informed, the local authorities sided with the police."
Names have been changed and the church in Tamil Naidu have not been identified to protect to identities of those interviewed.