The United Nations Human Rights Council (UNHRC) head expressed "regret" that the Sri Lankan government has withdrawn its support for a U.N. resolution investigating alleged atrocities in the country's 26-year-long civil war. 
UNHRC chief Michelle Bachelet told the council the Sri Lankan government's "very different approach" to previous international commitments "risks setting back efforts to advance reconciliation, accountability, and human rights."
Bachelet said she was troubled by recent trends towards placing civilian functions under the auspices of the country's Ministry of Defense, while surveillance and harassment of journalists, human rights defenders, and victims of enforced disappearances has ratcheted up in the country. 
---
---
---
She further noted a worrying uptick in hate speech and discriminatory policy measures directed at the country's Tamil and Muslim minorities.
"The fundamental problem remains that Sri Lanka has still not addressed impunity for past violations, nor undertaken the security sector reforms needed to address their drivers and enablers," Bachelet said, adding that within this climate, there was "no guarantee that past patterns of human rights violations will not recur."
"I urge the council to remain alert to this situation in terms of prevention and to explore all possible avenues for advancing accountability," she said.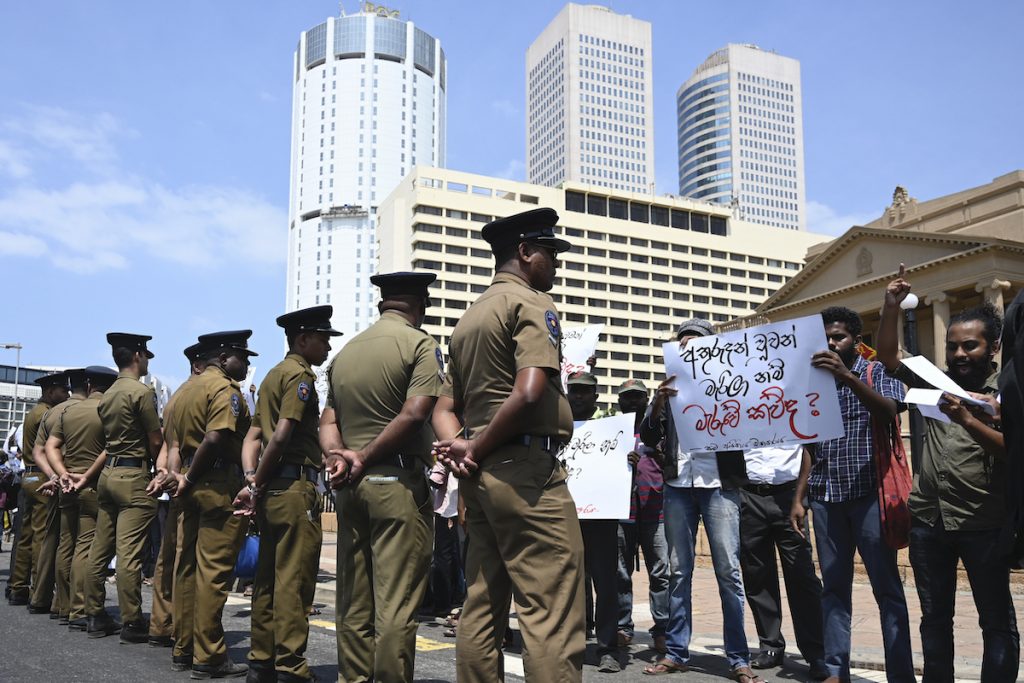 In 2015, Sri Lanka co-sponsored a resolution with 11 other countries calling for an investigation into alleged rights violations by both government forces and ethnic Tamil rebels during the country's decades' long civil war, which ended in 2009 and claimed over 100,000 lives.
Rights groups at the time hailed the resolution as facilitating "the truth and justice" that victims of the conflict deserve.
Amnesty International has spoken out against Sri Lanka's recent about-face, saying a "robust response" from the UNHCR was needed. 
"Sri Lanka's decision to go back on its commitments to the Human Rights Council requires a robust response by the Council, including steps towards the creation of an accountability mechanism to ensure the victims of the nearly three-decade long conflict get the justice that is owed to them," said Thyagi Ruwanpathirana, South Asia Researcher at Amnesty International.
Thierry Mathou, director of Asia and Oceania for the French foreign ministry, told reporters in Colombo that the Sri Lankan government's decision to withdrawal did not mean the resolution had disappeared.
"It is legally binding. The objective is still there. Reconciliation has to be a key priority," AFP cites Mathou as saying.
Governmental efforts at reconciliation have repeateldy been called into question as President Gotabaya Rajapaksa has baulked at a series of post-war commitments made by previous administrations, Nikkei Asian Review reported last month.
The government of Prime Minister Mahinda Rajapaksa is looking to shutter the Office of Missing Persons — set up in 2017 to help determine the status of all missing persons in Sri Lanka, helping bring closure to the families.
Prime Minister Rajapaksa has also bucked obligations to look into war crimes by announcing plans to grant immunity to government forces accused of committing such atrocities.
Recently, the Sri Lanka government also reversed course on a previous commitment to scrap what critics call "the abusive" Prevention of Terrorism Act (PTA), which gives the police wide latitude in searching, arresting, and detaining suspects
On Jan. 4, the Sri Lankan government announced it was withdrawing a replacement law for the PTA, which critics said was more in line with international standards.
Prime Minister Rajapaksa was president when Sri Lankan troops defeated Tamil Tiger fighters, while his brother Gotabaya was defense secretary. 
Last month, the EU warned this recent series of reversals would not come without consequences.
On Jan. 20, the EU's official delegation to Sri Lanka warned in a tweet that the Generalized Scheme of Preferences (GSP+ arrangement), which gives Sri Lanka better access to the EU for its exports, is "not automatic."
"[GSP+] is granted only if there is continued and effective implementation of 27 international conventions, related to human and labour rights, environment and good governance. The EU monitors this implementation closely," the tweet read.