Chhul Sreymom is worried she will lose her job, which would render massive financial consequences for her and her fellow garment workers.
"Many of us are in debt and need to pay $150-$200 every month towards loans that we have. We expect to earn that money with our work in the factory. But if we don't have that job, how can we pay back the loans? How can we survive?" she asked.
Sreymom's concerns are the result of the recent announcement by the European Commission that Cambodia will lose part of the trade preferences, known as the Everything but Arms scheme (EBA), it currently enjoys. The withdrawal will amount to some 20 percent of Cambodia's yearly exports to the European Union (EU), equal to $1.2 billion. 
---
---
---
The commission is taking this unprecedented step as a response to ongoing human rights violations and democratic setbacks in Cambodia.
Those violations include a heavy crack down on human rights, labor rights, freedom of speech, and democratic institutions.
In November 2017, Cambodia's main opposition party, the Cambodian National Rescue Party, was dissolved, after which Cambodia turned into a de-facto one party state governed by long-ruling prime minister Hun Sen.
Opposition leader Kem Sokha, controversially, has been accused of planning to topple the government with assistance from abroad. If convicted, he is facing up to 30 years behind bars.
Several media organizations were also forced to stop operations, while journalists, human right workers, and other critics were threatened, arrested, and/or forced into exile.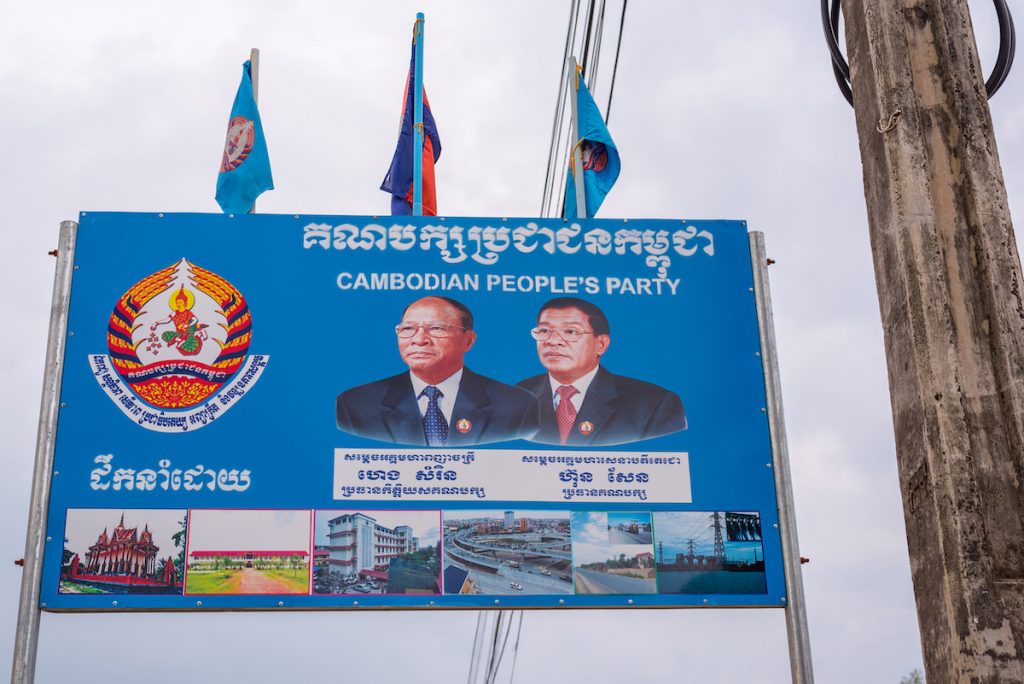 "The duration, scale, and impact of Cambodia's violations of the rights to political participation and to the freedom of expression and association left the European Union with no other choice than to partially withdraw the trade preferences," said Josep Borell, the EU's high representative for foreign affairs and security policy said in a statement.
"The European Union will not stand and watch as democracy is eroded, human rights curtailed, and free debate silenced," he said.
The decision means that, starting on Aug. 12, Cambodia will have to pay tariffs if it wants to export travel goods, sugar, certain garments, and certain footwear items to the EU.
At present, Cambodia still exports these products tariff free to the EU thanks to the EBA.
Factory workers, union leaders, and employer organizations all fear the decision will hurt Cambodia's textile industry, and could lead to the loss of jobs. 
---
---
---
Feeling the pinch
With about 750,000 workers, the textile industry is Cambodia's biggest employer. The EU is by far Cambodia's biggest export market.
Adding to those concerns is a recent announcement that some of Cambodia's factories may face shutdowns or temporarily suspensions, because of supply shortages caused by the spread of the new coronavirus in China.
"We don't have fabric. This means workers are in trouble. They might be asked to stay home," Hun Sen recently said. He also claimed that disruptions in factories would have nothing to do with losing part of the EBA, according to a report by the Phnom Penh Post.
Workers as well as union leaders, however, are skeptical.
"If the EU cuts 20 percent off from the EBA preferences, it will for sure impact the garment and footwear industry," garment worker Sreymom told LiCAS.news. "It's a bit lucky that they don't withdraw all of it, otherwise all of us would lose our jobs. If that happened, the only option that I can think of is migrating to a neighboring country."
Yang Sophorn, the president of the Cambodian Alliance of Trade Unions (CATU), warns that the partial withdrawal could lead to widespread problems in Cambodia.
"Firstly, it affects workers directly. Secondly, it will affect their relatives and other dependents. And thirdly, it will affect those who run small businesses like street vendors, drivers, and house renters. They will all face problems," she said.
---
---
---
Serious concerns about the effects of the withdrawal can also be heard from employers. LiCAS.news reporters in Cambodia received several statements from employers organizations, who shared their concern about losing part of the trade preferences.
The Cambodian Footwear Association (CFA), which represents nearly 60 shoe factories in Cambodia, said that the decision by the European Commission "will result in large job losses across the industry, and will considerably hurt the industry's work force."
CFA deputy secretary general Ngoun Channara warned the move risked returning tens of thousands of its workers, as well as the tens of thousands of family members who depend on them, to poverty.
The Cambodian Federation of Employers and Business Associations (CAMFEBA) believes that the decision undermines the progress that Cambodia's manufacturing sector has made in recent years.
"It is our position that this decision will adversely affect the very people that the commission seeks, by its own words, to support. Whereas there remains work to be done in the development of Cambodia's political framework — after years of post-war rebuilding — we do not believe that this is an appropriate way to achieve that end," CAMFEBA said in a press release.
Representing 580 garment, footwear, and travel goods factories, the Garment Manufacturers Association of Cambodia (GMAC) also urged the European Commission and the European Parliament to reconsider the decision. In an interview with Radio France International, GMAC general secretary Ken Loo said that the partial withdrawal will certainly hurt factories.
Softening the blow
The Cambodian government, meanwhile, called Europe's decision "unjust" and said that the decision had been triggered by "misunderstandings about the actual realities in Cambodia."
"Despite being grounded on the EU's values and principles of human rights and democracy, the decision is politically driven and devoid of objectivity and impartiality, two fundamental principles which are to be expected from the EC as a supra-national body," the Ministry of Foreign Affairs and International Cooperation said.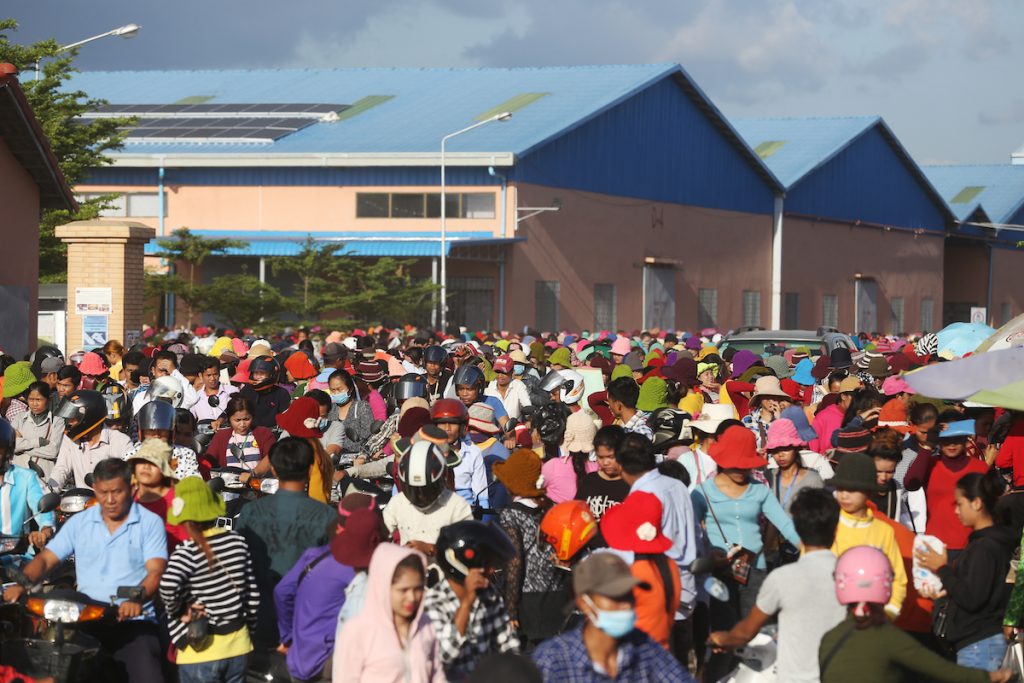 Meanwhile, Cambodia's Ministry of Labor sees multiple challenges for the country's leading industry ahead: A global trade war, political conflicts, global security issues, climate change, and the outbreak of the novel coronavirus.
All of these issues will affect the garment and footwear industry, minister Ith Samheng said during a ministry annual conference last week. 
"It will impact us, because we are importing raw materials from China. Workers will face job suspensions because we don't have the supplies for production," he said.
Asked about the impact of losing part of the EBA, the minister admitted that it would also be a problem the country would have to deal with.
He said, however, if workers lose their jobs, the government will help them find alternatives.
To soften the blow form the impending EBA changes and the new coronavirus, Hun Sen announced on Feb. 24 that factories that are "strongly affected" will receive a tax break for at least six months. 
---
---
---
Hun Sen also said that if a factory suspends its operations temporarily, workers should still get 60 percent of the minimum wage.
However, in Kampong Speu, 22-year-old Krem Chanreoun remains doubtful workers will receive such compensation. 
His factory, the New Global Textile Co. Ltd., has suspended operations from Feb. 10 until March 10. 
During that time, he and his colleagues will only receive $10, Chanreoun told LiCAS.news.
"I'm not sure if we'll really get our jobs back after the suspension, because our factory manager told us that the owner ran away. They promised to find a new owner, but with the recent news from the EU, I doubt that will happen," he said.
Chanroeun worries it will be impossible for him to pay back a $4,000 loan he took out.
"It's going to be a big challenge, because there are not many jobs available right now."
* Additional reporting by Ate Hoekstra