On Jan. 8, police arrested a man suspected of raping a 21-year-old student at Bangladesh's Dhaka University. Amid calls for swift justice, a climate of fear has grown.
"I don't let my 13-year-old Sumi go outside alone, even when she goes to school. This city is not safe for any woman or girl," said Sufula Rozario, 44, who resides in the Bangladeshi capital Dhaka.
Sumi studies at Holy Cross, a Catholic-run higher secondary school for girls, in the city's central Tejgaon area.
Rozario said that an influx of rape reports on TV and in newspapers has made her fearful for all three of her daughters.
"I don't feel safe when I leave them home alone. So if my husband doesn't stay home, we normally don't go anywhere," she said.
---
---
---
Forida Akter, a 25-year-old university student, also expressed concerns about her personal security in the capital.
"I stopped using public buses after I was sexually harassed on them several times. I never leave home in the evening by myself."
Akter and Rosario are among the millions of women who are feeling increasingly less safe in Bangladesh as sexual assault is on the rise in the country.
On Jan. 8, Bangladeshi police published a report saying that 5,400 women and 815 children had been raped in 2019.
By contrast, police statistics said 3,900 women and 727 children had been raped in 2018.
However, as reported in German media Deutche Welle last year, observers believe the actual number is far higher, as many victims do not report sex crimes, fearing they will be blamed for the rape or disowned by their families.
Swift justice
Fears have only grown following the high-profile rape of the Dhaka University student, sparking a two-day protest which brought thousands of students onto the streets demanding justice.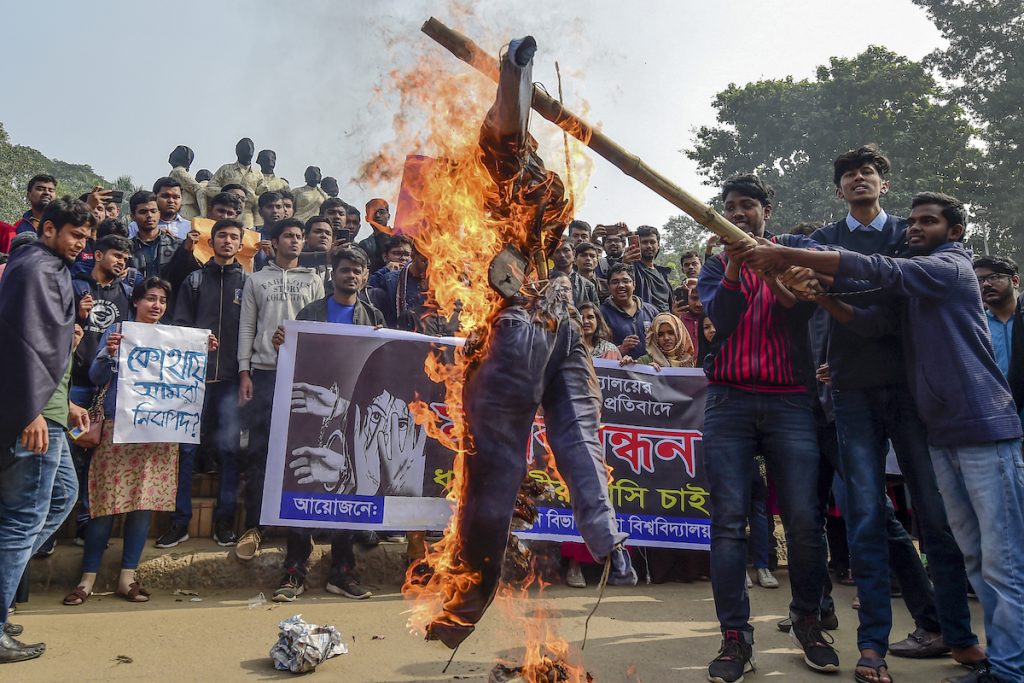 Some members of parliament are even calling for the extrajudicial killing of sexual assault suspects.
Speaking before parliament, opposition Jatiya Party MP Mujibul Haque Chunnu questioned why so many had been killed in "cross-fire" during drug raids, but "not a single person has died in a gunfight after a heinous crime like rape took place."
Chunnu further called on Home Minister Asaduzzaman Khan Kamal to act.
"I ask that the government to take this issue seriously. Otherwise it will spin out of control," he said.
Another Jatiya Party MP, Kazi Firoz Rashid, had called for the extrajudicial killing of sexual assault suspects following a slew of gang rapes, which sometimes ended in murder, were reported in 2017-18.
Tofail Ahmed, a senior leader of the ruling Awami League, also threw his support behind rape suspects being killed in "crossfire."
"We need to toughen the law. And if a person is definitely identified as having [committed rape], he has no right to live in this world," Ahmed said.
---
---
---
Politicians are not the only ones calling for swift justice.
"Rape incidents have been increasing in Bangladesh due to leniency in the justice system and I demand speedy justice by hanging of the people committing rape," Sagufta Bushra, a female demonstrator and student leader at Dhaka University, told the UK's Guardian newspaper.
Another student, Nurul Haque Nur, said that while she was against capital punishment, "rapists should not be spared strict punishment."
"We will call for country-wide demonstrations to ensure justice and demand the early conviction of the culprit through judicial trial," she told the newspaper.
However, calls for swift justice come as rights groups have expressed concern over the issue of extrajudicial killings by police in Bangladesh.
Amnesty International, in its 2018 report, Killed in "Crossfire": Allegations of Extrajudicial Executions in Bangladesh in the Guise of a War on Drugs, said that Bangladeshi authorities had allegedly killed 466 people in 2018 "under the guise of an anti-drugs campaign in what appears to be a wave of extrajudicial executions."
Meanwhile, Ayesha Khanam, president of Bangladesh Mahila Parishad, a women's rights organization, said among the "alarming uptick in rape cases, more government action is need."
"We are worried. The government should control it by giving proper security of women and children."