Mary Juliet Karen still recalls the nearly six-hour "battle" with the world's strongest storm to hit land, Yolanda (Haiyan), when it leveled Tacloban City and killed over 6,000 people on November 8, 2013.
"Yolanda literally pounded us to the grounds," said Karen, a cultural worker.
"But it was the hours and days and weeks, and eventually years after the typhoon that was the real struggle — the life of surviving, the mental struggles in between."
---
---
As the city of Tacloban marked the ninth year of "Yolanda" on Tuesday, November 8, 2022, Karen admitted that "we slowly heal and we continue to pray for guidance, healing, and strength to those who needed closures."
"Our stories are facts and perpetual. We may not be glorified, but we live for those who perished and for others. That is our purpose," said lawyer Aljim Denver Arcueno as he recalled his experience during the onslaught of "Yolanda."
In Borongan City, Eastern Samar, Bishop Crispin Varquez offered a prayer for those who died during the storm.
"For this commemoration, let us continue with binding hopefulness and solidarity in the face of so many challenges coming our way and be thankful to the Lord that we have risen from the horrible destruction that super typhoon Yolanda had brought," said the prelate.
"We also remember the lives that were spared that they may find comfort and strength in God to rebuild and move forward in their lives," he added.
In their initiative to continue the conversations on Yolanda, members of Katig Network Inc. held a night of poetry and story-telling to remember those who passed away on that day.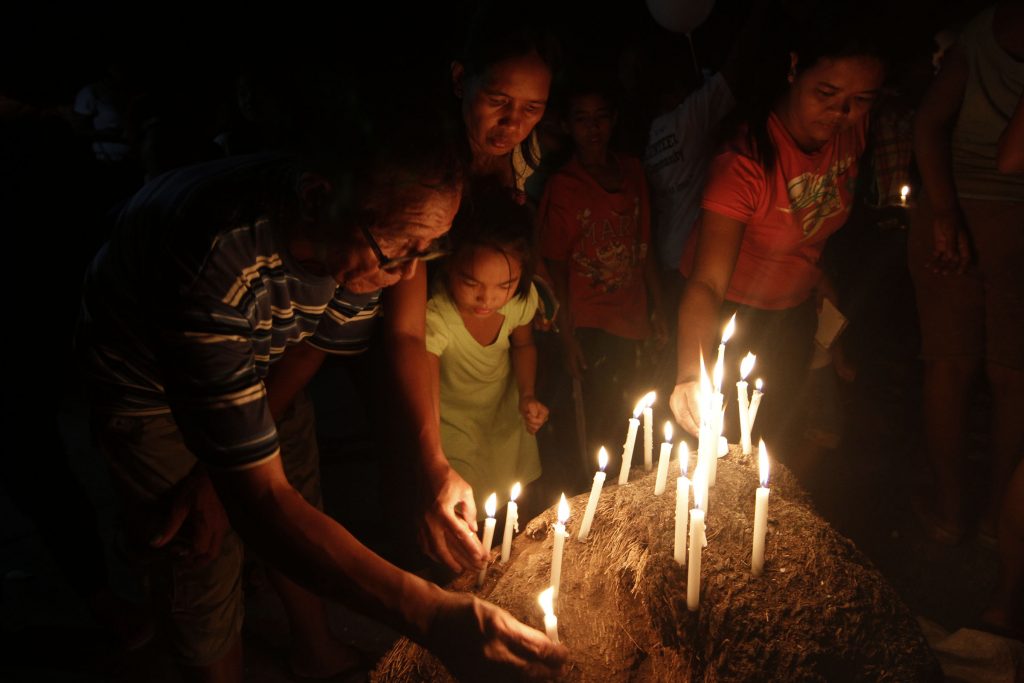 The Eastern Visayas State University in Tacloban also had their last episode of "Haiyan Conversations" on the role of media in a disaster with Albert Mulles, author of the non-fiction "Typhoon Haiyan the Untold Story: A Story of Hope and Survival".
"Yolanda was nine years ago. To some people, it's long forgotten tragedy. But for those who are here and who lost their loved ones, it would take forever," said Leyte Governor Jericho Petilla.
The governor led capitol employees in honoring seven provincial government personnel who died during the storm.
"Commemoration is remembering those who perished and those who helped us. Most of all, it is telling the surviving members that we did not forget," said Petilla.
At the Holy Cross Memorial Garden in Tacloban, President Ferdinand Marcos Jr. said, "It is important that we come to these commemorations because it is also a demonstration, a manifestation of the strength and the courage of Filipinos."
"To remind ourselves that Filipinos are brave, that Filipinos are kind, and that Filipinos will conquer all, especially if it is for their community, for their families, and for the land that they love," said Marcos.
Yolanda displaced more than three million families, destroyed more than 1.1 million homes and properties and recorded PhP90 billion in damages.