About 30,000 flag-waving worshippers attended an open-air mass held by Pope Francis in mainly Muslim Bahrain on Saturday, marked by a small protest by relatives of death row prisoners.
Police briefly detained around 10 people who had protested outside a school where he was due to speak and asked to meet with the pontiff, according to a London-based rights group.
Hajer Mansoor, mother of jailed activist Sayed Nizar Al-wadaei, held a placard reading "Tolerance does not exist for us here in Bahrain!"
---
---
The Bahrain Institute for Rights and Democracy (BIRD) said police had detained about 10 people and released them around an hour later.
The pope, who did not stop to talk to the protesters, was met with dances and flowers inside the Sacred Heart school, where he urged children to "embrace the culture of care."
The pontiff, leader of the world's 1.3 billion Catholics, is on his second visit to the resource-rich and Muslim-dominated Gulf, home to millions of migrant workers including a sizeable Catholic community.
Matricia, a Filipina living in Dammam in neighboring Saudi Arabia, said she felt "lucky" to be at Saturday morning's mass.
"I am feeling blessed because we are really lucky to be at this holy event, where the pope will be giving the mass to all of us," she said.
At the service, some congregants had tears in their eyes as they waited to see the 85-year-old at Bahrain National Stadium, the kingdom's biggest venue.
Pope Francis, who uses a wheelchair and walking stick due to knee problems, smiled and waved to the crowds and kissed children from his popemobile as it drove towards a white stage backdropped by a giant gold cross.
"This very land is a living image of coexistence in diversity and indeed an image of our world, increasingly marked by the constant migration of peoples and by a pluralism of ideas, customs and traditions," he said in an address.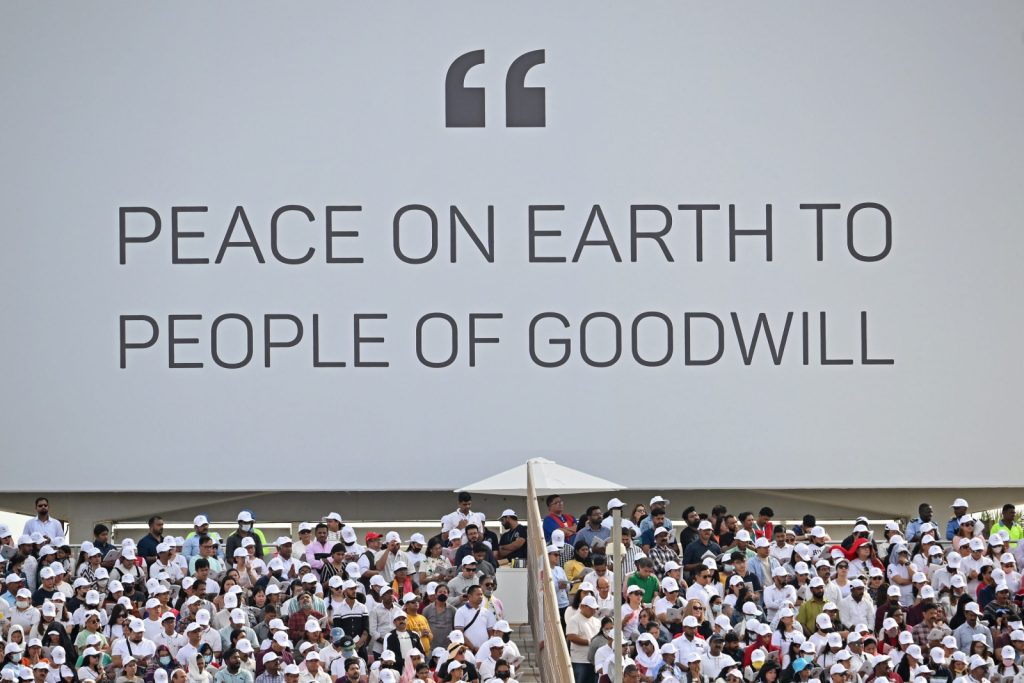 'Right to life'
But while his trip has focused on dialogue with Islam, it has been marked by accusations of rights abuses in the Gulf nation.
Rights groups have long cited discrimination, repression and harassment by Bahrain's ruling Sunnis against Shiite opposition figures and activists.
Human Rights Watch has accused Bahraini courts of issuing death sentences based on "manifestly unfair trials."
In a speech after his arrival on Thursday, the pontiff had spoken of the "right to life" and the "need to guarantee that right always, including for those being punished, whose lives should not be taken."
A government spokesperson said Tuesday in a statement that Bahrain "does not tolerate discrimination" and "prides itself on its values of tolerance."
The statement said that "no individual" is prosecuted "because of their religious or political beliefs," but pointed to "a duty to investigate" people who "incite, promote or glorify violence or hatred."
Pope Francis's 39th international visit is largely aimed at building ties with Muslim officials.
On Friday, he met the grand imam of Egypt's Al-Azhar mosque, one of the leading authorities of Sunni Islam, and members of the Muslim Council of Elders.
He also attended a service at Our Lady of Arabia Cathedral, the biggest in the Arabian peninsula that seats more than 2,000. Hundreds of migrant workers were among the congregation welcoming him.