Catholic Church leaders in Asia came out strongly on the need for "dialogue," even as it has been an oft-repeated term in the Church since Vatican II, during discussions last month in Thailand.
"I am aware that dialogue will always be one of our priorities — dialogue with the poor, dialogue with other religions and other cultures," said Cardinal Oswald Gracias of Bombay in response to a question raised by LiCAS News.
The Indian Church leader was speaking at the end of the general conference of the Federation of Asian Bishops' Conferences (FABC) in Thailand last week.
---
---
He said that in the face of challenges confronting the Church and society, dialogue "comes very strongly," adding that it is a "necessity" and an "obligation for us in Asia."
"Dialogue is not an option, it's a necessity," said Cardinal Gracias, stressing the need in understanding the meaning of dialogue "and how dialogue can be carried on effectively."
He said that during the bishops' 18-day meeting in October, there was also an understanding to a "change of mentality" in appreciating the meaning of the word dialogue.
"During the conference, we stopped saying 'other religions' but 'neighbor religions,'" said the cardinal.
Referring to members of other faiths, Cardinal Gracias said, "They are not others, they are neighbors and we are all together searching for God." He stressed the need for "a change of perspective."
"When we speak of dialogue, it's a question that opens to others — bringing and working together for the common good, for things of common interest, but also of having a dialogue with others."
"We spoke of really having real, principled and balanced, judicious dialogue with civic authorities, [non-government organizations], with people of other faith, of course," he said.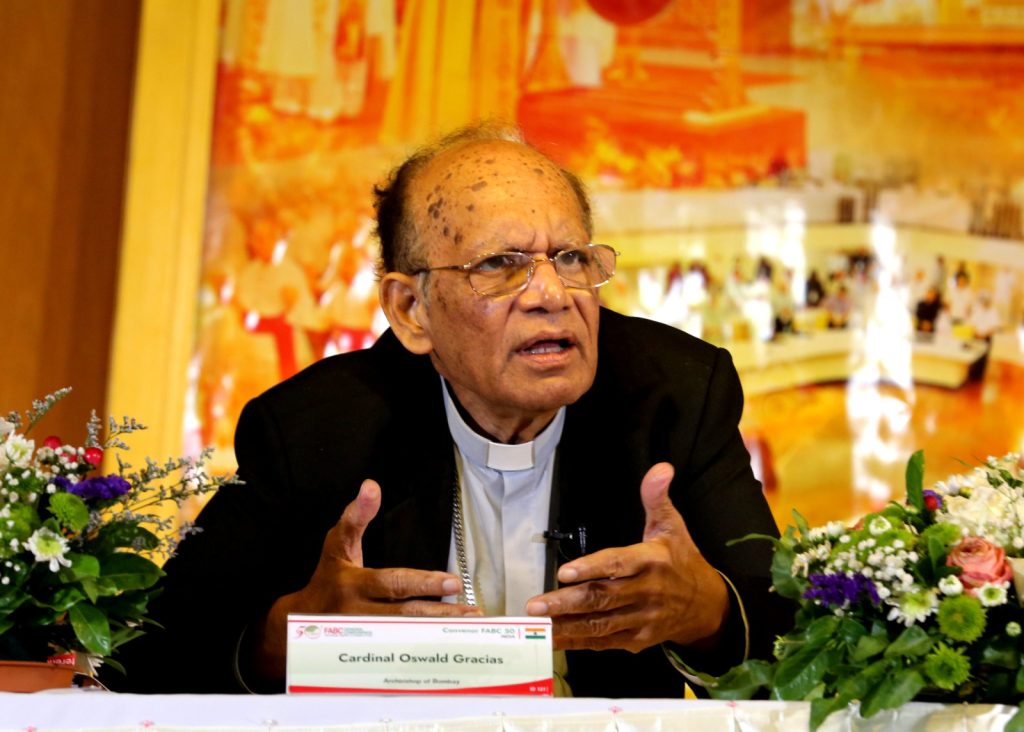 Church in dialogue
In his message at the end of last month's meeting, Cardinal Charles Maung Bo, FABC president, said the Church "could not but realize that we were called to be a Church of the poor, a Church of the young and a Church in dialogue."
He said that 50 years since the establishment of the FABC, "we realize that dialogue has become not only relevant but also indispensable to a world that has grown more fragmented and prone to violent conflict."
"The Church in dialogue must become more and more a Church of bridge builders," said Cardinal Bo.
He added, however, that while the Church "engaged in the triple dialogue with the poor, with cultures and with cultures, we were also painfully aware of and praying in solidarity with our brothers and sisters in the Church of silence, who – by bearing the Cross as Christ did – spoke more eloquently than any of us living in less oppressive societies."
Cardinal Gracias said Asia's Church leaders recognized and "felt" the "many years of conflict in our continent and it seems to be rising."
"Can the Church be a peacemaker, a peace-builder? What can we do for peace, reconciliation and harmony? …. We know what way we can take forcefully, it struck us forcefully during this conference," he said.
He described the final statement released by the FABC at the end of their meeting as a "futuristic" document on pastoral possibilities.
He said the document is "a work in progress" and "will remain with us as a guide document for future pastoral activities in the whole of Asia."